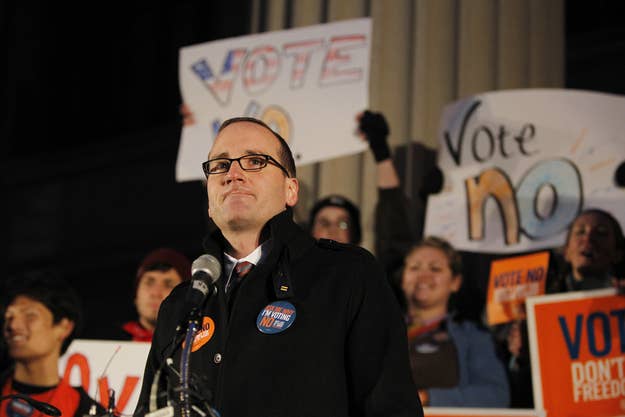 WASHINGTON, DC — Fresh off its best election night ever, the nation's largest LGBT organization is pushing President Obama to take a series of even bolder steps to advance their cause, including signing an executive order banning federal contractors from discriminating against LGBT employees and appointing an out LGBT cabinet secretary.
Human Rights Campaign president Chad Griffin told BuzzFeed on Wednesday that while he and his organization are happy with the progress the LGBT community made Tuesday, they will be asking for — and expecting — more from Obama in his second term.
Noting that "we don't have the leadership in the House" to pass legislation against the Employment Non-Discrimination Act, which would ban nearly all private employers from discriminating against LGBT people, Griffin argued, "This president could issue an executive order protecting federal contractors" now.
The proposed executive order, which Obama declined to sign in April, would ban federal contractors from discriminating against employees based on sexual orientation or gender identity. It is modeled after a previous executive order banning contractors from discriminating on the basis of race, color, religion, sex, or national origin.
The White House said in April said Obama was declining to sign the order "at this time, but, following the election, Griffin argues that Obama needs to sign it "as soon as possible."
Griffin said he doesn't know if it will happen before the end of the year, but added that he is pushing for it, saying, "Since my first conversations there, it's something I've pushed for, I've urged, privately and publicly. We will continue to do that."
On the appointment of an out LGBT cabinet member, Griffin was equally forceful.
"We made historic progress with President Obama in terms of our openly LGBT appointments across the board," he said. "We now have the opportunity, and I hope this president and this White House will seize the opportunity to have the first openly LGBT Cabinet secretary, the first openly LGBT G-8 ambassador, and across the board with administrative appointments and judges as well."
Groups like HRC, the Gay & Lesbian Victory Fund, and others, as well as LGBT activists more broadly, have long been pushing for an out LGBT cabinet member, and the urging is likely to continue in earnest as Obama's makes changes for his second-term cabinet.
Among those out gay people whose names are raised most often by advocates for possible appointments are John Berry, the head of the Office of Personnel Management; Fred Hochberg, the head of the Export-Import Bank; and Mary Kay Henry, the head of the Service Employees International Union.