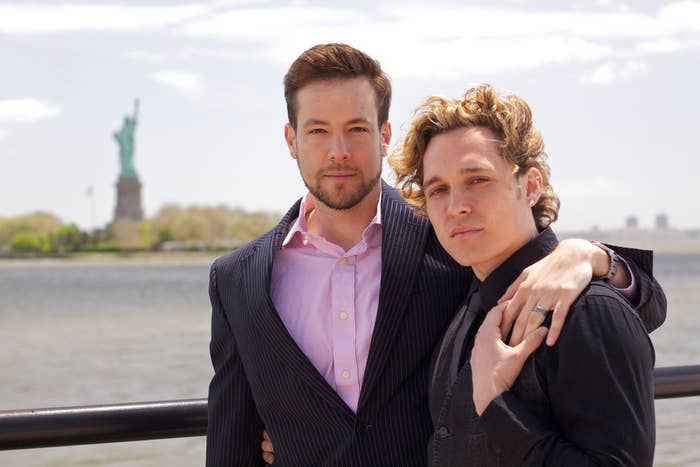 WASHINGTON — As the political debate over whether to include protections for same-sex couples in immigration reform heats up in the Capitol, the real control over what's going to happen with the issue likely rests with the Supreme Court.
Because the Defense of Marriage Act bars the federal government from recognizing same-sex couples' marriages, binational gay and lesbian couples — those where one partner is not a U.S. citizen — have been denied the ability to seek a green card that straight couples have been eligible to obtain for their spouse in a similar situation.
The legislation aimed at addressing this issue is the Uniting American Families Act, and it would create a new category, called "permanent partners," that would make same-sex couples eligible for green cards. The "Gang of Eight" senators did not include the measure in their immigration reform bill, but LGBT advocates have been pressing for Judiciary Committee Chairman Patrick Leahy to add the provision into the bill during the committee markup, which is slated to begin May 9.
And, although the focus this week has been on the claims by some Republican senators that inclusion of such protections would doom the immigration overhaul bill, little has been said about the Supreme Court — which is considering a case that could strike down that part of DOMA that bans recognition of same-sex couples' marriages, Section 3.
If that provision is struck down, married gay and lesbian couples are expected to be eligible for the same green card petitions as straight couples. The decision also could make the current language in UAFA inapplicable to same-sex couples.
Asked about this issue Thursday, Lambda Legal's deputy legal director, Hayley Gorenberg, told BuzzFeed only, "We will continue to push for UAFA until we are absolutely sure we don't need it. And of course the demise of DOMA section 3 will reduce harm to families but will fall far short of eliminating it."
She continued, "Same-sex couples still can't marry in forty states. And to assume traveling elsewhere to marry will solve the problems of a low-income couple in a southern state, for example, would be to disregard their lived reality and resources."
Under the current version of the UAFA legislation, however, a permanent partner is defined as someone in a committed relationship and "unable to contract with that other individual a marriage cognizable under [the Immigration and Nationality] Act."
As Lavi Soloway, a prominent immigration attorney who works on same-sex couples' cases and co-founded Immigration Equality and The DOMA Project, told BuzzFeed, "When we crafted the definition of 'permanent partner' that is the centerpiece of UAFA, our goal was the same then as it is today: to remedy the problem caused by the inability of same-sex couples to enter into marriages that would be recognized for the purposes of our immigration law."
With Section 3 of DOMA gone, however, same-sex couples' marriages would almost certainly be recognized under the INA. If that happens, the UAFA provision — even if enacted in to law — likely would no longer have any effect.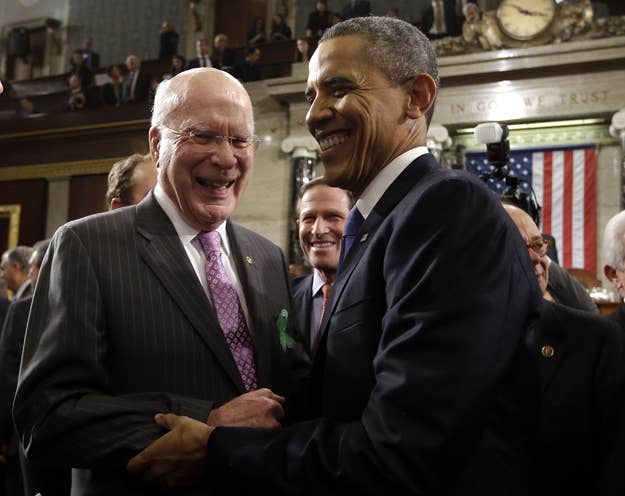 Other LGBT rights groups, including the Human Rights Campaign and Immigration Equality, have been pushing strongly for inclusion of the UAFA provision in the Senate's immigration bill. Neither group would directly respond to inquiries about the impact of a court ruling striking down Section 3 of DOMA. The case before the court was brought by Edith Windsor and heard by the justices in March, and a decision is expected by the end of June.
Immigration Equality spokesman Steve Ralls would not comment on the impact of a ruling striking down the provision, saying only, "Certainly the Windsor case is something we are keeping a very close eye on, but the decisions of this Supreme Court have proven very difficult to predict. We will not know, until we have the specifics of the decision in-hand, how that might impact our legislative strategy."
Despite the comments — or lack thereof — from LGBT groups about the impact, the legislative strategy, and any legislation itself, is sure to change dramatically if the court strikes down DOMA and same-sex married couples begin to be eligible for green cards.
Unlike some other provisions of federal law that focus on the state of residence, moreover, the government looks to whether a marriage was valid where entered into when determining whether a marriage is valid for immigration purposes. Because of this, even a same-sex couple in Texas or Michigan would only need to find a way to travel to a state where marriage is legal in order to marry and be eligible for equal green card treatment.
Although Gorenberg is correct that "a low-income couple in a southern state" would face difficulties that a couple in New York would not face, it is hard to imagine a Supreme Court ruling striking down DOMA not greatly reducing the perceived need for an UAFA-like provision in the immigration reform bill, even if amended to address the issues raised by the current legislation's definition of permanent partner.
Rea Carey, the head of the National Gay & Lesbian Task Force, suggested as much in a comment to BuzzFeed.
Noting that her group currently is "pushing for UAFA language to be included," Carey told BuzzFeed, "No one knows what is in the hearts and minds of the Supreme Court justices and, as things currently stand, UAFA is vital to ensuring bi-national same-sex couples are treated fairly. Even if the Court overturns Section 3 of DOMA we are still left with the reality that same sex marriage is not available in all 50 states and we would need to look at the range of options, including UAFA, for ensuring that bi-national couples can continue their lives together in this country if they choose."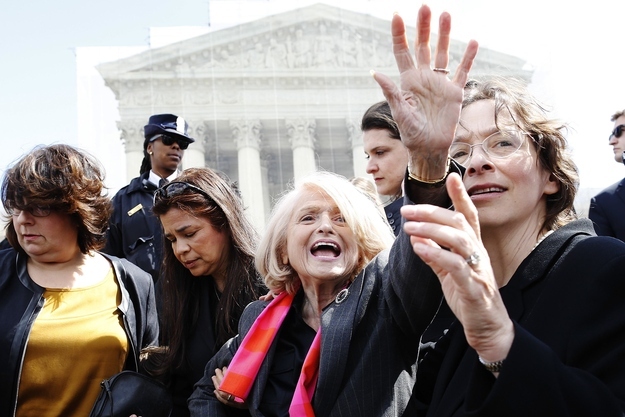 In light of all this, the many various comments, plans, and protestations from politicians and advocacy groups this week about the inclusion of same-sex couples in the immigration bill start to pull themselves together into a much more cohesive potential path forward than at first would appear.
LGBT groups have been pushing to ensure that Leahy includes an UAFA provision in the immigration bill during markup, and Democrats on the committee have suggested that they expect him to do so. If approved, the provision then would be in the Senate bill in advance of the Supreme Court ruling.
As Soloway said, "UAFA is desperately needed to give lesbian and gay binational couples access to fiance(e) visas and green cards for foreign-born spouses, precisely because DOMA blocks our access to all marriage-related provisions of our immigration law."
If the Supreme Court then strikes down Section 3 of DOMA before Senate floor consideration, which it appears poised to do, the provision could be removed from the bill — and with far less opposition from LGBT rights groups than they would have if it was not included and DOMA was still on the books. Without the provision, those Republicans who might point to the provision as their reason for opposing the bill would then be able to proceed with that objection off the table — and, for many same-sex couples, the issue already would have been addressed.
It would not be a perfect solution for LGBT right groups, as Gorenberg and Carey explained, but — as would quickly become clear in a post-DOMA United States — there will be several areas of federal law that are going to be seen as similarly treating gay, lesbian and bisexual people differently depending on where they live. Immigration law, at least, would allow people to travel to a state with marriage equality to address the issue, which is a lesser burden than will be the case in areas of federal law that determine marital-based benefits solely on the state of residence.