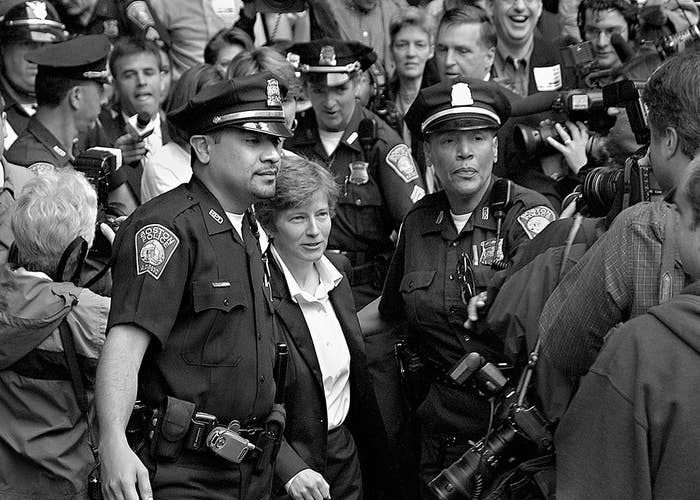 PORTLAND, Maine — Ten years after the Massachusetts Supreme Judicial Court ordered that the state become the first in the country to allow same-sex couples to marry, the once-feared concept has gained mainstream popular support, is recognized by the federal government, and is now the reality in 15 states and Washington, D.C.
Without Mary Bonauto, however, marriage equality might never have happened.
The lawyer brought marriage equality cases in Vermont, Massachusetts, and Connecticut. She argued the case to the justices in Massachusetts who brought marriage equality to the United States. She won the first decision striking down the Defense of Marriage Act's federal definition of marriage, and the first appellate decision too — a ruling that forced the issue before the U.S. Supreme Court earlier this year. If there's been a big moment in marriage equality's long march to reality, Bonauto was probably there.
And it's no secret either: The movement's other leading lawyers openly credit Bonauto for making the success possible.
Evan Wolfson, the lawyer who served as co-counsel in the Hawaii case that started the marriage equality discussion in full force back in the 1990s and now runs Freedom to Marry, gives Bonauto credit as the lawyer who "was able to deliver it." Paul Smith, whose argument at the Supreme Court led the justices to end sodomy laws across the nation, says she has been "essential" to LGBT progress since the 1990s.
"For Mary, it's all about winning — and it's not winning for her sake, it's winning for the dignity and the equality of gay people," says Roberta Kaplan, the attorney who argued against DOMA at the Supreme Court this year. "And everything that she has done in her career — everything — has been focused on that objective."
WHEN Bonauto first started at Gay & Lesbian Advocates & Defenders (GLAD), her task wasn't marriage equality at all, the 52-year-old lawyer explains at her kitchen table.
At home in Portland, where she lives with her wife, Jennifer Wriggins, and their twin daughters, Bonauto does not have the sharp edges of a lawyer who has squared off with the federal government on one of the most divisive issue of the day. She's just picked up pastries from her favorite bakery — not the kind of place that makes trendy cupcakes — in her minivan. Her gentle demeanor, however, is countered by a rapid-fire manner of speaking, belying the legal mind behind an easy smile.
After growing up and going to college in upstate New York, Bonauto graduated from Boston's Northeastern University School of Law in 1987 and began her legal practice in Maine. Bonauto became the director of Boston-based GLAD's civil rights project in 1990 to help litigate cases aimed at enforcing a new Massachusetts law banning sexual orientation–based discrimination in employment.
She told Wriggins that the job might only last a year or two.
"It wasn't clear the law was going to be around," she says. Though the discrimination ban had been signed into law by then-Gov. Michael Dukakis in 1989, a bid was under way to put the law on the ballot and up for a vote.
It did stay on the books, though, and Bonauto began bringing cases under the law.
"I was two and a half years out of law school, and I was trying to take on this idea … of showing why these nondiscrimination laws made sense, why nondiscrimination is the right policy," she says.
"The ferocity of the litigation was an indicator of where we were at because people were just so offended at being sued by 'a fag,'" she says of the era. "I mean, 'You're telling me I can't get rid of this person? You've got to be kidding me.'"
It was in this environment that Bonauto turned down potential challenges to marriage laws.
"On my very first week on the job, a couple called me, and I had to say no. I said no a lot, and it's not like I like saying no. I wanted to get married to Jenny, I did," she says. "For me, just, as a strategic matter, it was absolutely not the right time. And I have no second thoughts about that. At all."
But everything changed in 1993, when the Hawaii Supreme Court irrevocably shifted the focus of LGBT organizations — and of those opposed to LGBT rights.
In a landmark ruling, the Hawaii court held that the state would have to show a compelling reason for treating same-sex couples differently from opposite-sex couples. The ultimate results of the ruling in Hawaii would be muted for 20 years: The state passed a constitutional amendment in 1998 that allowed the lawmakers to restrict marriage to opposite-sex couples, before becoming the 15th state to legalize same-sex couples' marriage last week.
The ruling, however, reverberated far beyond Hawaii. At the time, the LGBT movement had, primarily, been focused on defensive efforts — from addressing hate crimes to repealing sodomy laws to responding to the AIDS crisis — and passing anti-discrimination laws. Now marriage really began drawing the attention of advocates.
LGBT advocates weren't the only people, though, who took note: Congress passed DOMA in 1996 in an effort to stop any other state or the federal government from needing to recognize any marriages of same-sex couples granted in Hawaii.
"It was one of those things where people's hopes had really been kindled, and then they were smashed," Bonauto says. "And then we faced the onslaught of the state marriage statutes."
After President Bill Clinton signed DOMA into law, Bonauto took the first of several key steps to change history, working with lawyers in Vermont to file a lawsuit in 1997 seeking marriage licenses for same-sex couples in the state.
"When Mary first started pushing that strategy with respect to the Vermont case, everyone told her she was crazy," says Kaplan. "It's one of the most brilliant, concerted litigation strategies I have ever seen — going step by step by step."
Bonauto and others at GLAD began working on the marriage case with two Vermont attorneys, Beth Robinson and Susan Murray. As they did so, though, the effort faced scrutiny from within the LGBT political and legal world. Coming so soon after the passage of DOMA and as voters in Hawaii and Alaska passed amendments halting marriage equality efforts in their tracks, the marriage equality fight that Bonauto has led did not start with a united front. Some advocates worried the trio's legal efforts in Vermont could set off a damaging chain reaction.
"I think there was a sense [from the political groups] that the legal groups were crazy," Bonauto says. "I remember many conversations … where the political groups would come in and they would basically caution us about doing things that would trigger a federal marriage amendment. That was always the concern."
The case reached the Vermont Supreme Court for oral argument on Nov. 18, 1998, and Robinson — now a justice on that court — argued the case. After a wait of more than a year, the decision finally came down on Dec. 20, 1999.
Bonauto immediately flew to Vermont from Massachusetts — before she had even read the opinion. "I had to jump on an airplane without seeing it … [or knowing] exactly what it meant," she says.
Vermont Supreme Court Chief Justice Jeffrey Amestoy wrote for the court that "legal protection and security for [same-sex couples'] avowed commitment to an intimate and lasting human relationship is simply, when all is said and done, a recognition of our common humanity."
Despite the language, the decision shocked Bonauto. The court had ducked the question of whether marriage needed to be extended to same-sex couples by leaving that decision to the legislature — an out that led the legislature to create civil unions instead. Particularly coming after the steamrolling against marriage equality on the federal level in 1996 with DOMA and the 1998 loss before the voters in Hawaii, Bonauto and others were looking for marriage. The civil union concept, as Bonauto says, gave otherwise supportive politicians room to believe, "We can be fair to gay couples, and it doesn't have to be marriage!"
Nonetheless, judging the political reality at the time, GLAD backed the move — although she called it "a bitter thing" and acknowledged that some of their coalition partners left the group over the decision because it was not marriage.
"Looking back on it in hindsight, knowing how much grief I have felt over civil unions over the years," Bonauto says, "I still think it was the right thing to do because we didn't have any comprehensive status anywhere. We didn't really have a family in a way that seemed like a family to anyone, as a legal matter."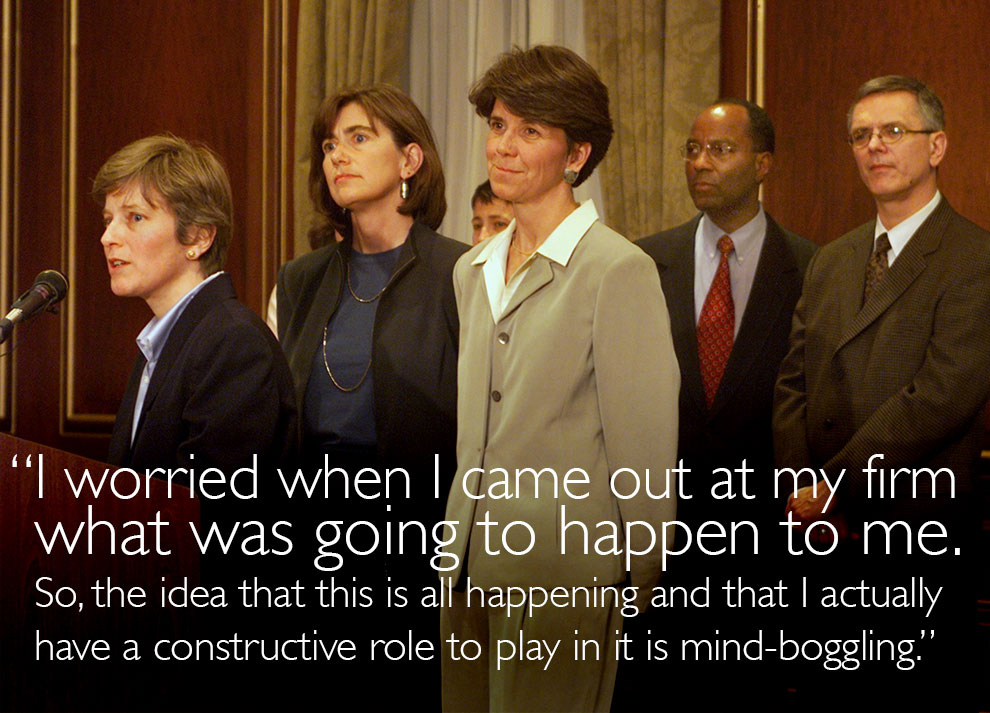 WITHIN a year, Bonauto pressed forward with the aim of marriage. GLAD filed a lawsuit in Massachusetts on behalf of Hillary and Julie Goodridge and six other same-sex couples seeking equal marriage rights.
This time, they made clear civil unions were not an option.
Bonauto and her team faced more than just the recent, less-than-ideal results in Vermont. They were still working in a world before the 2003 Supreme Court ruling that struck down sodomy laws across the country. "As a matter of law, morality was a basis for distinguishing between protections for gay people and non-gay people," Bonauto says. "I think a big part of this was — I know it sounds so trite now — but, the idea of really humanizing gay people, 'Why would you invoke a moral judgment about them?'"
After losing at trial, the case advanced to the Massachusetts Supreme Judicial Court, where Bonauto argued for legal marriage equality on March 4, 2003.
"Before the argument, I went up to this … law library that I used to go to all the time," she says. "I just went in there and I was just trying to steel myself, thinking, Mary, you know, you are right. You're right. This is correct. You are on the right side here."
Bonauto had just 15 minutes before the court.
"I think the first question was, 'Why should we do something no one else has ever done?' — which is a fair question, and I said, 'Because marriage is a fundamental right, [this is] sexual orientation [discrimination], and this is the right thing to do.'"
The court agreed.
"The Massachusetts Constitution affirms the dignity and equality of all individuals," Chief Justice Margaret Marshall wrote in the court's landmark decision, issued on Nov. 18, 2003. "It forbids the creation of second-class citizens." The government, the court held, "has failed to identify any constitutionally adequate reason for denying civil marriage to same-sex couples."
The next six months were a whirlwind of fights over whether the opinion required marriage itself, lawsuits from private parties seeking to stop the ruling, and an effort to amend the state constitution. But, finally, same-sex couples began marrying in Massachusetts on May 17, 2004.
That morning, Bonauto took her clients to get their marriage licenses at the Boston Clerk's Office, where they were met with hundreds of journalists and photographers. "Then we got outside to walk in the courthouse plaza to walk to the courthouse, and it was a mob scene. There were anti-sniper people on the roofs. We had police escorts," she says. "And then the police said to us, 'You gotta hold hands and walk single file,' because we just couldn't get through the crowd, we couldn't walk normally."
"The police were literally throwing people out of the way if they blocked us in any respect. It was incredible. The joy was just overflowing. It just was overflowing."
David Wilson and Rob Compton were the first same-sex couple to marry at Arlington Street Church, a Unitarian Universalist parish located in Copley Square. Kim Crawford Harvie, an out lesbian with a strong following in Boston, performed the ceremony.
"I'm embarrassed to say this, but once I sat down, I just burst into tears — even before the thing started," Bonauto says. "I think I had just been so pent up about finally getting to this point."
"The wedding was beautiful. Then for the first time I hear, 'By the power vested in me by the commonwealth of Massachusetts I now pronounce you legally married,'" she says, smiling. "That was excellent."
"And then I went to as many weddings as I could."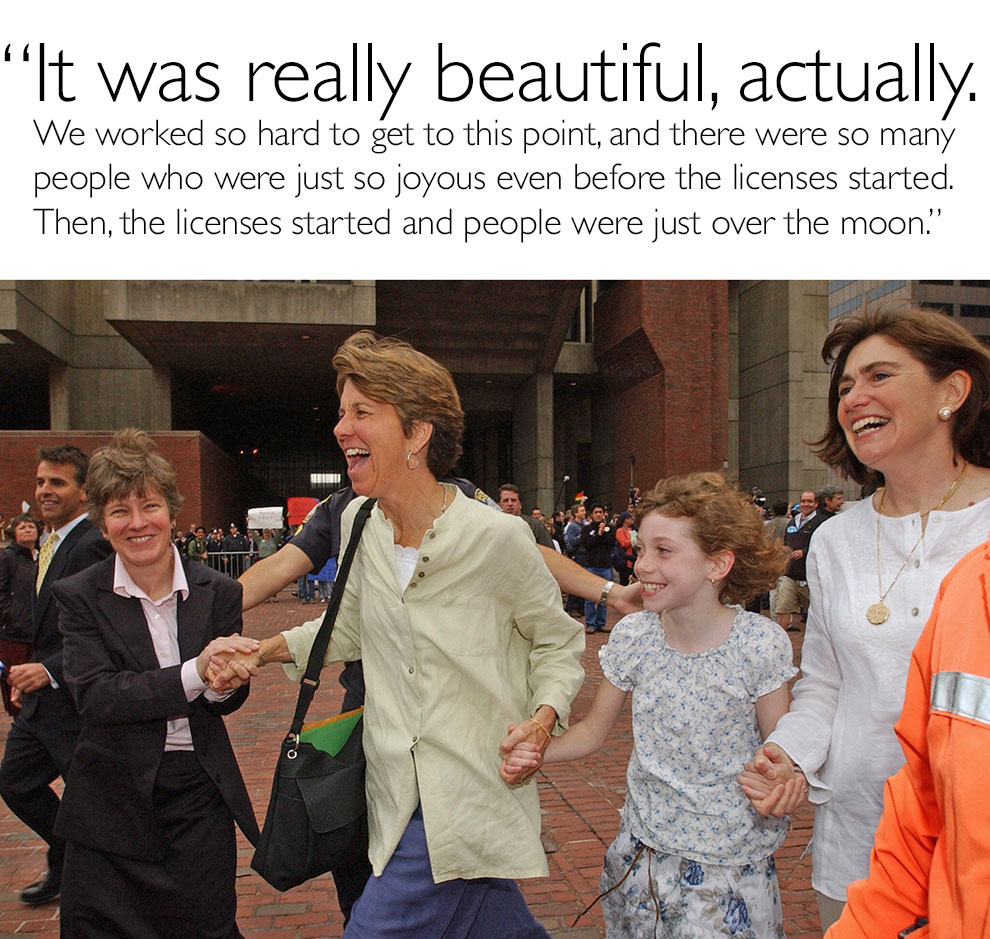 THEN came the backlash.
Although political scientists and campaign veterans have presented substantial evidence that "gay marriage" did not cost John Kerry the 2004 election, even Bonauto acknowledges that it is "part of the urban legend at this point." More than that, 11 states amended their constitutions to ban same-sex couples from marrying — and efforts were under way to try to put an amendment on the ballot in Massachusetts as well.
The effects were felt in Massachusetts. Bonauto remembers attending an event marking the court ruling that ultimately granted same-sex couples the right to marry in the Bay State. Anxiety fell over what was intended to be a celebration. "It was a packed room in a hotel, but everybody wanted to know, 'Is this our fault? Did we do something wrong?'" she says. "It was a very challenging experience for me to talk that night, because I felt so awful."
GLAD kept on pushing forward, though, filing a marriage lawsuit in Connecticut in August 2004. But even that faced detractors — Bonauto was urged repeatedly to drop the case — as the environment for marriage equality looked grim. Advocates lost marriage lawsuits in New York and Washington state, and in New Jersey, the Supreme Court stopped short of ordering marriage in the state. Replicating the Massachusetts victory elsewhere became imperative.
"The period of time between May of '04 and getting to a second state felt like an eternity, and it was," Bonauto says. "It made Massachusetts more vulnerable to those amendments because other states were dropping like flies, whether legislatively, constitutional amendments, court cases. It was really essential to get to those next states."
Finally, in 2008, California became the second state to issue a ruling requiring the state to allow same-sex couples to marry — although their marriages were stopped there months later when voters passed Proposition 8. Before that vote, though, Connecticut's Supreme Court reached the same conclusion as had California's high court in the case brought by Bonauto.
The day after the Connecticut decision, Bonauto and Wriggins were married in Massachusetts. Although their wedding had been planned before the decision came down, it was made more abrupt by Bonauto's unexpected trip to Connecticut the day before. After more than 20 years together, the couple "basically eloped" on Oct. 11, 2008.
"It was me and Jenny and the kids — and the officiant — and we went out for ice cream," she says. "We had dinner that night, the four of us. There was no way I was going to have a big wedding."
Residing in Maine, the family has not been immune to the darker moments of the marriage equality struggle. A year after Bonauto and Wriggins wed, Mainers overturned a marriage equality law passed by state legislators in a referendum.
Although Bonauto had worked on the passage of the law and on the campaign to preserve it, she says, "You feel it as a parent, because you can't help but experience the rejection at the polls as a repudiation of your family. And the kids experience it that way."
"I had to tell my kids the next morning what happened. That's what I was dreading so much. How would I explain this to them, that people were voting against their family?" she says. "I got out a map of the state, and I said, 'You see down here, there's a lot more people here, and they know families like ours, so they mostly voted with us. Up there, people didn't vote so much with us because they don't know as many families — but they're going to get to know our families. They are. They absolutely are.'"
Before the 2009 campaign even began in Maine, though, Bonauto already had launched another front in the marriage equality battle — a big one. GLAD filed a challenge in March 2009 to Section 3 of DOMA on behalf of Nancy Gill and several others in federal court in Massachusetts; the provision barred the federal government from recognizing any same-sex couples' marriages.
"We obviously turned our attention to DOMA," Bonauto says, "because now we had people who were married and discriminated against." Once same-sex couples began marrying in Massachusetts, GLAD started readying to go up against DOMA. The group had begun representing former Rep. Gerry Studds' widow, Dean Hara; helping married same-sex couples file claims with Social Security; and interviewing people statewide, focusing on a range of impacts of DOMA on the couples in the state, in preparation for the eventual lawsuit.
"[Mary] came up with the DOMA strategy," says Kaplan, the lawyer who argued against DOMA before the U.S. Supreme Court. "Obviously, when Edie Windsor came to me, I was going to bring the case, but who would have known had they not filed [the DOMA challenge in Massachusetts] whether anyone thought that was viable?"
The case, Gill v. Office of Personnel Management, was considered alongside a second case brought by Massachusetts Attorney General Martha Coakley and heard in 2010. Judge Joseph Tauro ruled on July 8, 2010, that Section 3 of DOMA was unconstitutional on several grounds. The ruling was the first of its kind, and it set the stage for several decisions from courts up to and including the U.S. Supreme Court in the three years that followed.
Much like the Hawaii ruling years before, the DOMA ruling served as catalyst to additional lawsuits being filed by other organizations and in other places. "It's really clear that winning changes everything," Bonauto says. "We had nailed it."
Then, with several DOMA lawsuits pending around the country, a significant change happened on Feb. 23, 2011: The Justice Department announced that the government, including President Obama, had concluded that DOMA is unconstitutional and would no longer be defending the law in court challenges. In July 2011, it began arguing that courts should strike down Section 3 of the law as unconstitutional.
"This is the United States saying, 'No, we can no longer as a nation presume this discrimination is acceptable. And we can't because, look at who these people are and look at what we have done to these people,'" Bonauto says. "Very strong stuff."
Cases proceeded against DOMA, and in 2012, Bonauto made the case against DOMA's constitutionality to three judges of the 1st U.S. Circuit Court of Appeals. By the end of May, the judges ruled unanimously that Bonauto — who was now supported by the federal and Massachusetts governments in her arguments — was right, making it the first appellate court to strike down DOMA.
Meanwhile, legislative victories were mounting, including — for the first time — at the polls. Maryland and Washington rejected attempts to repeal marriage equality laws. Minnesota rejected a proposed constitutional amendment to ban marriage equality. And Bonauto's home state of Maine became the first state to reverse course in a popular vote on marriage equality.
In late 2012, U.S. Supreme Court decided to take up the question of DOMA's constitutionality — but, in a twist likely due to one justice's recusal, not Bonauto's case.
Instead, the court would hear the case brought by Windsor and argued by Kaplan. "Was it disappointing? Yeah, definitely," Bonauto says. But she and GLAD quickly became part of the team, running the effort to coordinate the filing of amicus curiae, or friend-of-the-court, briefs to support Windsor's case. "That's what you do."
Kaplan moved to enlist Bonauto in the effort immediately. "Look, one of the first calls I made — well, the first call was to my wife, but probably the second call I made after the Supreme Court took cert was to call Mary and ask her to run the amicus effort," Kaplan says. "There's a reason for that."
On June 26 of this year, Justice Anthony Kennedy wrote in his opinion for the court that Section 3 of DOMA is unconstitutional because "no legitimate purpose overcomes the purpose and effect to disparage and to injure those whom the state, by its marriage laws, sought to protect in personhood and dignity."
He wrote, in part, that the law is unconstitutional because its principal purpose "is to impose inequality" — the simple and direct argument that Bonauto, Kaplan, and many others had been making for the entire 17 years of the law's existence.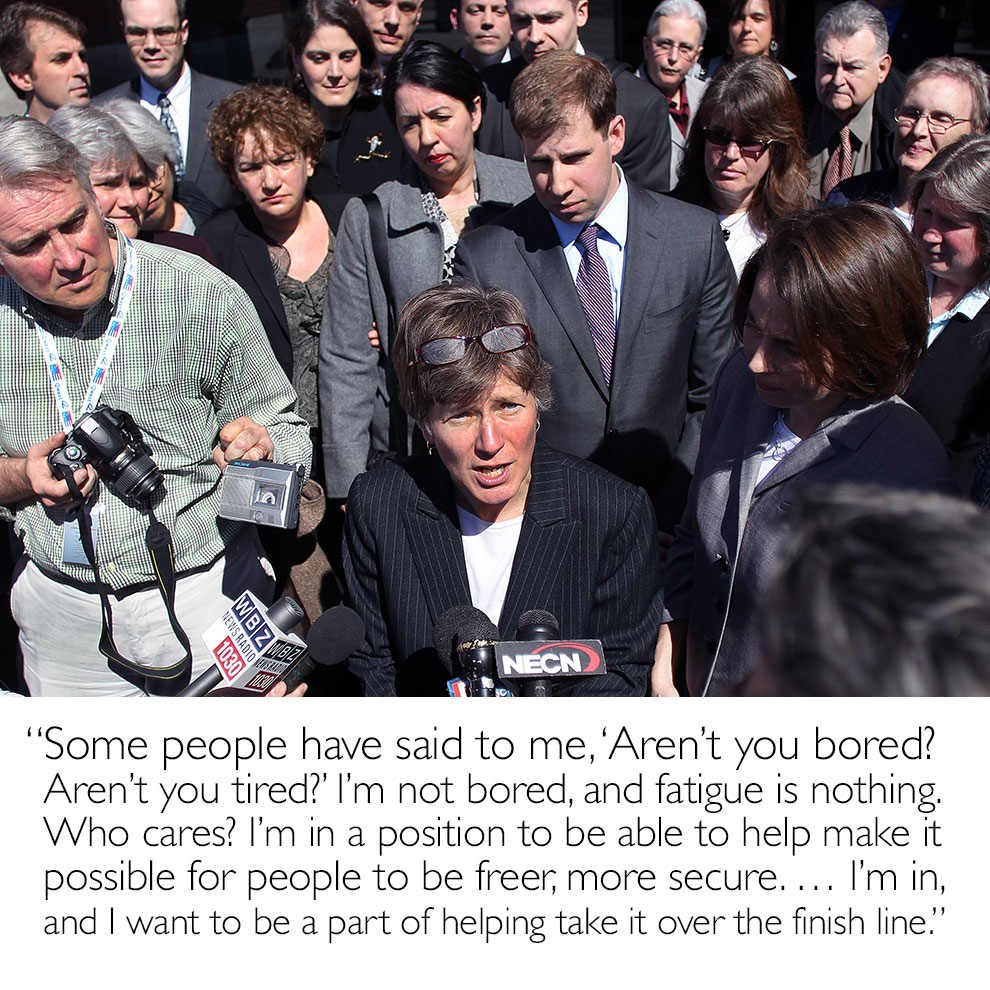 SITTING in Post Office Plaza, a small park a few blocks from the Portland harbor, Bonauto is reflecting on the beginnings of all this over ice cream from a favorite parlor nearby.
"You know, I worried when I came out at my firm what was going to happen to me," she says. "The person who I first told was actually driving me and did get a little wobbly with the wheel, so it could've been the last time I came out. The idea that this is all happening and that I actually have a constructive role to play in it is mind-boggling."
"So much of this time we've been hoping, hoping that the Constitution that appeared to apply to all of us would in fact apply to us, and we're living in these times when it is. And that's coming to be, and we're making it happen."
What's next, she says, are efforts ensuring that workers actually can use employment protections they've gained, protecting LGBT youth and elderly populations, advancing transgender rights, and supporting and expanding marriage efforts outside New England. In sum, Bonauto sees a lot left to do. So much, in fact, that she and her wife still haven't had their own wedding reception.
"Who has time to have a party? I will at some point," she says. "We celebrated our 25th [anniversary] last October, and that would've been great, but you know, it was right before the election, the Supreme Court's gonna grant review, and it was just like, 'Hello, it's not exactly time to have a party.'"
Not that she sees that as a bad thing.
"Some people have said to me, 'Aren't you bored? Aren't you tired?' I'm not bored, and fatigue is nothing. Who cares? I'm in a position to be able to help make it possible for people to be freer, more secure," she says, describing letters she receives from all sorts of people, from kids to 70-year-olds, transformed by the work. "I'm in. I'm in, and I want to be a part of helping take it over the finish line."