How The Clinton White House Dealt With Same-Sex Weddings In 1999
On Thursday, the Clinton Presidential Library in Little Rock, Arkansas, released thousands of documents about "gay marriage" and the Defense of Marriage Act. Here are some of the documents BuzzFeed News found.
The year was 1999.
Three years earlier, President Bill Clinton, who opposed same-sex couples' marriage rights at the time, had signed the Defense of Marriage Act into law — banning the federal government from recognizing such marriages.
But, same-sex couples were still out there — holding commitment ceremonies and, for some, weddings. More than a handful of those couples invited Clinton to their ceremony or wedding.
What to do?
1.
Notice an issue.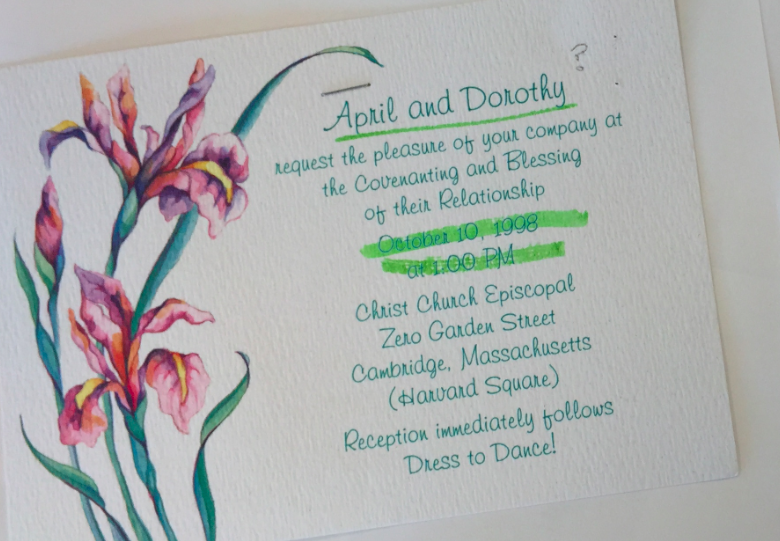 2.
Describe the policy and why it's a problem.
The actual policy of the Clinton White House was to take same-sex couples' wedding invitations, put them in a file, and do nothing else with them.
Then, Kelley Van Auken came along and was having none of it. Van Auken had served as the director of volunteers and worked in the Greetings Office in the Clinton White House. She died in 2014.
Her solution to the same-sex couples' wedding invite problem — a solution she saw as entirely consistent with DOMA — was to send such couples cards letting them know the president was joining them in celebrating their "Special Day."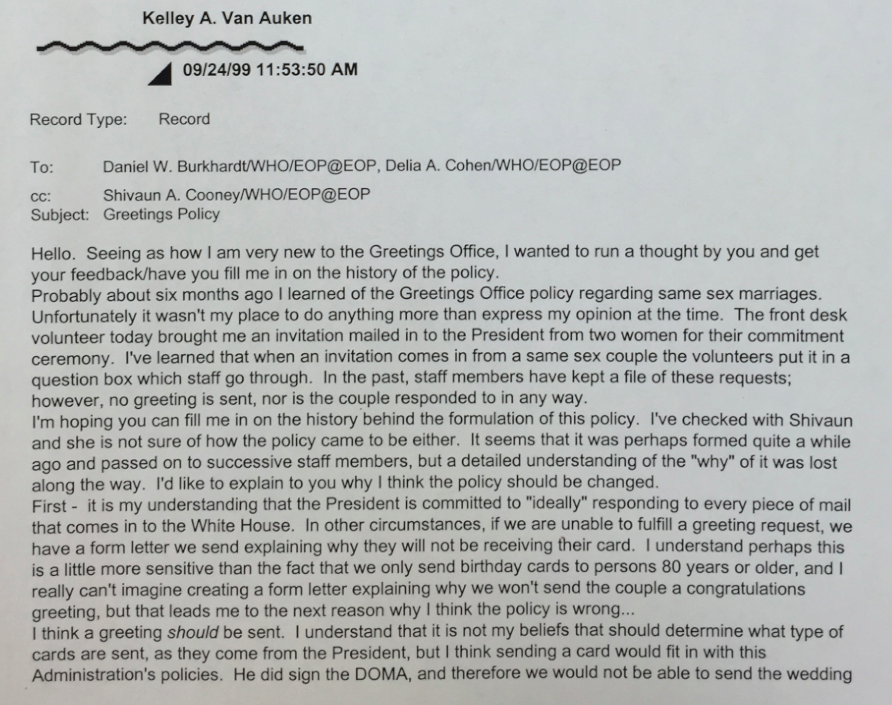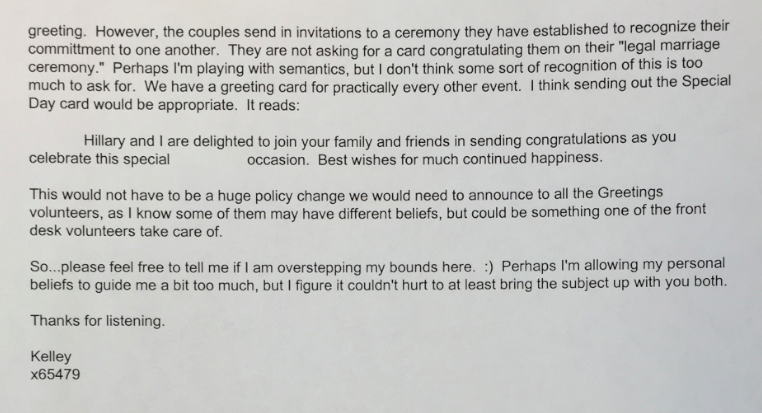 But then, Van Auken learned that decisions in DC get complicated.
3.
Call the person who used to do the job to find out why the policy is even in place.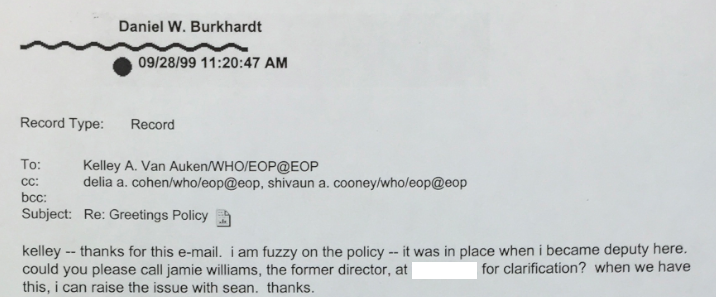 Van Auken's boss was "fuzzy" on the policy.
4.
Vent.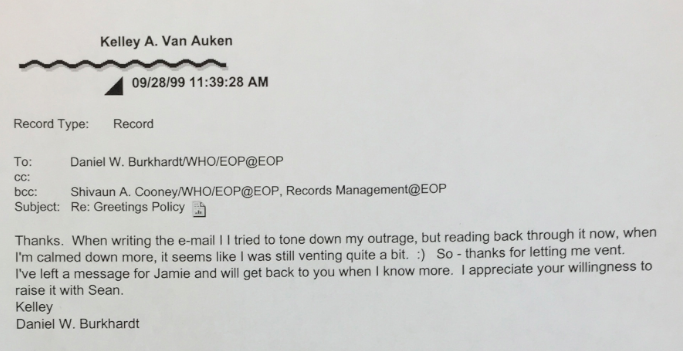 Van Auken was undeterred.
5.
Check with the lawyers.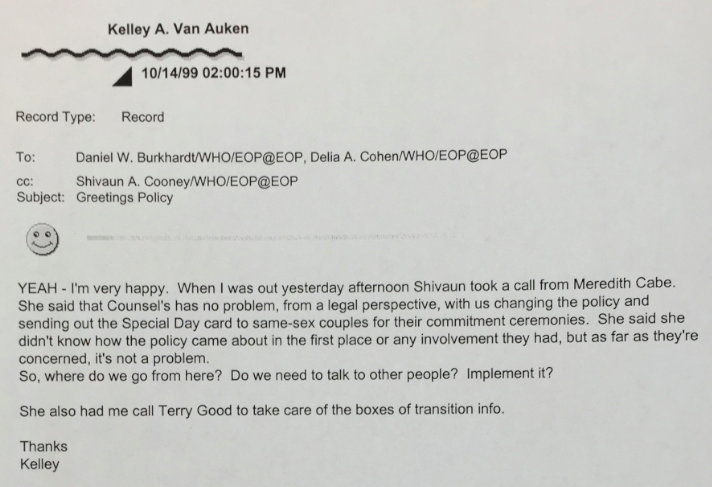 The issue was taken to the counsel's office. Lawyers reviewed whether Clinton, legally, could celebrated same-sex couples' "Special Days."
6.
Get the boss's approval.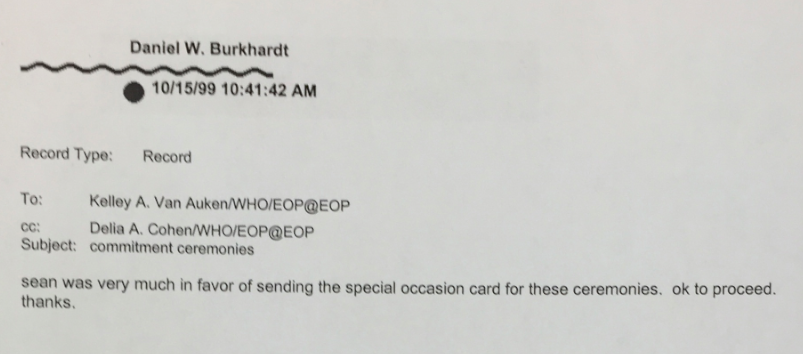 There is no greater moment than when a staffer gets the "ok to proceed" email.
7.
Accept the praise of your colleagues.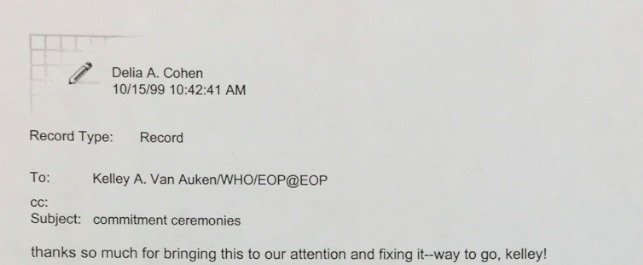 8.
Look at your accomplishment.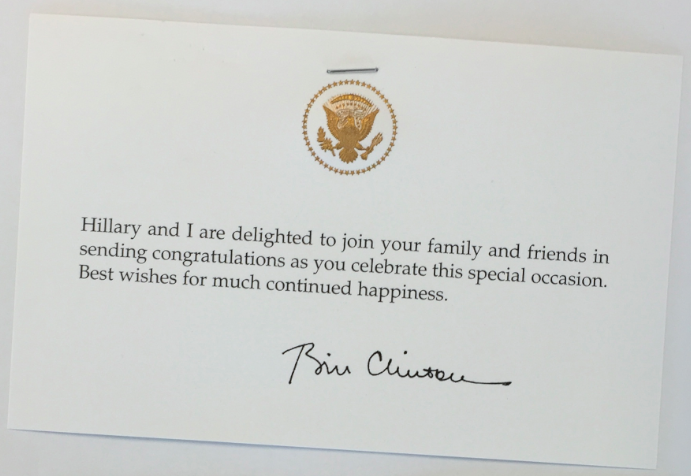 Of course, after all that, "special days" were nonetheless a compromise different from the cards sent for straight couples' weddings.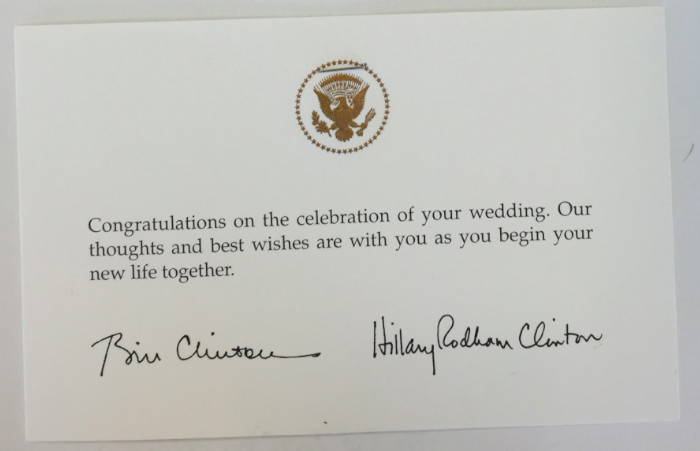 This article was updated to provide additional information about Kelley Van Auken.