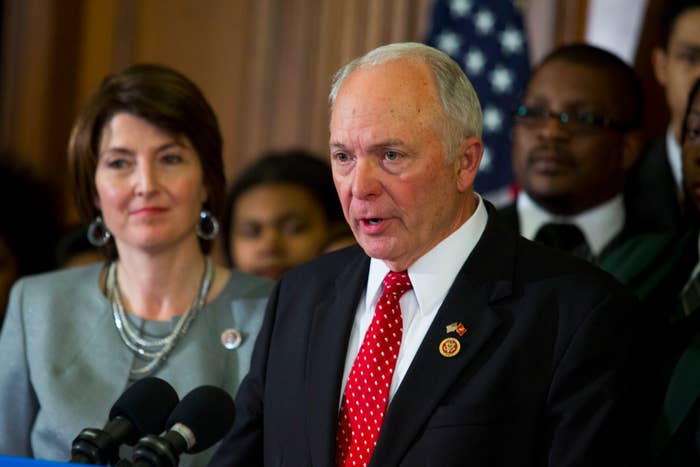 WASHINGTON — Two key House Republicans on employment issues have asked the Labor Department to withdraw its new rule protecting LGBT employees of federal contractors from discrimination.
House Education and Workforce Committee Chair John Kline, a Republican from Minnesota, and Rep. Tim Walberg, the Republican chair of the Subcommittee on Workforce Protections, made the request for a 60-day public comment period for the rule in a letter to the head of the office responsible for enforcing it.
"[W]e understand the public was not afforded an opportunity to submit comments as provided under the Administrative Procedures Act (APA)," Kline and Walberg wrote to Office of Federal Contract Compliance Programs Director Patricia Shiu. "Public comment is essential to all rulemakings."
The rule, published in the Federal Register on Friday, was posted online on Wednesday, the day Kline and Walberg sent the letter. The rule was issued pursuant to an executive order issued by President Obama this summer. The order, which had been a goal for LGBT advocates since Obama's election, amends an order signed by President Lyndon Johnson barring federal contractors from discriminating on race, color, religion, sex, or national origin.
After laying out their argument, they write, "We therefore urge OFCCP to withdraw its final regulation submitted to [Office of Management and Budget] ... so the process for implementing [Obama's executive order] can be done with the transparency and public participation typically afforded under the APA." They ask for a response from Shiu "no later than December 17, 2014."
One prominent LGBT advocate expressed anger at the move from Kline and Walberg.
"Kline represents a moderate district where majorities of voters support LGBT workplace protections, so this is clearly an example of Kline pandering to the extremist element of the Republican base," Tico Almeida of Freedom to Work told BuzzFeed News. Almeida previously worked for Rep. George Miller, the former chair of the committee Kline now leads.
A Labor Department spokesperson did not immediately respond to a request for comment about the letter.
Labor Department spokesperson Laura McGinnis told BuzzFeed News, "We have received the letter and are reviewing it."