Obama Administration Will Consider Gay Couples' Marriages In Deportation Decisions
Another step toward recognition on a high-stakes issue for many couples. Nancy Pelosi had pressed for clarification.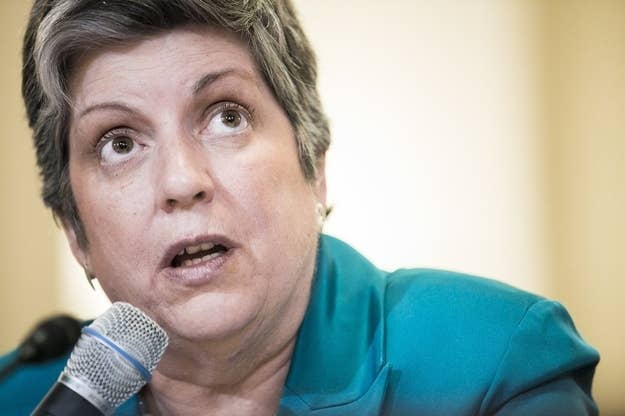 The Department of Homeland Security will avoid deporting foreign same-sex spouses of Americans, an Administration spokesman told BuzzFeed Wednesday, under a policy to consider same-sex marriages a reason not to start deportation proceedings.
The statement — which comes in response to pressure from House Democrats and advocates — makes explicit that the Obama Administration will consider same-sex marriages a reason not to start deportation proceedings.
"[W]hen exercising prosecutorial discretion in enforcement matters, DHS looks at the totality of the circumstances presented in individual cases, including whether an individual has close family ties to the United States as demonstrated by his or her same-sex marriage or other longstanding relationship to a United States citizen," Peter Boogaard told BuzzFeed Monday.
Although a man and woman who marry when one spouse is American and one is not are able to get a green card for the foreign partner, the Defense of Marriage Act prevents the federal government from issuing green cards to same-sex couples. Advocates, however, have been pressing the Obama administration to put green-card applications by gay couples on hold — or to at least halt deportation proceedings for same-sex foreign partners who would otherwise be eligible for a green card — while DOMA is challenged in the courts.
Marriages or other "longstanding relationships" between an American citizen and foreign individual do constitute the type of "close family ties" that would lead the department to consider an immigration case a "low priority" that it would not pursue in its exercise of prosecutorial discretion, Boogaard explained.
Unlike in the case of a straight married couple, in which case the law defines the marriage as an independent basis for granting a green card, Homeland Security's policy regarding same-sex couples does not make it an independent basis but instead makes it a factor in deciding whether or not to pursue removal proceedings.
The issue arose because the administration had appeared to backtrack in the past year on a commitment to include such a policy in its effort to focus Homeland Security's resources on high-priority immigration cases. On Wednesday, House Minority Leader Nancy Pelosi and more than 80 of her House colleagues pushed the Obama administration to put in writing a policy on the matter.
The department has issued a new policy governing the issuances of "Notice to Appear" documents, which is the step that starts removal proceedings, which can lead to deportation. The new policy will put the policies of U.S Citizenship and Immigration Services — which considers green card applications — in alignment with Immigrations and Customs Enforcement policies for "low priority" enforcement cases, according to the department — which means that USCIS won't likely issue the notices unless other negative factors, like a criminal record, are found. A spokesman did not respond to an immediate request for a copy of the policy.
Boogaard told BuzzFeed that the department will continue to comply with DOMA — which prevents green cards from being issued to foreign same-sex partners of Americans — "unless and until Congress repeals it, or there a final judicial determination that it is unconstitutional." The Obama administration has noted that continued enforcement since President Obama and the Department of Justice announced in February 2011 they would no longer be defending DOMA in court challenges.