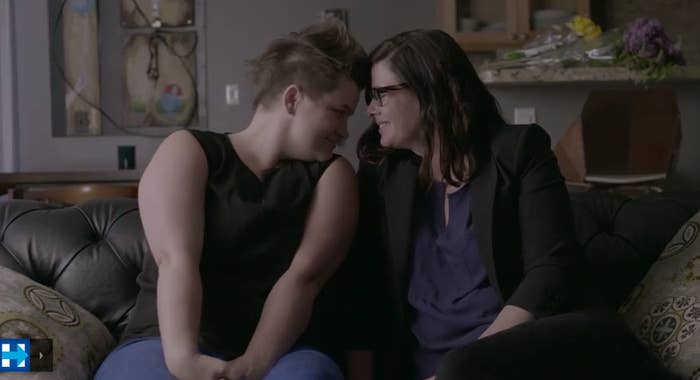 WASHINGTON — Hillary Clinton put her support for marriage equality and LGBT rights front and center on Sunday in the launch of her second presidential campaign — including two same-sex couples in her two-minute video announcing her candidacy.
The position isn't surprising. Clinton is the front-runner for the Democratic nomination and support for marriage equality is shared by almost all national Democratic officials at this point.
But Hillary Clinton stands out, however, for silence at times during the debate over the last two decades over marriage equality. And though her so-called evolution on LGBT rights is by no means unique in the Democratic Party or beyond, her prominence as a public official over the last two decades and proximity to two presidential administrations provides many high-profile moments where she faced — and sometimes avoided — questions relating to same-sex couples' relationship rights.
It all began in 1996, when Congress began considering the Defense of Marriage Act.
The first lady's office began receiving correspondence "on the subject of same-sex marriage." Hillary Clinton's director of correspondence, Alice Pushkar, pushed the issue to the president's office.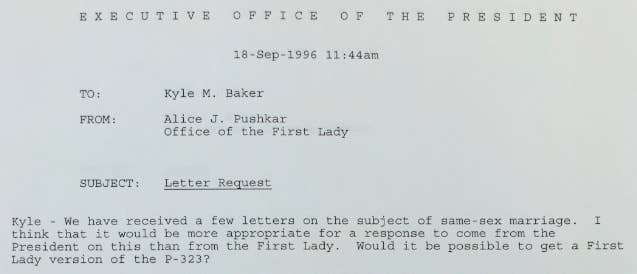 The documents about the handling of the marriage letters were some of hundreds of thousands of documents from made available to researchers at the William J. Clinton Presidential Library for the first time this past week, as first reported by Bloomberg Politics.
President Clinton had said in the 1992 campaign that he opposed marriage rights for same-sex couples. He had already announced that he would sign DOMA into law if passed. So, the president's office agreed to respond to the letters sent to Hillary Clinton.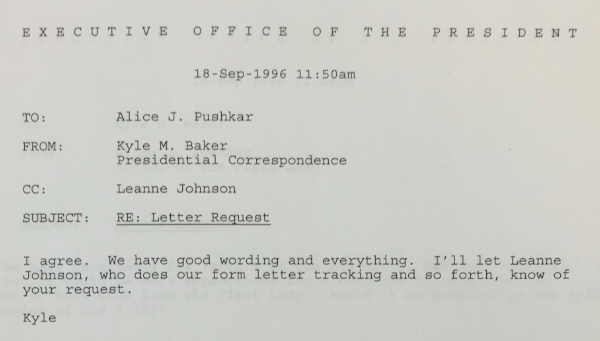 Only two sentences were altered, per this draft in the correspondence file.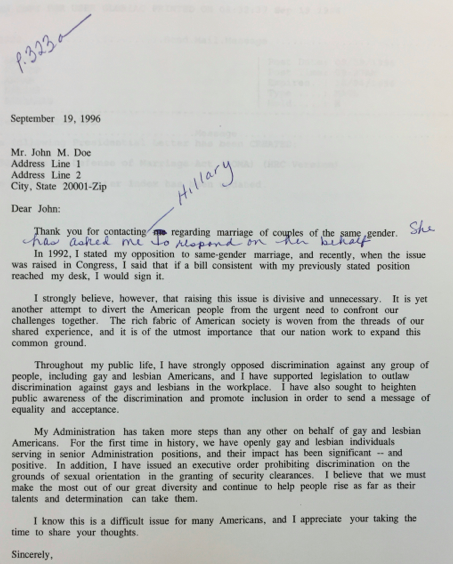 Instead of Hillary Clinton responding, now Bill Clinton would respond.
The change was made.

The new draft form letter contains no information about Hillary Clinton's position on marriage rights for same-sex couples or DOMA.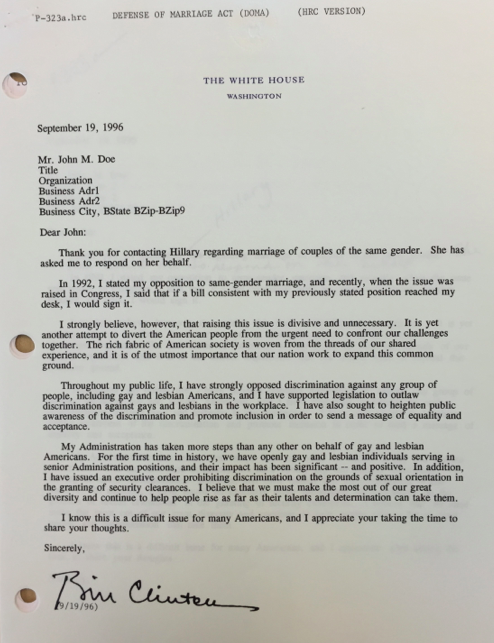 The library file's other contents suggest that the form letters may never have been sent. One handwritten note states, "Archive because lang[uage] approved; even though nothing went out."
In fact, Hillary Clinton did not herself clearly state her views on same-sex couples' marriage rights until 2000.
On Jan. 10, 2000, with her Senate campaign underway, Clinton acknowledged her support for domestic-partner benefits for same-sex couples, but said she opposed marriage rights — and that she supported DOMA.
"Marriage has a historic, religious and moral context that goes back to the beginning of time," she said, according to a New York Times report on the news conference. "And I think a marriage has always been between a man and a woman."
"The way the Republicans tried to set up DOMA was a trap," the report quoted Clinton as saying. "That's all it was. It was a gotcha game."
As the New York Daily News reported on the news conference the next day, however, she went further: "After repeated questioning by reporters, she finally said that had she been in the Senate in 1996, she would have supported (DOMA)."
Three years later, then-Sen. Clinton no longer had a position on DOMA.
"This issue is in a state of evolution," a spokeswoman said in June 2003, according to the New York Post.
By the time she was a candidate for president in June 2007, Hillary Clinton evolved to the point of rejecting part of DOMA. She announced her opposition to the part of the law that banned the federal government from recognizing same-sex couples' marriages, which had then been taking place for three years in Massachusetts.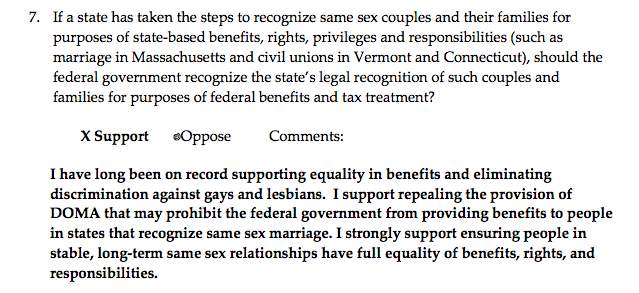 There was no move, though, on marriage itself.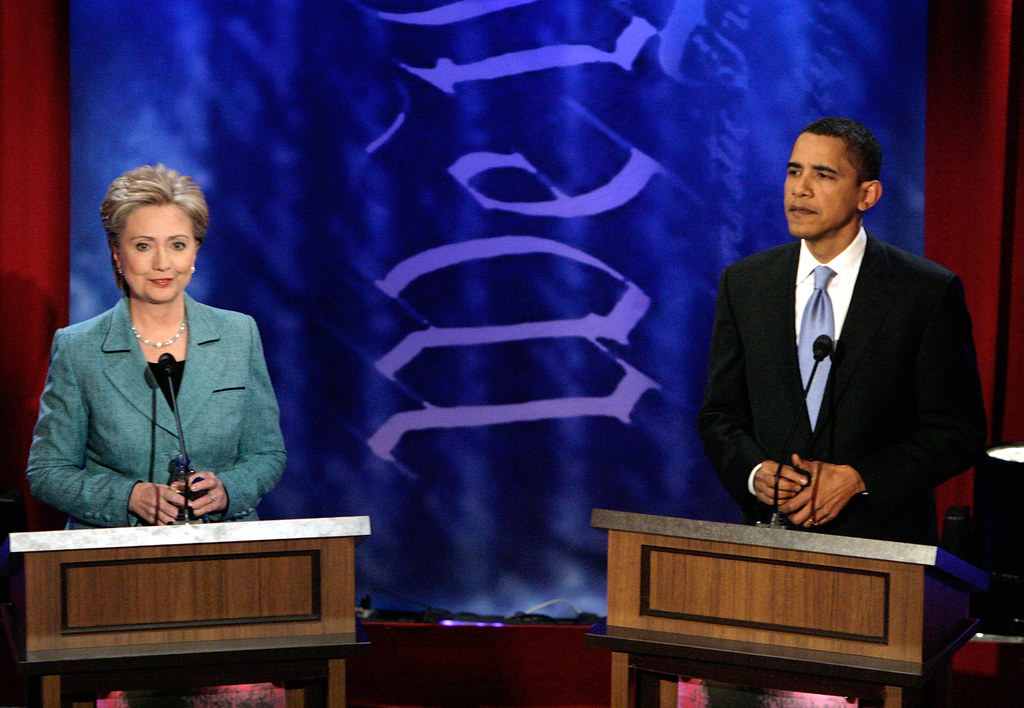 In the 2008 campaign, both Clinton and Obama took similar positions on the issue — personally opposing marriage equality but opposing a constitutional ban on same-sex couples' marriages, supporting civil unions, and supporting the repeal of the recognition ban in DOMA. Obama, though, went further on DOMA, supporting complete repeal of the law.
In September 2009, President Clinton announced that he had changed his position on marriage rights for same-sex couples, but Secretary Clinton — who had joined President Obama's administration to serve as secretary of state — made no similar comments.
On Dec. 6, 2011 — International Human Rights Day — Clinton gave a notable address in Geneva, Switzerland, calling for "a global consensus that recognizes the human rights of LGBT citizens everywhere."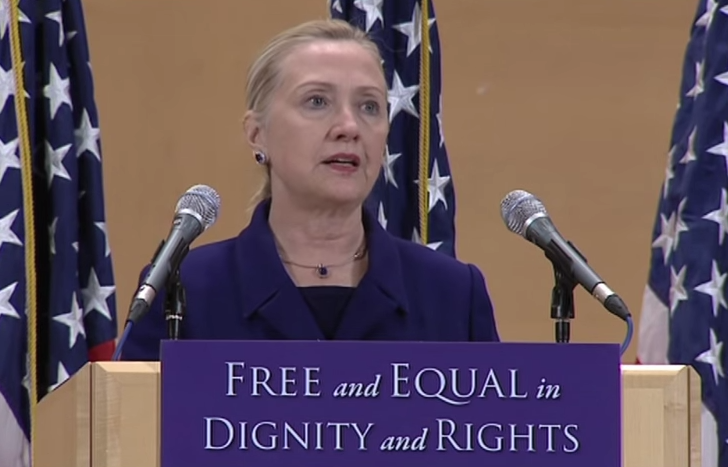 And yet, there was not a single mention of the word "marriage" — let alone her views on the issue — in the course of the 30-minute address.
Even after that, in June 2014, Clinton had a testy interview with NPR's Terry Gross when asked to discuss her position on marriage equality and when it changed.
It also was not clear from that interview whether Clinton believes same-sex couples should be found to have a constitutional right to marriage — the issue that is now pending before the Supreme Court.
Asked on Sunday evening whether Clinton has a position on the issue, a Clinton spokesperson said that a response to the inquiry would be forthcoming.
Earlier Sunday, though, Hillary Clinton did announce in a video that she is running for president a second time, and featured a same-sex couple talking about getting married in the opening segment of that video.
The video also included a second same-sex couple, appearing in a montage after Clinton, in a voiceover, said, "When families are strong, America is strong."
Within hours of Hillary Clinton's announcement that she was running, LPAC, which bills itself as the only lesbian PAC, endorsed Clinton's run. Billie Jean King will be the co-chair of LPAC's Lesbians 4 Hillary grassroots effort.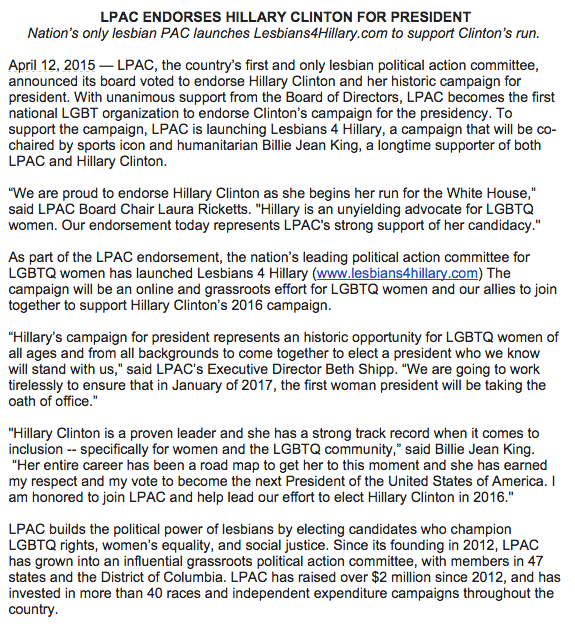 Equality California, another LGBT organization, previously endorsed Clinton in anticipation of her run.
Additional information about then-candidate Obama's positions on same-sex couples' marriage rights in 2008 was added to this report after initial publication.