Hillary Clinton Pitches Her Would-Be Presidency To LGBT Advocates
"You've helped change a lot of minds, including mine," Hillary Clinton told the leaders of the Human Rights Campaign, the nation's largest LGBT rights group.
WASHINGTON — Hillary Clinton on Saturday spoke to the staff, board, and volunteer leaders of the Human Rights Campaign, the nation's largest LGBT rights organization, to make the case that she is the best candidate to represent LGBT Americans when President Obama leaves office.
Explaining that she understands the "indignities" and "injustices" that LGBT Americans still face, Clinton told the crowd in a ballroom at the Mayflower Hotel in Washington, D.C. that she is "running for president to end them once and for all."

Clinton talked about the successes of the LGBT movement in recent years and noted her campaign headquarters in Brooklyn has a map showing where same-sex couples can now marry in the U.S. (it's all colored in now). She thanked marriage case plaintiffs — including Jim Obergefell, who was in attendance, and Edie Windsor — and their lawyers for working to achieve that end.
"You've helped change a lot of minds, including mine," she told the group.
The speech was not, however, simply a marriage equality celebration; Clinton laid out several legislative and policy goals, in addition to broad statements about the need for continued vigilance against pushback on LGBT rights.
Calling the ongoing legality of discrimination in some areas of the country "outrageous," Clinton highlighted her support for the Equality Act, the legislation introduced this spring to ban LGBT discrimination in a variety of areas, including employment, housing, credit, and education. She added that she hoped that some of the people in the room on Saturday morning would be with her when, she said, "I sign it into law."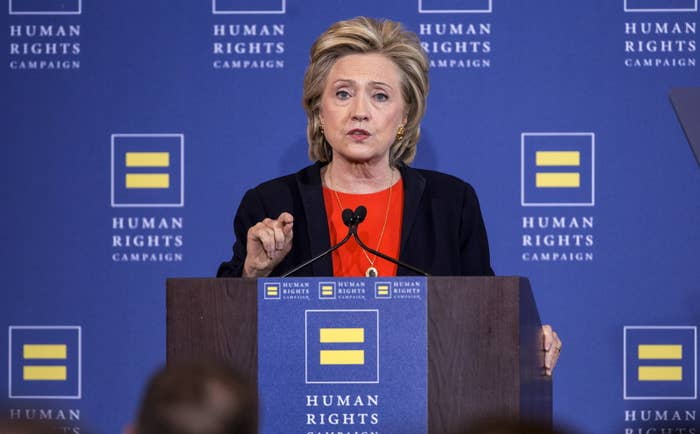 With regards to the military, Clinton said she supported upgrading the status of discharges of former service members who had been dismissed for being gay.
She also backed the administration's review of the ban on military service by transgender people. "That is an outdated rule, especially since you and I know there are transgender people serving now," she said, adding that she hoped the U.S. would "join other countries" and end the ban.

Reiterating a point about drug prices that she raised earlier in a Facebook Q&A, Clinton criticized Turing CEO Martin Shkreli, whose company raised the price of the drug Daraprim, which can be used by people with HIV, from $18 to $750.

She said "every day that he stalls" on lowering the price of the drug meant people with HIV were suffering.
Pointing to her time as secretary of state, Clinton talked about the continued importance of Americans working to advance international LGBT rights.
Saying that the U.S. must address violence against transgender people, Clinton noted the killings of many trans individuals — "primarily women of color" — just this year.
Clinton made a broad case for transgender inclusion throughout her speech, noting how important it is to say that "transgender people are valued."
"They are loved," she said. "They are us."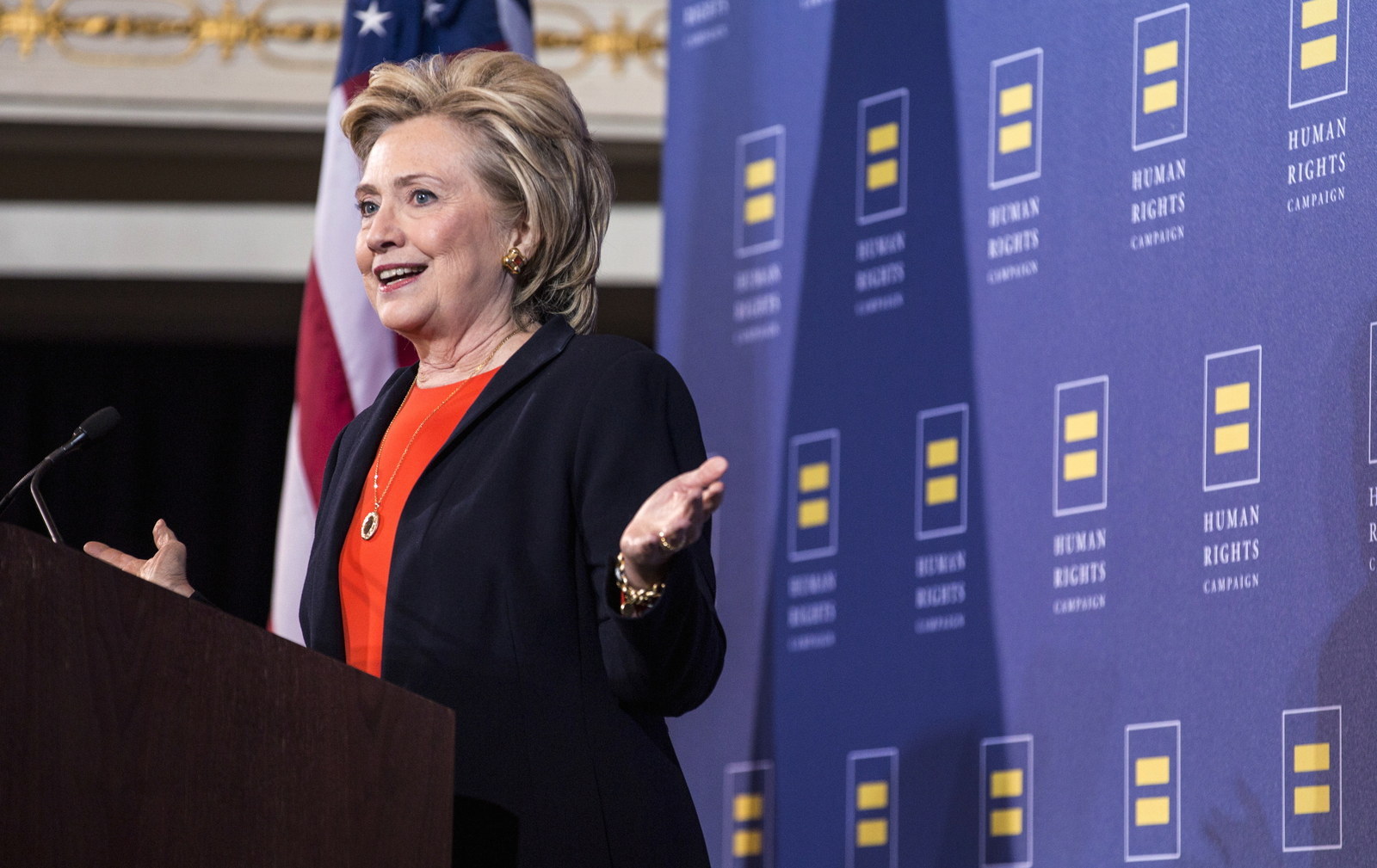 Later, when discussing her Republican opponents, she raised the issue again. "See if you are in a forum with them if you can get them to even say the word 'transgender,'" she said.
A line that drew some of the loudest applause from the crowd was also one of the few times Clinton directly mentioned an opponent by name: "Ted Cruz slammed a political opponent for marching in a pride parade," she said. "He clearly doesn't know what he's missing."
Clinton is not the only politician slated to address the group on Saturday. At the group's annual dinner on Saturday evening, a much larger affair, Vice President Joe Biden is slated to give the keynote address.
Clinton, the New York Times reported, turned down that spot in order to appear on the evening's episode of Saturday Night Live.