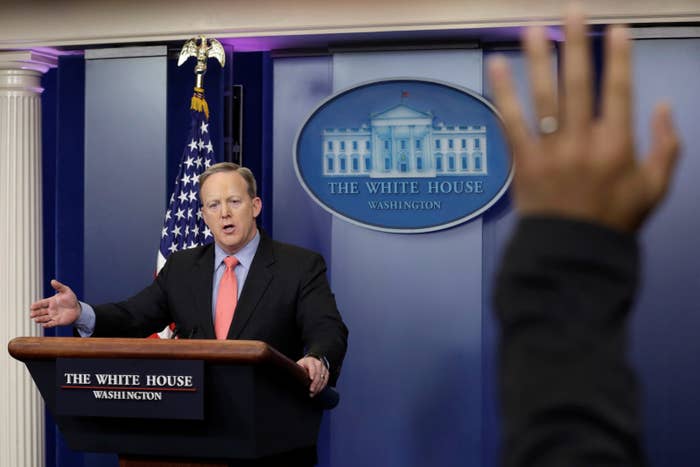 WASHINGTON — After several days of confusion and conflicting answers, White House counsel Donald McGahn provided "authoritative guidance" on Wednesday that lawful permanent residents are not covered by the travel ban contained in President Trump's Jan. 27 executive order.
The temporary ban on immigrant and nonimmigrant travel for those from seven majority-Muslim countries was imposed as part of the executive order, and questions were immediately raised about whether lawful permanent residents — green card holders — from those countries would be affected.
Although the Department of Homeland Security initially said they were not covered under the order, the White House overruled that decision. On Jan. 29, however, DHS Sec. John Kelly issued a statement that all lawful permanent resident status would be a "dispositive factor" in determining whether to grant waivers allowing travel, absent "significant derogatory information" about the person "indicating a serious threat to public safety and welfare."
McGahn's memo, written three days later, goes further, clarifying that green card holders do not need waivers because the provisions of the executive order "do not apply to such individuals."
White House press secretary Sean Spicer announced the clarification on Wednesday, but the White House did not make public a copy of the clarification and did not respond to request for more information about Spicer's statement. McGahn's brief memo was, however, filed as an exhibit on Thursday in ongoing litigation in Massachusetts over the president's executive order.
In that case, a judge over the weekend issued a temporary restraining order (TRO) preventing the government from deporting or detaining those affected by the order, in addition to taking additional actions relating to the Boston area and the named plaintiffs in the case.
Since then, the plaintiffs amended their complaint to add new plaintiffs — including the group Oxfam America — in advance of a hearing scheduled for Friday on whether the judge should extend the TRO. Additionally, Massachusetts has sought to intervene in the case — a request US District Judge Nathaniel Gorton granted on Thursday.
Later Thursday, the Justice Department opposed the request to continue the TRO, arguing that the original plaintiffs are no longer being detained and that Oxfam — which argued that it often brings people from the affected countries to the US — "does not explain why those individuals cannot
participate in meetings by telephone or videoconferencing."