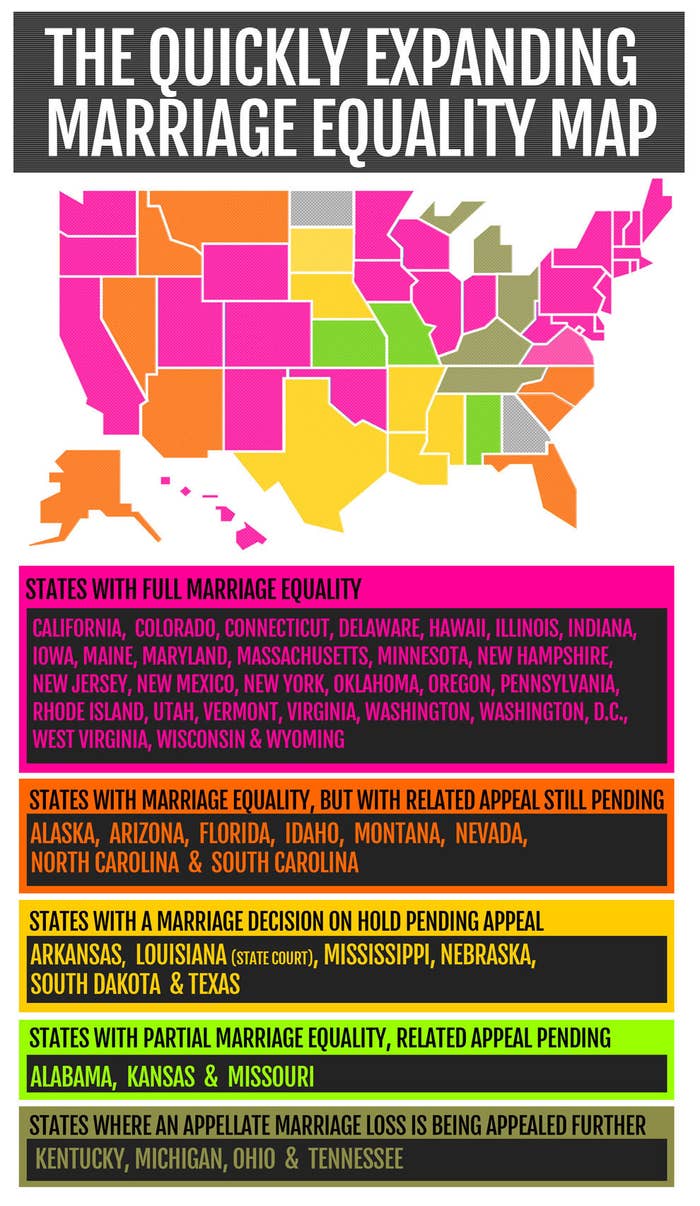 Same-sex couples have full marriage equality in 35 states and D.C. Another three states have at least one county where a federal court has ordered that same-sex couples cannot be discriminated against in marriage.
Such couples couldn't even marry in a majority of the country until October 2014 — when the Supreme Court decided not to hear appeals of challenges to five states' marriage bans, bringing marriage equality to those states. Since then, the ground has been shifting quickly. Now, with the court due to hear the challenge to marriage bans out of another four states — Kentucky, Ohio, Michigan, and Tennessee — on April 28, a ruling covering the whole country is expected by June.
As the process continues to play out, BuzzFeed News will be updating this map and the descriptions below to keep tabs on what's happening at any given moment in the many challenges to bans playing out across the country.
States With Full Marriage Equality:
In the less than 10-and-a-half years since same-sex couples began marrying in Massachusetts, 25 other states and Washington, D.C., have joined the ranks of states where same-sex couples can marry.
In 13 jurisdictions, lawmakers voted for marriage equality — although voters initially reversed that action in Maine and the legislation was vetoed in California. The other 11 jurisdictions: Delaware, Hawaii, Illinois, Maryland, Minnesota, New Hampshire, New York, Rhode Island, Vermont, Washington, and Washington, D.C.
Voters in three states approved marriage equality at the polls: Maine in an initiative the reversed voters' earlier decision, as well as Maryland and Washington, where efforts to reverse marriage equality through a referendum were rebuffed.
State courts, considering state law, found a right to marriage equality in Hawaii, Massachusetts, California, Connecticut, Iowa, New Jersey, and New Mexico — although constitutional amendments later reversed those decisions in Hawaii and California.
Finally, beginning with Utah, the final frontier of marriage equality — federal courts considering federal rights — led to marriage equality after courts found bans on same-sex couples' marriages to be unconstitutional in nine states: Colorado, Indiana, Oklahoma, Oregon, Pennsylvania, Utah, Virginia, West Virginia, Wisconsin, and Wyoming.
States With Marriage Equality, But With Related Appeal Still Pending:
In this quickly changing environment, there are nine states where same-sex couples are able to marry statewide — but a related appeal, from officials or an organization, is ongoing.
In Nevada, the Coalition for the Protection of Marriage has sought Supreme Court review of their case, in which the state's ban was struck down at the 9th Circuit Court of Appeals. Nevada officials chose not to seek review by the Supreme Court, but the coalition — which backed the ban when it was before the voters — has asked the Supreme Court to take the case.
In North Carolina, state lawmakers have intervened in marriage litigation and are attempting to appeal decisions ending the state's marriage ban.
In Alaska, Arizona, Florida, Idaho, Montana, and South Carolina, officials have said they will be or have appealed district court or appeals court decisions further.
States With Partial Marriage Equality, Related Appeal Pending:
After a Missouri state court ordered that out-of-state marriages of same-sex couples must be recognized in the state, Missouri's attorney general announced the state would not be appealing the decision.
Since then, a state court judge ruled Missouri officials could not stop St. Louis officials from marrying same-sex couples. Days later, a federal judge ruled that Jackson County officials also had to allow same-sex couples to marry. The decisions are being appealed and, thus far, have not been interpreted as having statewide effect.
In Kansas, a federal judge found the state's marriage ban to be unconstitutional by applying the 10th Circuit's ruling striking down Utah's ban, with two counties being ordered to grant marriage licenses to same-sex couples and one state official being ordered to comply as well. State agencies not covered by the ruling are not recognizing the marriages, and many counties continue to deny marriage licenses to same-sex couples. The ACLU is attempting to expand the scope of the case by amending its complaint in the case to include more state officials.
In Alabama, same-sex couples began marrying in some counties on Feb. 9, the result of a federal district court ruling striking down the ban. Alabama Chief Justice Roy Moore, however, issued an administrative order on Feb. 8 barring probate judges from issuing marriage licenses to same-sex couples — leading several counties across the state without marriage equality at this time.
States With A Marriage Decision On Hold Pending Appeal:
Several decisions in favor of marriage equality or requiring recognition of same-sex couples' marriages granted elsewhere are on hold, or stayed, while appeals are ongoing.
These include federal appeals in the 5th Circuit, 8th Circuit, and 11th Circuit courts of appeals, as well as some state courts. In the 5th Circuit, appeals are pending from Mississippi and Texas, where the states' bans were ruled to be unconstitutional, and Louisiana, where it was upheld. Federal district court decisions striking down Arkansas, Missouri, Nebraska, and South Dakota's bans are on hold pending an appeal to the 8th Circuit.
State court appeals are pending in three states, where trial courts struck down the bans in Arkansas, Florida, and Louisiana.
States Where An Appellate Marriage Loss Is Being Appealed Further
In the 6th Circuit, the court, in a 2-1 decision, upheld all four states' bans — specifically, the marriage ban in Kentucky and Michigan and marriage recognition in Ohio and Tennessee. The Supreme Court will be hearing the plaintiffs' appeals of the 6th Circuit decision on April 28.
States Still Awaiting Action On Marriage Equality:
There are only two states without marriage equality or marriage recognition where no state or federal court has ruled marriage or recognition ban unconstitutional.
They are Georgia and North Dakota. There are pending marriage cases pending in these states, but there have been no decisions in favor of same-sex couples there thus far.