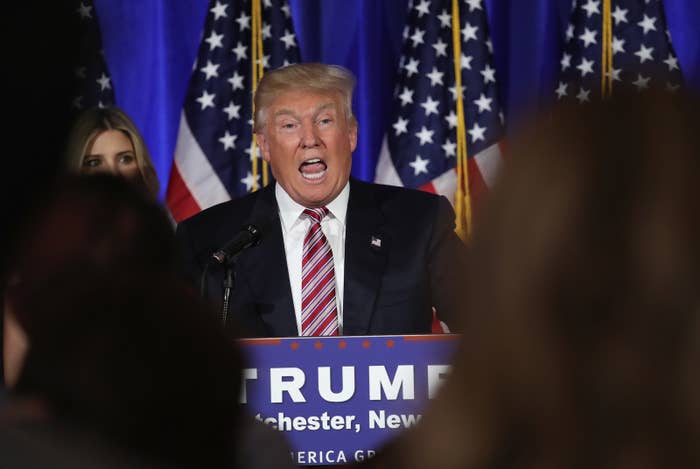 WASHINGTON — On the day after Donald Trump is expected to accept the Republican Party's presidential nomination, U.S. District Court Judge Gonzalo Curiel is set to hold hearings in the two class-action lawsuits alleging that Donald Trump and Trump University committed consumer fraud and other corrupt practices.
Curiel — whose ability to be unbiased Trump has questioned because of the judge's "Mexican heritage" and membership in a Latino bar association — is holding a pair of hearings in the cases scheduled for the week of the Republican National Convention.
On July 22, Curiel is scheduled to be holding a hearing over several motions brought by Trump's lawyers in the case accusing him personally of having violated the Racketeer Influenced and Corrupt Organizations Act, commonly known as RICO. Specifically, the Cohen v. Trump lawsuit alleges that Trump "committed or aided and abetted the commission of at least two acts of racketeering activity" — mail fraud and wire fraud — in conjunction with his creation of Trump University.
Among the motions from Trump's lawyers to be considered on that day — which was set in April for July 18 but later moved in May by Curiel to July 22 — is one seeking summary judgment in the case — a ruling that would mean there are no relevant facts in dispute and that the law requires a ruling in Trump's favor.
Trump's lawyers, from O'Melveny & Myers, argue that the case seeks "an unprecedented expansion of RICO law" and that, in any event, Trump "did not manage the operations of" Trump University so "therefore did not and could not have knowingly participated in a scheme to defraud."
Additionally, Trump's lawyers are asking Curiel to decertify the class-action status that the judge previously granted in the case. Also to be considered that day are several motions relating to pretrial issues, including requests to exclude certain witnesses and testimony at trial and to file documents under seal — meaning they would not be accessible to the public.
The final pretrial conference in the Cohen case is scheduled for Aug. 24.
In a Tuesday order, Curiel announced he also would hold a second hearing on July 22 — this one in the other case, the case alleging false advertising and violations of other California consumer protection laws, as well as those of New York and Florida. Trump and Trump University's lawyers asked the court on June 3 to permit them to renew a previous request in the case that the judge decertify the class. The hearing in Low v. Trump University is set to follow a briefing scheduled also set in Tuesday's order and will concern whether to allow Trump University to renew that motion.
After having first raised questions about Curiel's background and potential bias in February and ramped up those attacks in recent weeks, Trump said in a statement released on Tuesday afternoon that he will have nothing more to say about the pending lawsuits against Trump University. Nonetheless, he discussed the judge and case on Fox News on Thursday night.
CORRECTION
This story was corrected to reflect that both hearings are now scheduled for July 22. The story initially reported an incorrect, originally scheduled date for the hearing in the Cohen v. Trump case.
The order in the Cohen case: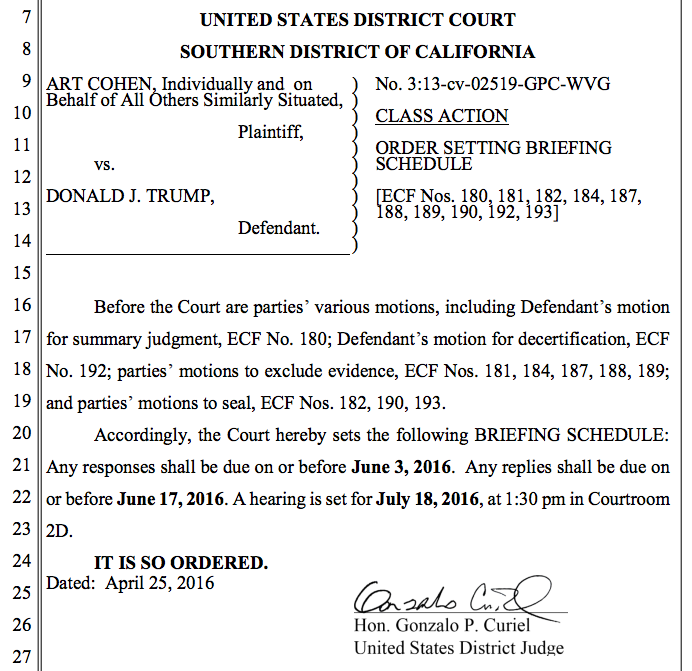 The changed hearing date notice in the Cohen case:

The order in the Low case: