Hagel Opposed DADT Repeal In 1999 As "Irresponsible And Dangerous"
The comments came in a letter to the editor of The New York Times.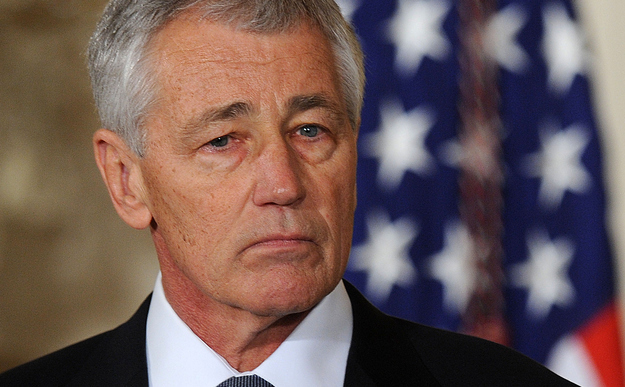 WASHINGTON — Among the reasons why then-Sen. Chuck Hagel opposed the repeal of the military's ban on out gay service in 1999 was his concern that it could impair "military effectiveness," a common refrain of supporters of the ban. He wrote to The New York Times "anything that would jeopardize" the country's security "would be irresponsible and dangerous."
In the weeks leading up to his current nomination to serve of President Obama's secretary of defense, however, Hagel said his views on the subject have changed, saying, "I am fully supportive of 'open service' and committed to LGBT military families."
The earlier comments, made in a letter to the editor, resulted from a statement Hagel had made in a news article opposing "Don't Ask, Don't Tell" repeal because "[t]he U.S. armed forces aren't some social experiment."
When that The New York Times article was published, they prompted a letter to the editor from Tom Beck of New Jersey. Beck wrote, "Fine. But fair's fair, then, and the armed forces are also not a jobs program. If only military needs can be considered for personnel policy, then the same should be true for things like base closings and procurement."
Hagel then responded with his own letter, providing additional details as to the reasons why he then opposed out gay, lesbian and bisexual military service:
To the Editor:

A Dec. 29 letter writer is correct to say the military is not a jobs program in responding to my comment that the armed forces are not a social experiment. The issue is not what is socially right but military effectiveness. The armed forces exist to protect this country's security. To do anything that would jeopardize this responsibility would be irresponsible and dangerous.

Many of my Republican colleagues and I have been critical of Congressional financing for unnecessary military projects. And we have publicly supported additional rounds of base closings in the next administration. Our national security budget must not be used as an economic engine.

Whether determining a personnel policy, appropriating money for defense projects or authorizing a new round of base closings, national security must be the only consideration in determining military policy.

CHUCK HAGEL

U.S. Senator from Nebraska

Washington, Dec. 29, 1999