Groups Slam U.S. Olympic Committee For "Inherent Conflict" On LGBT Anti-Discrimination Policies
"[T]he USOC must take a more activist position against these heinous Russian laws," a leading LGBT advocate says. The USOC did not respond to questions about how its nondiscrimination policy squares with its rule that people must adhere to foreign laws when traveling.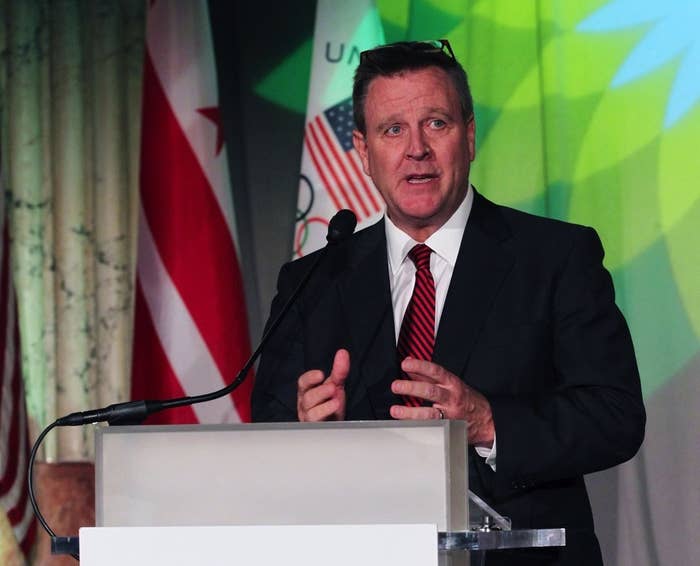 WASHINGTON — The U.S. Olympic Committee made news last week when it added sexual orientation to its nondiscrimination code of conduct.
The USOC didn't say last week — and wouldn't respond to questions this week about — whether another provision in the code of conduct requiring athletes to obey all foreign laws runs afoul of its own new nondiscrimination policy.
Both the Human Rights Campaign and All Out raised concerns about the potential conflict between the provisions.
"We welcome the news that the USOC has added sexual orientation to the non-discrimination policy in its code of conduct, and hope this is a sign of more good things to come. However, given the fact that the very same code of conduct requires that athletes adhere to foreign laws, this new non-discrimination policy becomes moot the second athletes arrive to Sochi," HRC vice president of communications Fred Sainz told BuzzFeed.
Questions about Russia's anti-LGBT propaganda law, which bans "promotion of non-traditional sexual relations among minors," have been front and center in the run-up to the Winter Olympics slated to take place in February in Sochi, Russia.
The broad interpretation of "promotion" and enforcement of the law to any public displays or any mass-media displays relating to such "promotion," however, means that almost any public or web-based pro-LGBT discussions or events could be found to violate the law. In addition to fines for anyone who violates the law, foreigners convicted of a violation can be put in jail for up to 15 days and then deported.
In addition to its new nondiscrimination policy, meanwhile, the USOC Code of Conduct also "requires that you follow the Code of Conduct and abide by all applicable USOC policies and procedures; United States federal, state and local law as applicable, including the Ted Stevens Olympic and Amateur Sports Act, codified at 36 U.S.C. §§ 22501 – 22529; and foreign law as applicable."
As such, obeying foreign law could cause problems for out gay people traveling with the USOC. "The inherent conflict is the very reason why we believe the USOC must take a more activist position against these heinous Russian laws. Ironically, this new policy has created a very compelling rationale for greater involvement by the USOC, not distanced them from the issue," HRC's Sainz said.
All Out, the organization aimed at pressing for change on gay rights through use of social media and online organizing, went even further.
"Despite their best intentions, the USOC non-discrimination policy and the IOC's Charter will be toothless as long as Russia's anti-gay propaganda law remains in place. The USOC and IOC should press for the repeal before the 2014 Sochi Games," Andre Banks, the executive director of All Out told BuzzFeed. "It's not too late. China made serious concessions ahead of Beijing to ensure the [2008 Olympic] Games were consistent with international standards and Russia should not be exempt from doing the same."
Last week, however, USOC chief executive officer Scott Blackmun reiterated a position long espoused by the International Olympic Committee that "we do not think it is our role to advocate for a change in the Russian law."
With its nondiscrimination policy in place now, though, LGBT advocates are not ready to allow the potential conflict to persist without trying to force the USOC to take more action or at least answer their questions about any future problems.