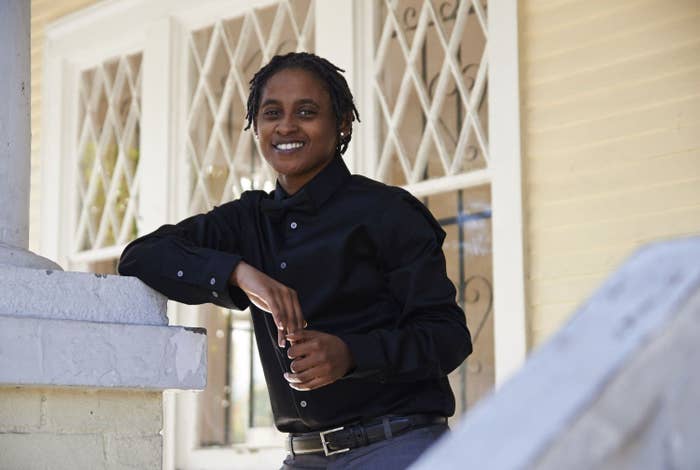 After a federal appeals court said it will not reconsider Jameka Evans's sexual-orientation discrimination case — which it had rejected earlier this year — the group backing the lawsuit said it would be asking the Supreme Court to review the case.
The case raises the question of whether civil rights laws like Title VII of the Civil Rights Act of 1964 should be read to protect LGBT people from discrimination as part of bans on sex discrimination.
If the justices agree to hear the case, it could add another high-profile case to the Supreme Court's upcoming term, which is scheduled to begin in October and already is slated to include cases addressing President Trump's travel ban, limits to partisan gerrymandering, and religious exemptions from civil rights laws.
The argument, advanced over the past several years by the Equal Employment Opportunity Commission, is that sexual orientation and gender identity discrimination are types of sex discrimination.
Evans's case, specifically, raises the sexual orientation portion of the question. She is represented by Lambda Legal, an LGBT legal advocacy group.
The US Court of Appeals for the Seventh Circuit, in backing this view earlier this year, called it a "common-sense reality ... that it is actually impossible to discriminate on the basis of sexual orientation without discriminating on the basis of sex."

The court hearing Evans's appeal against Georgia Regional Hospital, however, did not reach that decision. In March, a three-judge panel of the US Court of Appeals for the Eleventh Circuit held that a 1979 decision from the court controlled the outcome in Evans's case.
"Evans ... argues that she has stated a claim under Title VII by alleging that she endured workplace discrimination because of her sexual orientation. She has not. Our binding precedent forecloses such an action," the Eleventh Circuit held. The court went on to note, "Under our prior precedent rule, we are bound to follow a binding precedent in this Circuit unless and until it is overruled by this court en banc or by the Supreme Court."
En banc review means that the full Eleventh Circuit — as opposed to a three-judge panel — would hear the case. Evans made such a request for en banc review, but, on Thursday, the court denied that request in a one-page order, stating that none of the eleven judges in regular active service on the court even requested a vote on whether to hear the case en banc.
As such, the only remaining option for her case is to seek Supreme Court review — a step that Lambda Legal said it would be taking.
"We plan to take this to the Supreme Court. This extremely troubling decision does not slow the momentum that is building behind our efforts to combat employment discrimination against lesbian, gay and bisexual workers in the courts," Greg Nevins, a lawyer for Evans with Lambda Legal, said.