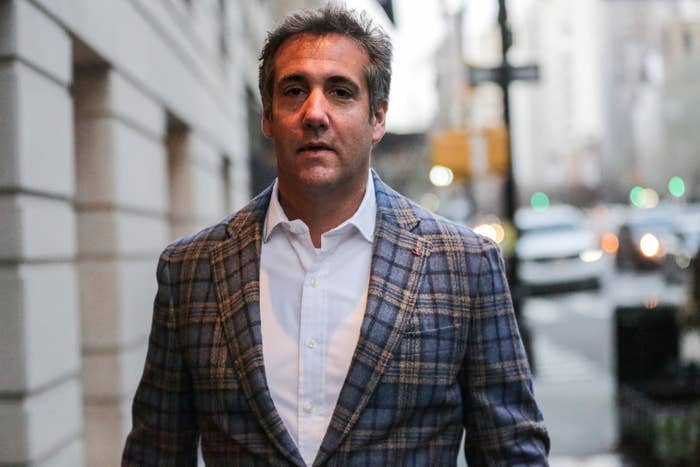 Confusion surrounded NBC reporting on surveillance of Michael Cohen's phone lines on Thursday, leading to a 5 p.m. correction that downgraded the level of reported surveillance to a phone call log — a substantial difference from its initial reporting that Cohen's phone lines were being wiretapped.
Rudy Giuliani told BuzzFeed News on Thursday afternoon that he didn't believe there was a wiretap of Cohen — two hours after NBC reported that "[f]ederal investigators have wiretapped the phone lines of Michael Cohen," a report that also was covered extensively on MSNBC.
"I am told by two people now that it is not true," Giuliani said. "FBI is saying it's not true off the record, and Special Counsel is saying it's not true," he said, claiming that the Special Counsel's Office "told the press that."

NBC's correction proved Giuliani to be right.
Two hours after Giuliani made his comments in an interview with BuzzFeed News, NBC corrected its earlier story — reporting, instead, that a pen register, which only logs calls and cannot record them, had been authorized to be placed on Cohen's phone lines.
"Now, three senior U.S. officials are telling us that this is a it was not a wiretap. Instead it was what is referred to a pen register. That means it is a log of phone calls that were made from a specific phone line or a specific phone lines," Tom Winter, an author of the NBC report, said on MSNBC a little past 5 p.m. He added that, in Cohen's circumstances, it was "several phone lines."
In discussing the original story, Giuliani pointed to what he considered procedural irregularities about the circumstances as he understood them — had it been a wiretap — saying, "I would find it strange they didn't notify us. They're supposed to under the statute. ... I also think it's strange that they would wiretap a lawyer and not the minimize the conversation with the client."

The NBC story was updated with the correction at 5:27 p.m.
"We will decline to confirm or comment on any specific aspects of the investigation," a spokesperson for the US Attorney for the Southern District of New York, which is running the investigation into Cohen, said regarding the initial reporting and Giuliani's questions. The spokesperson did not respond to a question about the reported pen register authorization.
Cohen's lawyers didn't immediately return a request for comment.