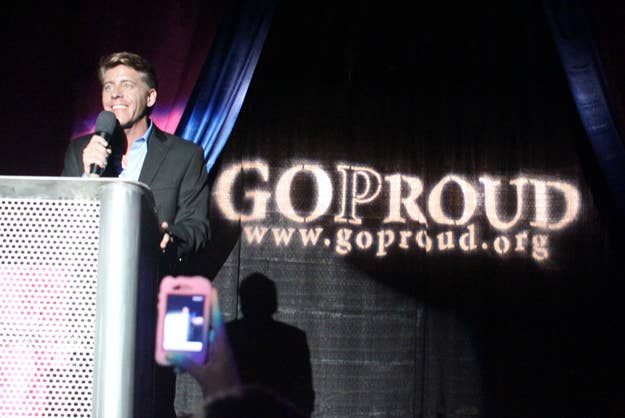 WASHINGTON — GOProud, the bombastic group for gay conservatives and their allies, is going to be going through some major changes in the coming months, as the two co-founders, executive director Jimmy LaSalvia and senior strategist Chris Barron, plan to step back from their day-to-day roles with the group as a new executive director is selected.
"It's time. We don't want it to get stale," LaSalvia said, who along with Barron founded GOProud four years ago as a more conservative, grassroots alternative to the Log Cabin Republicans.
"The reason why GOProud has been so successful is because we have brought new ideas and new energy to the arena. At some point, what was the outside-the-box thinking all of the sudden becomes the box, and so now, that's the way that GOProud does things. It's our box. It seems crazy to everyone else, but, for us, it's like standard operating procedure. It's time for someone else to come in and shake things up," Barron added.
GOProud has become known in that time for its outrageous moves and its in-your-face style. From hosting Ann Coulter at its first Homocon party in New York City to Barron calling prominent conservative DC attorney Cleta Mitchell a "nasty bigot," GOProud has stayed in the news while making in-roads into the conservative movement in a way that no one had done before.
"As Chris says always, there was this little patch of ground that nobody else wanted — and that's where GOProud is," LaSalvia said. "We built a foundation on that patch of ground, and I'm really kind of excited to see where it goes from here."
They've done so with support from a number of straight conservatives, including board chair Lisa De Pasquale; Americans for Tax Reform president Grover Norquist; former CPAC organizer David Keene; Republican strategist Liz Mair; and, early on, the late Andrew Breitbart, who hosted a party on GOProud's behalf at the Conservative Political Action Conference, or CPAC, in 2011.
Barron said he was most proud of that inclusion of prominent straight conservatives in their efforts at GOProud.
"The movement for LGBT folks in this country will be successful not when we convince everybody who's gay that we're right; it will be successful when we convince the rest of America. We've always wanted GOProud to be not just gay conservatives; we wanted it to be people who were conservative and supported gay people," he said.
"That's been the real flexing of the muscle. Tony Perkins could care less about just gay conservatives. It's very easy to marginalize us. It's a lot harder … when it's all of these grassroots and grasstop straight conservatives …. That's a different fight."
It was, however, Barron's fight with Mitchell — and the larger battle over GOProud's inclusion in CPAC — where the group has perhaps traversed the most ground. Co-sponsoring the event in 2010 and 2011, the group had been excluded from co-sponsorship in 2012 and 2013 — largely because of Mitchell.
At this year's CPAC, the tide appeared to be changing, with the panel in support of moderating the Republican party's views on gay issues — a panel on which LaSalvia spoke — being overwhelmingly more supported by attendees than a panel helmed by Mitchell and featuring the National Organization for Marriage's Brian Brown.
"I have one regret working here," Barron said on Tuesday. "I regret apologizing for calling her a bigot. I had multiple people — big-time people in the conservative movement — who told me I made one mistake at that CPAC, and the one mistake was apologizing."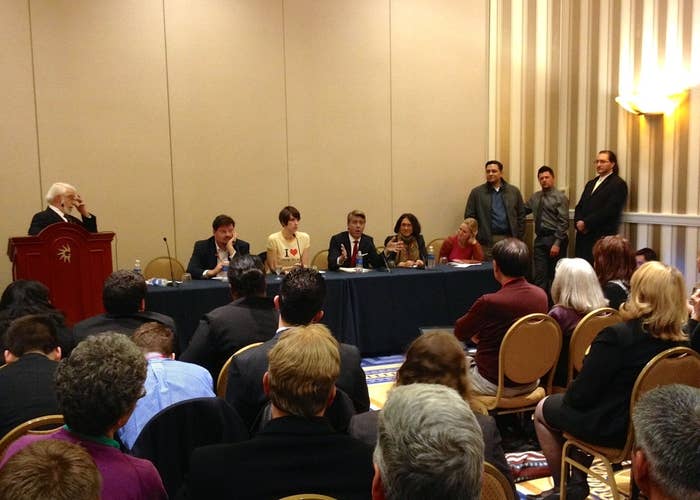 LaSalvia and Barron saw the response at this year's CPAC as good closure for their tenure at the helm of the organization.
"There's been one thing that's been a constant the whole four years, and that was CPAC. It was an ongoing battle, and it's something that we fought for our entire existence, and we won this year: We won CPAC," LaSalvia said.
Going forward, LaSalvia said "I think that, after the election, that it's more important than ever to make sure that we marginalize people who are so far out of the mainstream, and that's what I'm going to continue to do and that's what GOProud is going to continue to do."
LaSalvia said that the board will be forming a search committee for a new executive director and that he will remain in his role during the search. As for the timing, he said, "I would hope, if they're not in place, that they're chosen by the end of June."
De Pasquale, the board chair, told BuzzFeed Friday, "Since founding GOProud four years ago, Jimmy and Chris have led the organization above and beyond everyone's expectations," and said "the organization is always forward-thinking in its work and that Jimmy and Chris are dedicated to its continued success. I'm excited about what's in store for GOProud as it continues to grow."
As for their plans, while both will remain on the board, Barron said he will focus on his other consulting work and LaSalvia declined to say specifically where he's going.
"I'll just say, what we've done here hasn't gone unnoticed, and I'm really grateful to some opportunities that are coming my way," LaSavia said.