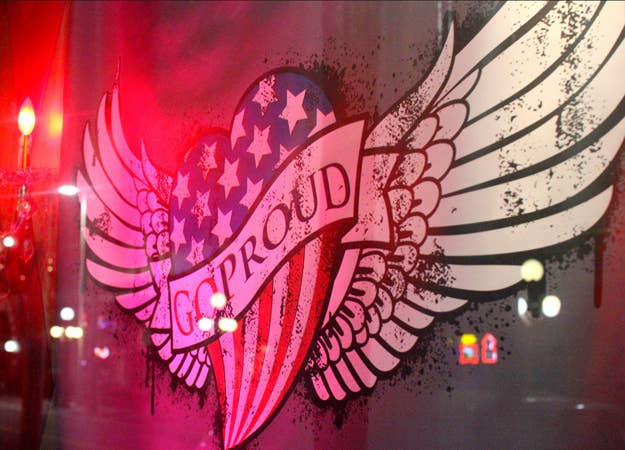 WASHINGTON — After declining to take a position on the issue for years, GOProud, the group for gay conservatives, told BuzzFeed Friday it is coming out in support of same-sex marriage equality.
"We support same-sex marriage, civil marriage," GOProud executive director Jimmy LaSalvia said.
The move follows a decision by the GOProud board earlier this month to expand the group's mission to include state-level work. It also comes after, LaSalvia noted, the reelection of a president who supports same-sex couples' marriage rights, while some in the Republican Party are urging their party to reassess their position on the issue.
Since its founding in 2009, GOProud has always opposed the federal Defense of Marriage Act, calling the law a "federal power grab," but it avoided the underlying issue of marriage rights. In the course of a 285-word statement provided to BuzzFeed on "marriage and relationship recognition" being released publicly Friday, though, the group declares, "Where civil marriage is possible, we support civil marriage."
At the same time, the group is pushing strongly for a state-level, political efforts — not judicial decisions — and LaSalvia warned that "a sweeping decision" in the Supreme Court case challenging California's Proposition 8 ban on same-sex couples' marriages "will create a backlash" — including the proposed Federal Marriage Amendment being "brought to the forefront again."
LaSalvia explained why the group was weighing in now.
"Since we'll be forming groups in the states, that makes necessary that we take positions on state issues. And so, for the first time, we felt it necessary to articulate our position on marriage and relationship recognition for gay people. We hadn't had to do that before because we only worked on federal issues, and marriage has always been an issue dealt with with the states," LaSalvia said.
The group, which he said had nearly a $350,000 budget in 2012 that came from about 500 donors, is starting off by supporting the marriage equality bills in Illinois, Minnesota, and Rhode Island. Asked about the bills, LaSalvia said the group supports them, noting, "Where it is being considered and where it is possible, we support it and we're going to be there." He later added in a follow-up email, "[W]e haven't formed local affiliates there yet, so our level of engagement will be limited."
In announcing its position, the group's statement declares, "GOProud believes that stable, loving, committed relationships are the cornerstone of our society and should be protected and encouraged for all couples — including gay and lesbian couples. We believe that the decision about how to best do this is one that should be made at the state level and that these decisions are best made by the people directly or through their elected representatives — not by unelected judges."
The statement goes on to say, "Where civil marriage is possible, we support civil marriage. Where civil unions are possible, we support civil unions. Where domestic partner benefits are possible, we support domestic partner benefits. As federalists, we do not believe in a one-size-fits-all approach on almost any issue and that includes relationship recognition for gay couples."
Log Cabin Republicans, the older and generally more moderate of the groups for gay Republicans, has been in support of same-sex couples' marriage rights. Its statement of support also is more direct: "Gay or straight, Republicans are united in the belief that strong families are critical to a free society. Log Cabin Republicans are committed to advocating for the freedom to marry."
LaSalvia said that while GOProud supports civil marriage for gay couples, his group's new statement simply reflects the "political reality" that same-sex couples — absent Supreme Court intervention — aren't going to be marrying in Alabama anytime soon.
"The country's having a long discussion about marriage. I think many states, in the short term, will be considering civil marriage. Many states will not be. When a state considers civil marriage, we'll support that," LaSalvia said. "I think, ultimately — I happen to believe that some day, there will be civil marriage in every state for gay couples. Will that look the same in every state? I don't know, but that's up for the people of the states to decide."
In terms of those who would question the group's stated support now for civil unions or domestic partnerships in certain circumstances, he said GOProud sees those options as a path toward civil marriage, saying of civil marriage, "In Alabama, that's not a reality as a political possibility, and so, in Alabama, we would support whatever is realistic to help [same-sex couples] … with the ultimate goal, I think ideally, civil marriage is the ideal situation for all couples, including gay couples. Every state is not going to come to that solution at the same time."
The bottom line, he said, is that GOProud "support[s] civil marriage for gay couples. How you get there and how it looks in the end is up to the states to decide."
Asked if the "unelected judges" line represented an opposition to either of the two Supreme Court cases pending by legal organizations — one challenging DOMA and one challenging California's Proposition 8 marriage amendment — LaSalvia said no.
The group agrees with the case brought by the American Civil Liberties Union that DOMA is unconstitutional, but on different grounds. The ACLU and Roberta Kaplan from Paul Weiss argue that the law, which bans the federal government from recognizing same-sex couples' state-granted marriages, violates the guarantee of equal protection found in the Constitution. LaSalvia, though, said, "DOMA is unconstitutional because the Tenth Amendment doesn't give the federal government that power. DOMA was a federal power grab of an unprecedented nature. We believe that violates the 10th Amendment," an argument that has been advanced by Massachusetts in its challenge to DOMA and has figured into, though not been the sole basis for, the appeals court decisions striking down DOMA.
As for the challenge to Proposition 8, LaSalvia said, "There are specific issues with Prop 8, regarding a state — the people — rolling back a court decision, and that's something the judges will address." Because of that "specific question," LaSalvia acknowledged that the court would have to decide the issue but maintained that GOProud would "prefer that states' elected officials and the people directly should make these decisions." But the lead lawyers for the case brought by the American Foundation for Equal Rights, Ted Olson and David Boies, had previously argued a much more broad case — one based on the constitutional equal protection guarantees that could potentially apply to states other than California — and are likely to raise that possibility at the Supreme Court.
LaSalvia said "that's not the preferred path," adding, "We think the best way to solve all these problems is to do it through the political process. Now, that's not saying," he said of a more broad decision, "that it's not going to happen. It very well could." If it does, though, he warned of potential backlash. "I certainly think a sweeping decision will create a backlash, and I think that is something that a lot of people recognize. So, there would certainly be political backlash. And we've long been opposed to a Federal Marriage Amendment, but I think that would be brought to the forefront again should that happen."
In the meantime, he said there is "a need for a truly conservative voice in the states on the issue of marriage" — a statement with which Log Cabin leaders would take issue. Adopting language far more often used by more moderate groups, LaSalvia said of GOProud, "We are in the business of changing hearts and minds about how people feel about issues that affect gay people, and I think that we're in a unique position to be able to do that."
"I think that, so many times, the establishment gay organizations do gay outreach, and it's ineffective," he went on. "They say, 'Conservatives support gay marriage,' and then they shove Meghan McCain in their face. Conservatives hate Meghan McCain."
GOProud's Full Marriage Statement