Republican Views On Marriage: It's Complicated
Delegates at the Republican National Convention in Tampa range from supporting marriage equality to saying that even gay people in Texas don't support it. A party in flux?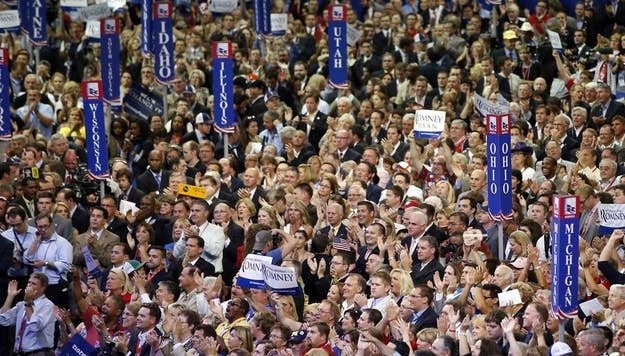 TAMPA — Although the Republican Party platform has taken a hard line in opposition to same-sex couples' marriage rights, the delegates who have overtaken Tampa this week are not so easily categorized.
In celebrating his running mate on Wednesday night, Wisconsin Rep. Paul Ryan called Mitt Romney "a defender of marriage" — a reference to the ticket's opposition to allowing same-sex couples to marry.
Delegates at this week's convention, though, have a wide variety of views on the topic, throwing into question attempts to characterize the party as coalescing around strong social conservative views.
Donald May, a delegate from the 19th congressional district in Texas, said, "We're the most conservative district in Texas, and I'm the most conservative delegate from Texas."
Of the platform language, he said "I think they're pretty much on target right now. [M]ost of the people agree with it, including my friends who are homosexuals."
David Rappel, one of the few out LGBT delegates at this week's convention, is from California's 30th congressional district, and he dismissed the platform language completely.
"I personally [think] it is really meaningless. It's only meaning is to the press. No one else reads it. No one else cares what it says," he said, adding, "I'm an out gay man; I support same-sex marriage."
As the delegates awaited Ryan's speech, BuzzFeed asked them about the platform's positions in support of the proposed Federal Marriage Amendment, which would prohibit states from allowing same-sex couples to marry, and the Defense of Marriage Act, which does prohibit federal recognition of same-sex marriages that are legal in some states.
Of eight delegates and two alternate delegates interviewed, only three supported the Federal Marriage Amendment proposal. Two of those who supported the amendment proposal, however, added that they were in support of civil unions. Two supported full marriage equality, and several others took a states' rights view, urging the federal government to limit — or end — all involvement in marriage issues altogether.
Some, like May, are firmly behind the platform's hard stance.
"I know people are getting married, but none of the people I know who are homosexual are interested in marriage, nor do they think there should be. It's opinion, and the great thing about this country is we can disagree, and we can battle," May said of states with same sex marriage laws.
Darin Chappell, a Missouri delegate who lives in the state's 7th congressional district and teaches political science at Missouri State University, said, "Me, myself and I would rather not see a federal issue, but rather a state-by-state issue. That would be a plank that I would change if they would ask me about it."
As for DOMA, "I'm against that as well."
Martha Ruth, a Guam delegate, said the platform generally represented her views on the issue. "I'm a staunch and devout Catholic, and I truly believe that marriage should be between men and women," she said.
"If they called it 'partnership' or a 'legal union,' I could go with that probably because I'm not one to tell you how to live your life. But to call it a a marriage is, to me, unacceptable."
Lisa Phifer Ross, a delegate from Washington, agreed, saying, "I do not have a problem with civil unions of any sort, with having all the benefits of a married couple. But I think marriage means something, and it should continue to mean something, the same thing."
Kristin Strobel, an Ohio alternate delegate who works for Ohio Attorney General Mike DeWine, said, "I can't speak for the whole party. If I was in charge of the platform, I might go in a different direction on some social issues, but the key, the fiscal issues are what brought me into the party in the first place."
Aaron Libby, a delegate from Maine, said the amendment proposal is "going in the wrong direction."
"Why does anyone have to ask permission from their government? he posed.
"I just got married this spring, I got married in the Catholic Church. That had to do with me, my wife and then the Catholic Church. It didn't have — it shouldn't have anything to do with the government. But, I actually had to ask permission from the government before I got married. I think that's something that everyone should get really angry about."
He also noted his concern for protecting religious freedom on the topic, noting, "On the same side, the government or any person shouldn't restrict a person, like a Catholic organization, to restrict [their decisions]."
Brian Dougherty, a young Pennsylvania delegate from the 18th congressional district, took a libertarian view in opposing the amendment proposal.
"I don't think there's any reason to amend our Constitution in that manner," he said. "If we're going to do amendments for every specific issue that we ever have, that's pointless. The Constitution is there to limit the federal government. That's the main purpose of the Constitution."
As for DOMA's prohibition on the federal government recognizing same-sex couples' marriages, he said, "As it stands, I'm fine with leaving that in the Defense of Marriage Act. Many states and many individuals do not agree with the fact of same-sex marriage, so the federal government has no business doing that."
But, he added, "I would like to see the federal government out of the marriage business completely."
An alternate delegate from Georgia who asked not to be named said, "I am a member of the social conservative movement. I am a little bit different, though, in that I approach things strictly from a constitutional basis."
Explaining, he said, "I find that it's one of the greatest travesties in America today that the Christian right are the ones calling for more federal government control over marriage. That is the most dangerous thing that I can think of to the Christian right. Instead, they should be fighting and demanding that the federal government remove themselves completely from the discussion."
Chester T. "Catfish" Kelley, a delegate from Louisiana's 4th congressional district has a step-daughter who is a lesbian, supports the rights of same-sex couples to marry.
He said, "While I know that the issue is very sensitive to the Republican Party and I know that there's no time in the near future that they're going to embrace same-sex marriage and I doubt if they'll even embrace civil unions, what I [also] know is that they are failing to recognize the different nature of gay and lesbian relationships to what is the public perception.
"It would be my hope someday that we would overcome that, even within the Republican Party."