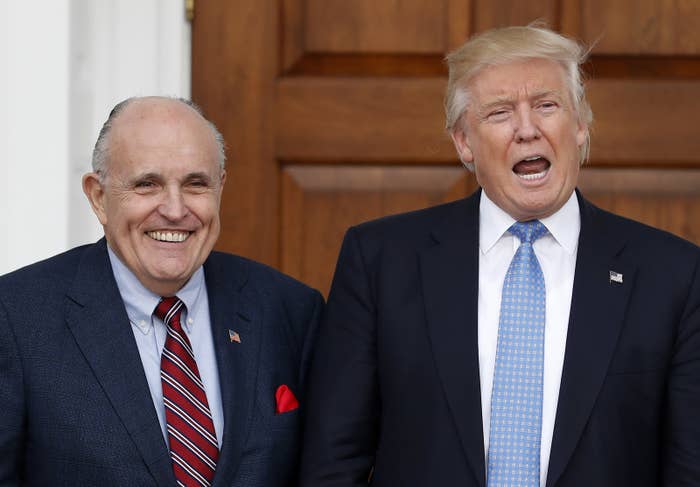 On Wednesday afternoon, President Donald Trump and Rudy Giuliani — his one-time campaign adviser and now-lawyer — decided that Giuliani was going to make news about the Stormy Daniels payment in the next 24 hours.
It wasn't clear if the plan then was for the former mayor of New York City to continue talking to a wide range of reporters on a broad range of topics — from the background of the payment to a breaking story about Michael Cohen to Trump's firing of James Comey, to whether North Korea was about to release Americans it is holding.
But by Thursday afternoon, when Giuliani undertook his second interview with BuzzFeed News in just over 14 hours, it was clear that Trump's new outside lawyer in the Russia investigation had taken on a much larger role — helping to manage Trump's image as well as his legal standing.
As Maggie Haberman of the New York Times put it, "This is a car being driven by Trump and Rudy and the rest are all locked in their seats."
For his part, Giuliani sounded both at ease — and ready to fight.
In the Thursday interview, Giuliani questioned a then-breaking NBC report that Cohen, Trump's longtime personal lawyer who is under criminal investigation, was subject to a wiretap. Giuliani said that he had been told the report was "not true" — and NBC's correction two hours later proved Giuliani to be right. There was no wiretap, the network corrected; it was, instead, a pen register — which only provides a log of calls, not their content.
Asked about the heat he'd taken — including from former attorney general Eric Holder — for his Wednesday night comment referring to the April 9 search warrant execution against Cohen as being conducted by "Stormtroopers," he responded, "Oh really? If the shoe fits, wear it."
Is Giuliani really comfortable saying this about an investigation by the US attorney for the Southern District of New York — an office he once ran?
"When you crash into an attorney's office, you're acting like a Stormtrooper. This is an attorney's office, not a defendant, an attorney for the president of the United States. I'm sorry, that is — maybe they'd like another word — out-of-control police," he said. "No, I'm not backing off, no way."
On Thursday afternoon, Giuliani said that he and Trump had decided Wednesday afternoon to reveal that Trump had repaid Cohen for the $130,000 payment Cohen facilitated to Stormy Daniels in 2016.
"Yeah, we had been together a couple of days ago and talked about it in much more detail, and verified, and verified as much as we could of it," Giuliani said, adding that he was ready to talk about the repayment with Sean Hannity on Fox News — as ended up happening — on Thursday morning during a scheduled appearance on Fox & Friends.
The news that Trump had repaid Cohen was a surprise to many in the White House, the Washington Post reported — including White House press secretary Sarah Huckabee Sanders, who said at Thursday's briefing, "The first awareness I had was during the interview last night."
So, what happened?
"I mean, I'll call Sarah and find out," Giuliani said. "But without having any instructions to the contrary it would seem to me that we should not be talking to the White House press secretary. Our client's the president, you know, Donald Trump, the individual. If the White House counsel is gonna make a statement that's one thing, but if we are, I think it'd be really strange if we went through [the press office]."
When it was pointed out that the Post reported that basically everyone was caught off guard by Giuliani's comments about the repayment, Giuliani responded, "Well, not Jay" — a reference to Jay Sekulow, one of Trump's other outside lawyers on the Russia investigation and the only one who remains from last summer. Giuliani did not counter, however, the reports that no one in the White House — beyond Trump himself — knew about the repayment or that Giuliani was going to go public about it Wednesday night.
That news — as big as it was — was just part of the splash that Giuliani made in his Hannity appearance and in the time since.
He also met up with Corey Lewandowski, Trump's combative one-time campaign manager who has begun attempting a comeback into Trumpworld and recently appeared with the president at a rally in Michigan, to discuss midterm and reelection politics after the Hannity interview.
There have been wrinkles in this Giuliani phase. In addition to possible legal fallout from his comments — from campaign finance laws to ethics laws — there have been other issues.
Giuliani, like Trump, often goes afield of his planned comments in his wide-ranging interviews — similar to Trump's recent Fox & Friends call-in appearance. Giuliani walked back two of the most eyebrow-raising comments he's made over the past 24 hours, including one made to Hannity about Trump's reasons for firing then-FBI director James Comey and one made Thursday about what he said was the imminent release of three Americans being held by North Korea.
After saying Wednesday that Trump fired Comey because of the fact that the FBI director wouldn't say publicly that Trump was not under investigation, Giuliani said Thursday, "I think it was based more on my knowledge of what was going on during the campaign. I urged him to fire Comey on day one. I mean, maybe I was thinking more of why I would fire him. I would fire him because he was a lousy FBI director."
Regarding the Americans in North Korea, he said, "I wasn't made secretary of state, so I'm not conducting foreign policy. We made that comment in the context of, 'Will you stop interfering with this guy? He's got other things to do,'" adding that his comments weren't based on discussions with Trump but instead "on newspaper accounts."
Returning to the payment to Daniels, the adult film star whose legal name is Stephanie Clifford, Giuliani added some more details to a repayment timeline that he first laid out to BuzzFeed News late Wednesday.
In Thursday's briefing, Sanders said of Trump's knowledge about the payment to Daniels, "[T]his was information that the president didn't know at the time, but eventually learned."
The "eventually" phrasing left the timeline unclear, which Giuliani only partially cleared up, saying that Trump did not make the repayment because he learned about the original payment.
"I don't think he put it all together until it was all paid out or mostly paid out," Giuliani said of Trump, noting that he — Giuliani — wasn't there at the time.
Although the Daniels payment was only $130,000, Trump's payments to Cohen — $35,000 a month for a year — added up to more than $400,000. Giuliani previously told BuzzFeed News that the money went to expenses, interest, and taxes — with "enough left over for [Cohen] to profit in [2017]."
On Thursday, Giuliani said that there were additional expenses being reimbursed in that money, although he did not specify what they were, saying only, "Other things, but of a much smaller amount — but enough other things so it was kind of confusing."
Were there any other payments like the payment to Daniels?
"I have no knowledge of such a thing, no."