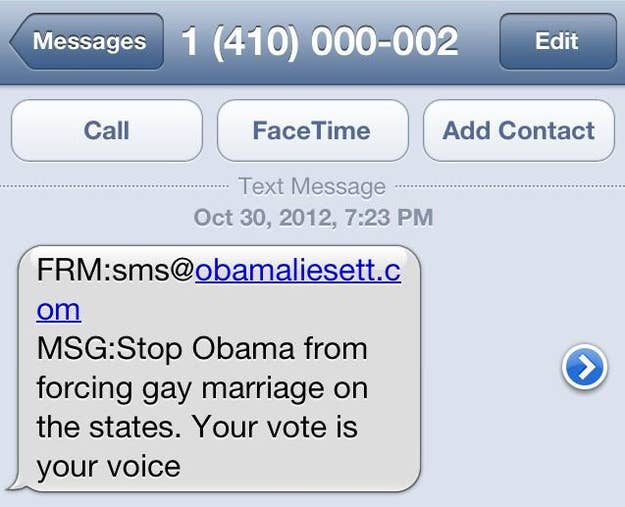 WASHINGTON, D.C. — The Human Rights Campaign Wednesday called on federal authorities to launch an investigation into a Republican leaning telecommunications company at the heart of an anti-Obama text message controversy, charging the company had defrauded cellphone users who had received the messages.
Following a series of anti-Obama text messages received on Tuesday night — some of which addressed the president's record on LGBT issues — HRC, the nation's largest LGBT political group, asked the Federal Communications Commission to investigate the company,
The company, ccAdvertising, has not admitted to sending the messages. But the dummy sites used to send the messages were registered to company executives.
Additionally, one of those executives — Gabe Joseph — is known for using questionable tactics, according to Republican operatives familiar with his past activities.
BuzzFeed has reported that the "email-to-text technology" apparently employed by the sender of the messages — which sends emails to cell phones in the form of SMS messages — allowed the firm to deliver unsolicited texts from web domains rather than phone numbers, all the while skirting existing Federal Communications Commission regulations.
Although there are rules against sending unsolicited, traditional SMS messages, because they were technically emails, they fall outside current FCC regulations. An FCC spokesperson told BuzzFeed that, for now, the "question is open in front of the Commission."
HRC's complaint, however, appears to go further than that. The letter from HRC general counsel Robert Falk identifies two potential violations of the law that the national LGBT rights organization claims should be investigated. In addition to the claim that would appear to have been foreclosed by the current open question on the email-to-text technology, HRC also argues:
[T]he [Telephone Consumer Protection Act] prohibits any person within the United States to use a telecommunications service "to cause any caller identification service to knowingly transmit misleading caller-identification information with the intent to defraud [or] cause harm." 47 U.S.C. § 227(e)(1). By disguising the sender of the text messages as "SMS@Aicett.Com," ccAdvertising knowingly and willfully caused the caller-identification service to transmit misleading caller-identification information in an attempt to defraud and harm gay-rights advocates.
Falk goes on to note, "Each violation of this provision is punishable by a penalty up to $10,000 per violation, up to a total of $1,000,000."
In a statement, HRC vice president of communications Fred Sainz said, "It's unsurprising that our opponents are employing such underhanded tactics and trying to attack equality from behind shrouds of secrecy. HRC is filing a complaint with the FCC so that these types of organizations know there are consequences for their actions. It's unacceptable to launch these types of despicable attacks from dark corners, and it's incredibly irresponsible to send out unsolicited messages to people who have no desire to receive this type of vitriol."
A message was left with the person who answered the phone at ccAdvertising seeking comment on the HRC complaint.