Gay Republicans Take Aim At Clinton's Prior Marriage Equality Opposition In Web Ad
The Log Cabin Republicans accuse Clinton of being "wrong on gay rights when it mattered." When asked who on the Republican side they believed was better on "gay rights" today, the group's leader dodged.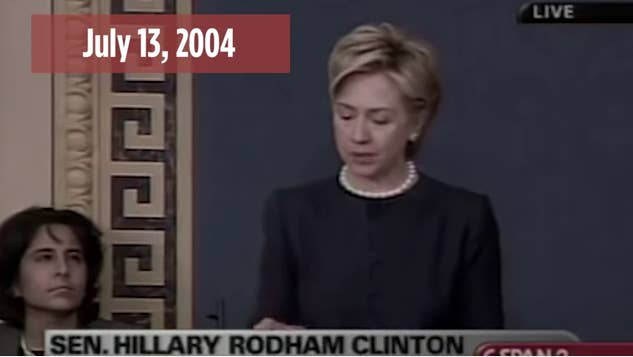 WASHINGTON — With the clock ticking down to Caucus Day in Iowa, the head of an organization of gay Republicans says his group is trying draw attention to "the historical larceny taking place in the Clinton campaign" when it comes to the former secretary of state's record on LGBT rights.
Using clips from Hillary Clinton opposing marriage equality during her time in the Senate more than a decade ago, Log Cabin Republicans on Saturday morning launched a web ad accusing Clinton of being "wrong on gay rights when it mattered."
To add insult to injury, the group counters the three clips it uses of Clinton opposing same-sex couples' marriage rights in 2002 and 2004 with one of her key primary opponent, Sen. Bernie Sanders, talking this past fall about how "leadership counts ... when the going is tough."
A still from the new web ad by Log Cabin Republicans: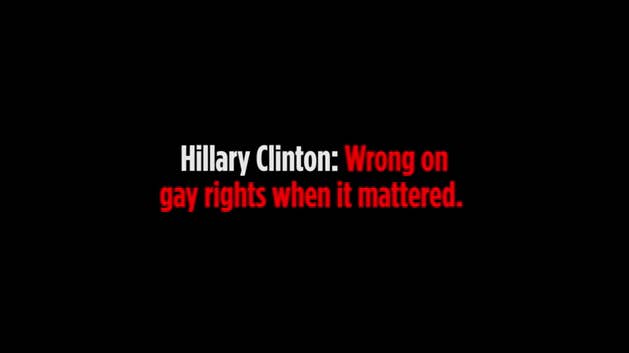 Asked about the ad, Log Cabin Republicans President Gregory Angelo told BuzzFeed News via email, "Someone needed to point out the revisionist history taking place — and it certainly wasn't going to be gay Democrats."
Asked who Log Cabin sees as being better than Clinton on "gay rights," Angelo dodged, responding, "Naming a 'better' Republican candidate for president on gay rights is unrelated to setting the record straight on Hillary Clinton's real record on gay rights, which Democrats and the LGBT community seem to be ignoring."
Sanders, however, regularly points to Clinton's "evolution" on marriage equality and to his opposition to the Defense of Marriage Act in 1996 — legislation signed into law by Clinton's husband, President Bill Clinton — in his public speeches and in debates and other events.
Additionally, it's also notable that the group used a clip of Sanders in 2015, because as late as 2006 — after the Clinton clips — Sanders still had not yet endorsed marriage equality, instead siding with civil unions.
At the end of the ad, when identifying Log Cabin Republicans as being behind it, the ad also contains a disclosure noting that — predictably — the group does not endorse either of the candidates featured in the ad.

In fact, Angelo said that his group does not endorse in primaries, presidential or otherwise, adding, "We have members across the country who personally support a number of the current GOP candidates for the nation's highest office."
Although the group did not endorse President George W. Bush's re-election in the 2004 general election due to the president's support for the Federal Marriage Amendment, the group did endorse John McCain and Mitt Romney over Barack Obama in 2008 and 2012, respectively.