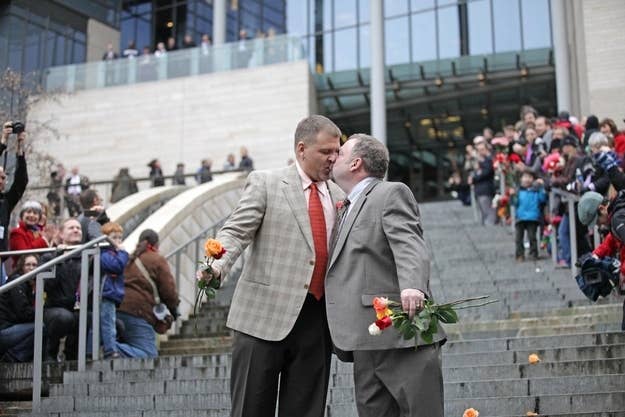 WASHINGTON — Freedom to Marry, which spent more than $4 million on state marriage efforts in 2012, announced plans Thursday to spend another $2 million on advancing marriage equality in the states in 2013.
According to a statement provided to BuzzFeed, Freedom to Marry is starting the 2013 effort — called the Win More States Fund — by investing $800,000 in the six states where marriage bills are being debated: Delaware, Hawaii, Illinois, Minnesota, New Jersey, and Rhode Island.
"Building on our 4 for 4 ballot victories in November, Freedom to Marry is calling on supporters to join us in continuing the momentum and winning still more states in 2013. With the clock ticking on the Supreme Court's review of marriage cases, we want to make as much progress as we can – and with battles already underway now in state capitals, we all need to put our money where our momentum is," Evan Wolfson, founder and president of Freedom to Marry, said in a statement.
Richard Carlbom, the campaign manager for Minnesotans United for All Families, worked with Freedom to Marry on the successful effort to defeat an amendment banning same-sex couples from marrying. Now, they are working to advance a marriage equality bill there.
"As we move toward securing the freedom to marry for our state, this investment shows the level of commitment and confidence that soon all loving and committed couples can join marriage in Minnesota. Freedom to Marry continues to be an outstanding leader and partner to all those who believe love is love and it belongs to everybody," Carlbom said.
In 2012, Freedom to Marry contributed to the ballot victories in Maine, Minnesota, Maryland, and Washington, as well as supporting the efforts to defeat a repeal measure in New Hampshire and move a marriage bill through New Jersey's state legislature. Although Maryland had not initially been in the group's 2012 list, it eventually supported that effort as well.