Freedom To Marry Makes Final Push With TV Ad Buy
The 30-second ad is set to run in the days before two-and-a-half hours of arguments at the Supreme Court.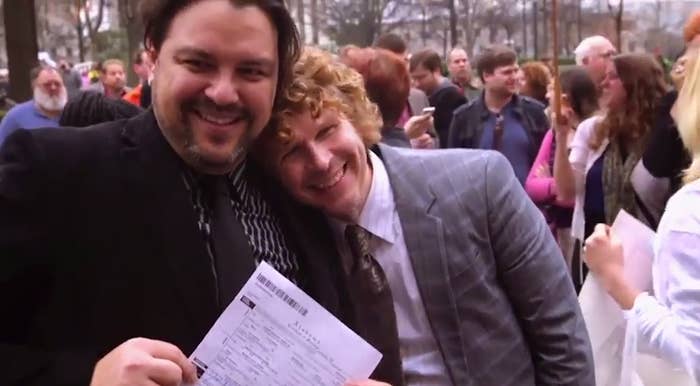 WASHINGTON — Starting Sunday morning, Freedom to Marry is pushing a little more than $150,000 into a new ad summing up the group's case for marriage equality.
Two days before the Supreme Court will hear arguments over the issue, the group tells BuzzFeed News that its new ad will run in the Washington, D.C., market during the Sunday morning news shows: Meet the Press, This Week, CBS Sunday Morning, and Fox News Sunday.
The ad also will run in the D.C. market during 60 Minutes on Sunday evening, according to the group, and nationwide this week on cable news channels CNN, MSNBC, and Fox News.
The Freedom to Marry ad highlights bipartisan support for marriage equality from people like President Barack Obama and Gen. Colin Powell.
It also raises the issue — so prominent in the recent debates over the scope and aims of religious freedom bills — of business support for marriage equality from some of the nation's biggest companies.
Finally, the ad notes a new CNN poll showing more than 60% of Americans believe that marriage is a constitutional right for same-sex couples.