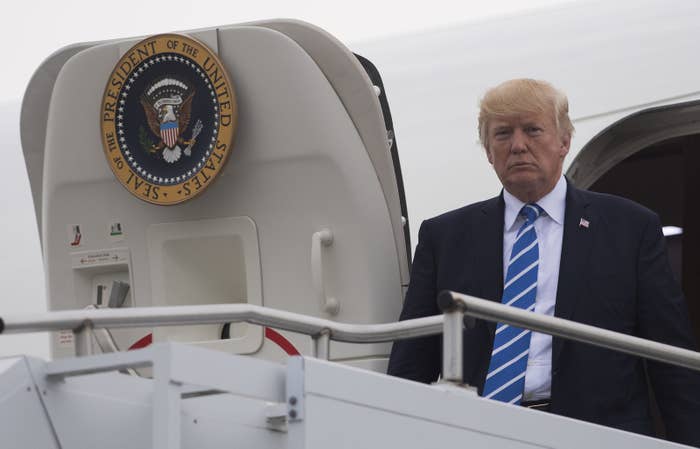 A bipartisan group of more than five dozen former state attorneys general on Monday issued a call for leaders — including the president — not to "equivocate" when faced with "the voice of hate."
In a statement, 66 former state and territorial attorneys general, including former Senators Joseph Lieberman and Slade Gorton, call for a strong response to groups like the Ku Klux Klan and others who espouse white supremacist views.
The statement comes as President Trump faces continued questions about his response to the white supremacists who marched in Charlottesville earlier this month, leaving one counter-protester dead. Over the weekend, Jerry Falwell Jr., for example, defended Trump's comments this past week that some "very fine people" were with the white supremacists during a Friday evening rally.
"There are times in the life of a nation, or a president, or a state attorney general when one is called upon to respond directly to the voice of hate," the statement reads. "As former state attorneys general, we take the liberty of reminding Americans — as we remind ourselves — that events can call out the worst in us — and the best."
The signatories include Democrats like Jennifer Granholm of Michigan and Bill Lockyer of California, and Republicans like Betty Montgomery of Ohio and Grant Woods of Arizona, as well as include longtime attorneys general like William Sorrell of Vermont and Drew Edmondson of Oklahoma. While the group includes Republican officials, people like Gorton, Montgomery, and Woods are longtime Trump critics.
By way of example, the group points back to the 1970s and a young state attorney general in Alabama, Bill Baxley. When he "began his quest to bring justice to the perpetrators of the Birmingham church bombing which killed four little girls" by reopening the 1963 case, they write, he "faced political furor" and "threats of physical violence and death."
In February 1976, in the midst of his efforts, the grand dragon of the KKK, Edward Fields, wrote a "threatening letter" to Baxley, demanding a response.
"My response to your letter of February 19, 1976, is — kiss my ass," Baxley wrote back the next day. He continued forward, and, in 1977, Baxley prosecuted and secured the conviction of Robert Chambliss in connection with the bombing.
"We commend his response to the attention of all who seek to equivocate in times of moral crisis," the former attorneys general wrote in their Monday statement.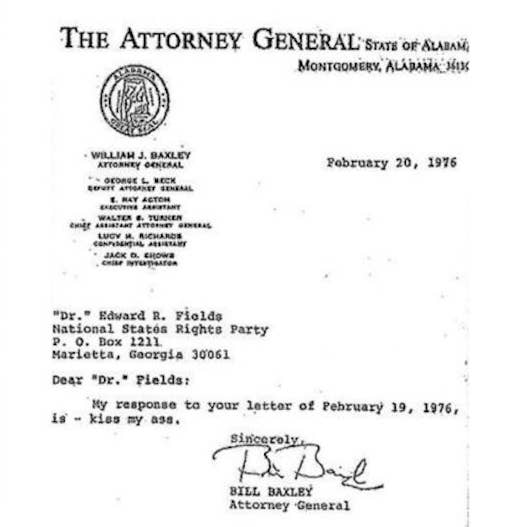 The effort was headed up by James Tierney, the former Democratic attorney general of Maine and a lecturer at Harvard Law School on the role of state attorneys general, with support from Jeff Amestoy and John Easton, both of whom are former Republican attorneys general from Vermont.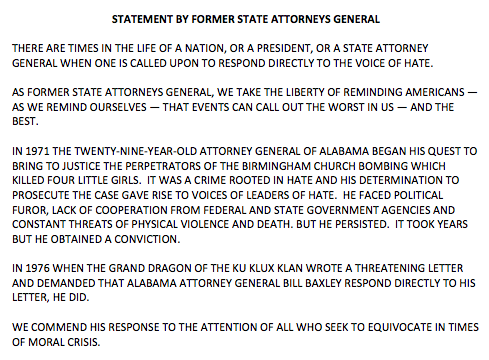 The Full List of Signatories:
Robert Abrams, New York

Ronald Amemiya, Hawaii

Jeff Amestoy, Vermont

Bruce Babbitt, Arizona

Thurbert Baker, Georgia

Paul Bardacke, New Mexico

Steve Beshear, Kentucky

Bruce Botelho, Alaska

Margery Bronster, Hawaii

Charlie Brown, West Virginia

Richard Bryan, Nevada

Charles Burson, Tennessee

Bonnie Campbell, Iowa

Steve Clark, Arkansas

Walter Cohen, Pennsylvania

Robert Cooper, Tennessee

J. Joseph Curran, Jr., Maryland

Fred Cowan, Kentucky

Frankie Sue Del Papa, Nevada

Jerry Diamond, Vermont

Richard Doran, Florida

John Easton, Vermont

Rufus Edmisten, North Carolina

Drew Edmondson, Oklahoma

Tyrone Fahner, Illinois

Lee Fisher, Ohio

Karen Freeman-Wilson, Indiana

Terry Goddard, Arizona

Chris Gorman, Kentucky

Slade Gorton, Washington

Jennifer Granholm, Michigan

Scott Harshbarger, Massachusetts

Peter Harvey, New Jersey

Hubert H . Humphrey III, Minnesota

Drew Ketterer, Maine

Oliver Koppell, New York

Peg Lautenschlager, Wisconsin

Joseph Lieberman, Connecticut

Michael Lilly, Hawaii

Alicia Limtiaco, Guam

Bill Lockyer, California

David Louie, Hawaii

Robert Marks, Hawaii

Brian McKay, Nevada

Jeff Modisett, Indiana

Betty Montgomery, Ohio

Mike Moore, Mississippi

Jeffrey Pine, Rhode Island

Warren Price III, Hawaii

Hector Richard, Puerto Rico

Clarine Nardi Riddle, Connecticut

Dennis Roberts, Rhode Island

Stephen Rosenthal, Virginia

Stephen Sachs, Maryland

James Shannon, Massachusetts

Mark Shurtleff, Utah

William Sorrell, Vermont

Rbert Spagnoletti, District of Columbia

Robert Stephan, Kansas

Mary Sue Terry, Virginia

James Tierney, Maine

Anthony F. Troy, Virginia

Jim Guy Tucker, Arkansas

Paul Van Dam, Utah

Bob Wefald, North Dakota

Grant Woods, Arizona