Former RNC Chairman Hosting Marriage Equality Event With Tony Kushner And Dan Savage
The Ken Mehlman-hosted event will benefit efforts in Maine, Maryland, Minnesota and Washington, all of which have marriage-related ballot measures this fall.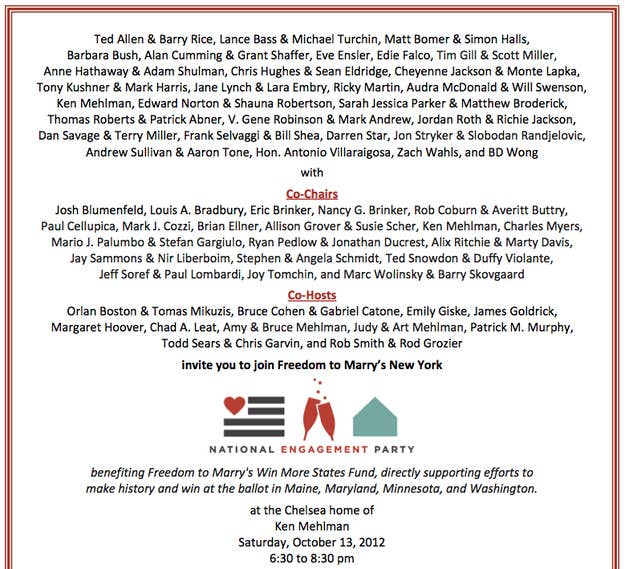 Ken Mehlman, the former head of the Republican National Committee who ran President George W. Bush's re-election effort in 2004, is proving the "politics makes strange bedfellows" aphorism, hosting an event supporting marriage equality at his home on Oct. 13 with a host committee that includes Tony Kushner, Alan Cumming, Jane Lynch, Dan Savage, Sarah Jessica Parker, Matthew Broderick and many more.
In 2004, Mehlman ran Bush's campaign in a year when 11 states voted to ban same-sex couples' marriage. Eight years later, Mehlman is out and is hosting an effort to "make history and win at the ballot in Maine, Maryland, Minnesota, and Washington."
Since coming out, Mehlman has supported marriage equality efforts, including the American Foundation for Equal Rights, which has brought the lawsuit challenging Proposition 8, and the campaigns for marriage equality in New York and Maryland.
BuzzFeed obtained a copy of the invitation to the event, which benefits Freedom to Marry's Win More States Fund.
The Ken Mehlman Event Invite