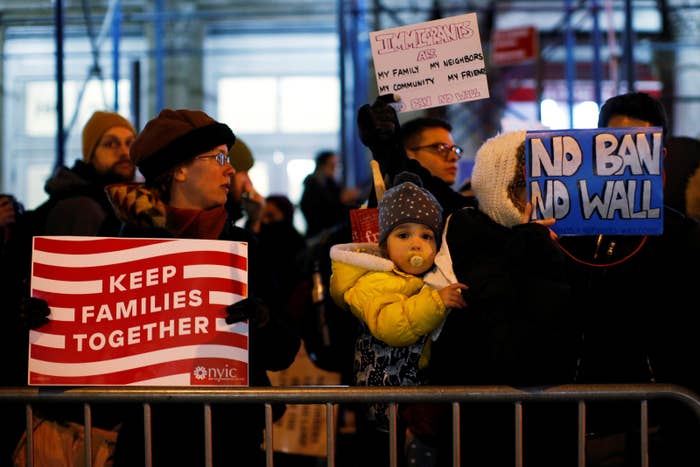 US Customs and Border Protection stopped 1,903 people for secondary inspection in the 9 days it enforced President Donald Trump's first travel ban, a new document made public by the agency shows.
The vast majority of those stopped — 1,457 people — were lawful permanent residents, a group of people caught up in the confusion surrounding Trump's issuance of the order barring travel from seven Muslim-majority nations on Jan. 27, 2017, without warning.
Of the remaining 446 people subject to secondary inspection, more than a quarter of them — at least 134 — withdrew their entry request. Such a move would have required them to leave the country immediately.
Some aspects of Trump's order were challenged in court almost immediately, but it wasn't until Feb. 3, 2017, that US District Judge James Robart issued a nationwide temporary restraining order that blocked enforcement of the travel and refugee bans.

The 28-page CBP document, released in response to multiple Freedom of Information Act requests, states, "This document lists all Executive Order related travelers who were encountered at CBP primary inspection in the air, land, and sea environments from January 27, 2017 to February 4, 2017 and were referred for secondary inspection."
The document notes the "disposition" for the roughly 300 remaining people who were not permanent residents and were sent to secondary processing — many times just with reference to a code that appeared to refer to various visas or other federal provisions that could allow them entry. In other instances, though, the disposition was specific and did not allow entry. For example, 10 people were crew members of a boat, and they were detained on board the boat while it was in the US. Nine Syrians were detained after processing in Philadelphia, and one Iranian was detained after processing through Customs and Border Protection in Miami.
While the Department of Homeland Security initially said lawful permanent residents were not covered by the order, the White House overruled it — forcing their inclusion in the order but allowing them entry on a case-by-case basis.
A Jan. 28, 2017, Customs and Border Protection memo also released under FOIA detailed the process for granting waivers to lawful permanent residents:

By Jan. 29, however, then-secretary of Homeland Security John Kelly announced that lawful permanent resident status would be a "dispositive factor" in determining whether to grant waivers, except in rare circumstances. On Feb. 1, White House counsel Don McGahn went further, stating in a memo that lawful permanent residents didn't even need waivers because — as DHS had said in the first place — the provisions of the executive order "do not apply to such individuals."
More than three-quarters of those subjected to secondary inspection were lawful permanent residents, according to the document.
In response to the court opposition to Trump's first ban, the president signed a second, slightly narrower executive order — which faced similar court opposition. Then, in September 2017, he signed a presidential memorandum that was even more limited and addressed a slightly different list of countries. That faced some court opposition, but the US Supreme Court ultimately allowed the federal government to enforce that memorandum while it considered its legality. Arguments in that case are set for April.
The document detailing those stopped under the first travel ban was among thousands of pages made public about "Executive Orders on Travel" by CBP this week. At least one of the people who had requested the documents under FOIA was informed of the posting of the documents Friday afternoon. He tweeted about it, alerting BuzzFeed News to the new cache of documents.