Florida Lawmaker Drops Re-Election Bid After Prostitution Link
Lawmaker railed against gambling because of its "enormous social costs" to the Orlando Sentinel editorial board. On Monday, his name was reported to have shown up on the client list of an alleged prostitution ring.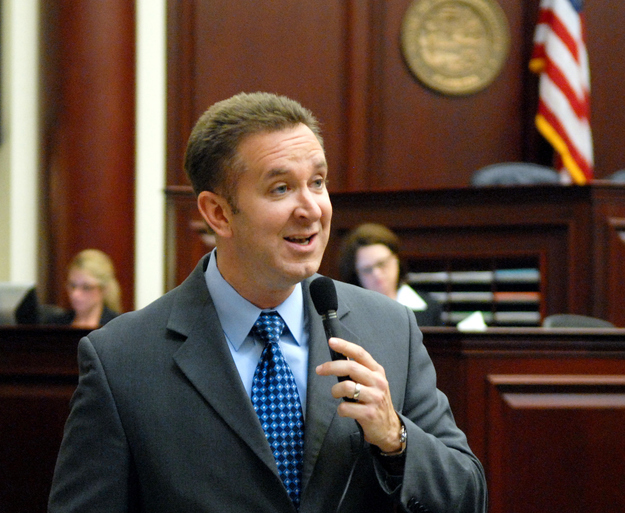 Florida House Rep. Mike Horner of Kissimmee "abruptly ended his re-election campaign Monday after he was named as a client in a prostitution and racketeering case," the Orlando Sentinel reported Monday.
The Miami Herald reported that sources told the paper that "the prostitution ring included prostitutes catering to gay clients." Horner, a Republican, is not the target of any investigation, according to all accounts.
In a statement announcing that he was dropping his re-election bid, Horner said that "current press accounts from this morning are erroneous." He did not specify in what way the reports were erroneous, but he did acknowledge, "I deeply regret decisions I made that are causing my family unjustifiable pain and embarrassment."
Horner, in an editorial board meeting with the Orlando Sentinel before his last election spoke about social issues, noting "the enormous social costs that come with gaming" in defending his vote against gambling expansion in the state. Regarding immigration, Horner also said that he would support a bill that would "look similar to the bill in Arizona" if proposed in Florida.
Nadine Smith, the executive director of Equality Florida, told BuzzFeed that the group had no immediate objection to Horner's voting record on LGBT issues.
"He hasn't been in the legislature long, and we haven't uncovered any specific anti-gay vote," she said.
She did add, however, "While the adoption ban [prohibiting gay people from adopting in Florida] was still enforced, he introduced a bill that banned prospective adopters from being asked about whether they owned guns or how they stored them for safety. Insult to injury — we can't ask if you have a firearm but we can ask about your sexual orientation."
Smith also noted the Horner's Democratic opponent, Eileen Game, answered all of the questions on the Equality Florida candidate questionnaire but that Horner did not return a questionnaire.