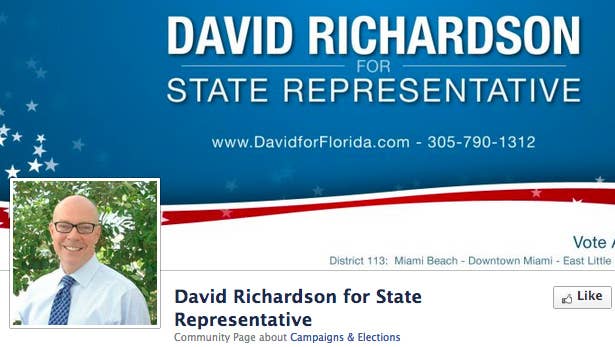 Florida Democrats Tuesday have voted to send the first out lesbian, gay, bisexual or transgender person to the legislature in the state's history.
The candidate, David Richardson, is an accountant and small-business owner advising companies on accounting and finance issues relating to government contracts. His primary victory in a heavily-Democratic district in Miami effectively guarantees his victory in November, given that no Republican sought a spot on the ballot.
Seventeen states currently have no out lesbian, gay, bisexual or transgender lawmakers, according to the Gay & Lesbian Victory Fund, which has backed Richardson's bid and works to help elect out LGBT candidates.
"David's election sends a message to Tallahassee that LGBT Floridians will be heard. Finally, we will have an authentic LGBT voice in the state capitol who will be unafraid to speak up and speak out for fairness," said Victory Fund president Chuck Wolfe. Wolfe, a Florida native, previously served as a top aide to former Florida Gov. Lawton Chiles.
In addition to Richardson's win, Victory Fund vice president Denis Dison pointed to primary wins by candidates who have no general election opponents in New Mexico, Pennsylvania and Texas — three states with no out lawmakers currently — as progress for the organization's aims.
Jacob Candelaria, who used to be the executive director of Equality New Mexico, won a primary for the state Senate there. Brian Sims won a primary in Philadelphia, Pennsylvania, for the state's House there. Mary Gonzalez, who won her primary for the Texas House, has since come out as pansexual.
Stephen Skinner, running in West Virginia, also has been endorsed by the Victory Fund, and Dison says the group could endorse in other state legislative races still this election cycle.
In addition to Florida, New Mexico, Pennsylvania, Texas and West Virginia, the other 12 states without out lawmakers currently are Alaska, Delaware, Indiana, Kansas, Kentucky, Louisiana, Michigan, Mississippi, Nebraska, North Dakota, Tennessee and South Carolina.
Richardson's First-Of-Its-Kind Win in Florida

UPDATE: Equality Florida announced that two other out LGBT candidates, both Democrats, will advance to general-election campaigns in Florida statehouse races to face Republican challengers.