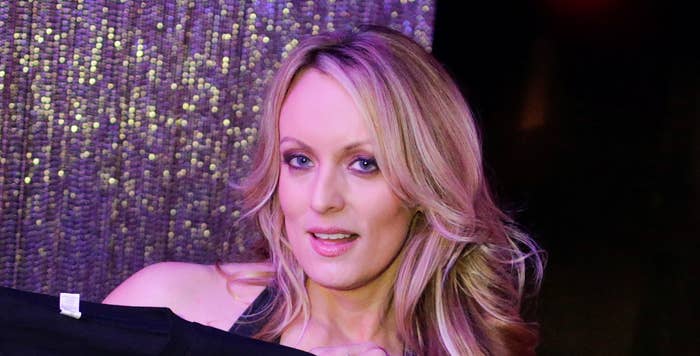 In her long-awaited 60 Minutes interview, adult film star Stephanie Clifford, who performs as Stormy Daniels, talked about the relationship she says she had with Donald Trump a decade before he ran for president — but the questions going forward are, primarily, legal ones about things that happened over the past two years.
Michael Cohen, Trump's personal lawyer and a longtime Trump Organization lawyer, and other lawyers involved in the matter from the Trump side have claimed the adult film actor and director, whose real name is Stephanie Clifford, has repeatedly breached the 2016 settlement agreement that netted her $130,000 in exchange for her silence.
Daniels and her lawyer, Michael Avenatti, filed a lawsuit to have the entire agreement tossed out, though, throwing everything even further up into the air.
None of the lawyers — for Daniels, Trump, or Cohen — responded to requests for comment on the interview or its aftermath on Sunday night, but the story is far from over.
So, with the interview done, here are five key questions that remain.
1. Is the nondisclosure agreement valid?
Daniels' lawsuit — which is now in federal court — claims that the 2016 agreement, signed days before the presidential election, should be declared never to have been formed because Trump didn't sign it. The opening of the agreement, however, states that it is between "EC, LLC and/or David Dennison" (the company set up by Cohen to make the payment to Daniels and the apparent pseudonym for Trump, respectively) and Daniels (who is given the pseudonym of Peggy Peterson in the agreement). Daniels' lawsuit, however, argues that Trump didn't "assent to the … conditions" set forth in the agreement if he didn't sign it and, therefore, she cannot be held to the conditions set forth as to her — including the hush agreement.
2. Will Cohen and/or Trump try to get $20 million from Daniels?
When a lawyer for Cohen removed the case to federal court, Trump — named as a defendant in Daniels' lawsuit — filed a notice by his lawyer in the case, Charles Harder, stating that, among other things, he would be fighting to send the matter back to arbitration, where Cohen had succeeded in getting a temporary restraining order against Daniels earlier this year. In Cohen's filing removing the case to federal court, his lawyer also stated that "EC and/or Defendant Trump have the right to seek liquidated damages against Clifford for her numerous breaches" of approximately $20 million. Now that the 60 Minutes interview with Anderson Cooper has aired, the question will be whether Cohen and/or Trump actually go forward with the threat.
3. Does Daniels have more material?
One reason why Cohen and Trump might keep fighting is the unanswered question of whether Daniels has more evidence — such as screenshots of texts between her and Trump or pictures or videos. Under the agreement that was signed in 2016, she was supposed to have turned all such materials over. Earlier this week, however, Avenatti — who has engaged in an aggressive PR campaign in his representation of Daniels — tweeted a picture of a CD/DVD with the caption, "If 'a picture is worth a thousand words,' how many words is this worth????" On Sunday morning, he was more specific, stating that "not all of our evidence will be mentioned/displayed tonight." When Cooper asked Daniels if she had turned over all of the required materials, she said, "I can't answer that right now," later adding that she was doing so on the advice of her lawyer.
4. Did Cohen and/or Trump violate campaign finance laws?
Trevor Potter, the former chair of the Federal Election Commission and current president of the nonprofit Campaign Legal Center, made the case on 60 Minutes that Cohen's claim that he paid the money to Daniels out of his own pocket would violate federal campaign laws: "It's a $130,000 in kind contribution by Cohen to the Trump campaign, which is about $126,500 above what he's allowed to give." Cohen has said that he "would have done it" — made the payment — at other times before the campaign and so therefore it shouldn't be viewed as a campaign contribution. Potter, however, went on to say that there even could be criminal implications — noting the similarities to the case of former presidential candidate John Edwards, who was indicted on allegations of using illegal donations to hide his affair. Edwards was not, however, ultimately convicted, as the jury deadlocked on several counts and the judge declared a mistrial. (The "wildcard here," Potter said, is whether special counsel Robert Mueller might take interest in this — whether directly or as a way of trying to get Cohen to talk about other issues.)
5. Was Daniels threatened in 2011 and, if so, by whom?
The new legal issue raised on Sunday night is the threat that Daniels alleged she received in 2011, after an interview she did with a magazine about the alleged relationship did not run. She told Cooper that a man approached her in a parking lot in Las Vegas and told her to "leave Trump alone" and "forget the story." There certainly will be follow-up reporting and questions about that claim — particularly given the history of reporting on threats allegedly received by others to have run afoul of Trump's interests.