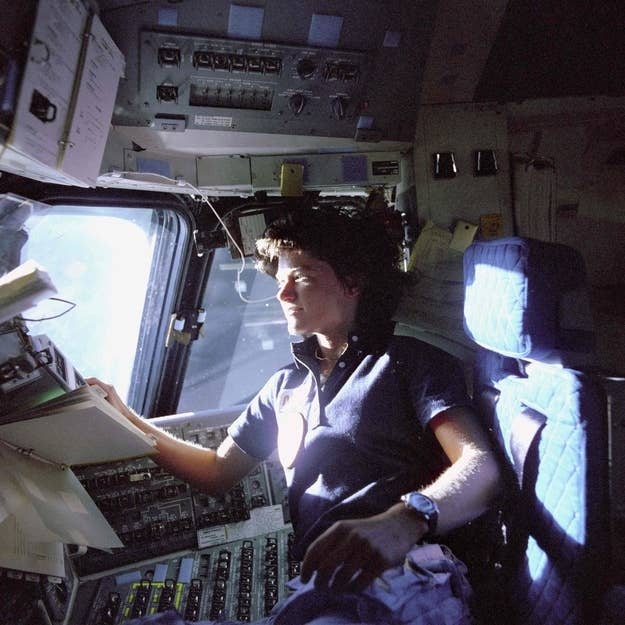 Sally Ride, who died today after a 17-month battle with pancreatic cancer, was the first female U.S. astronaut in space and became friends with Tam O'Shaugnessy at the age of 12. It was not until today, however — nearly 50 years after meeting — that their 27-year romantic relationship was made public.
The pioneering scientist was, a statement from Sally Ride Science announced, survived by "Tam O'Shaughnessy, her partner of 27 years."
With that simple statement — listed alongside her mother, Joyce; her sister, Bear; her niece, Caitlin and nephew, Whitney — Ride came out.
Bear Ride, talking with BuzzFeed, said today, "We consider Tam a member of the family."
Saying that her sister was a very private person, Bear Ride said, "People did not know she had pancreatic cancer, that's going to be a huge shock. For 17 months, nobody knew -- and everyone does now. Her memorial fund is going to be in support of pancreatic cancer.
"The pancreatic cancer community is going to be absolutely thrilled that there's now this advocate that they didn't know about. And, I hope the GLBT community feels the same," Bear Ride, who identifies as gay, said.
"I hope it makes it easier for kids growing up gay that they know that another one of their heroes was like them," she added.
Terry McEntee, a spokeswoman from Sally Ride Science, the company Ride formed to provide educational materials and programs for schools, confirmed to BuzzFeed that there had not, to her knowledge, previously been published acknowledgment of Ride and O'Shaugnessy's relationship.
Bear Ride, though, said that her sister "never hid her relationship with Tam. They have been partners, business partners in Sally Ride Science, they've written books together .... Sally's very close friends, of course, knew."
O'Shaugnessy is the chief operating officer and executive vice president for Sally Ride Science, as well as an emeritus professor at San Diego State University. Sally Ride had previously been married to fellow astronaut Steven Hawley in 1982; they divorced in 1987. Ride went into space on two missions, first in 1983 and then again in 1984.
Of Sally Ride's sexual orientation, Bear Ride said, "Sally didn't use labels. Sally had a very fundamental sense of privacy, it was just her nature, because we're Norwegians, through and through."
Calling Ride "a patriot and a pioneer," Human Rights Campaign president Chad Griffin told BuzzFeed, "For many Americans, coming out will be the hardest thing they ever do. While it's a shame that Americans were not able to experience this aspect of Sally while alive, we should all be proud of the fact that like many LGBT Americans, she proudly served her country, had a committed and loving relationship, and lived a good life."
Of the further implications of today's news, Griffin added: "The fact that Sally Ride was a lesbian will further help round out Americans's understanding of the contributions of LGBT Americans to our country. Our love and condolences go out to her partner."
Asked about those who would have opposed legal recognition of her sister's relationship, Bear Ride bluntly replied, "Who cares about them, really? There are those who are stubbornly ignorant, and if they want to continue in that, God bless them, but probably best not to talk to my family."
[This post was updated at 8:25 p.m. to include comments from Bear Ride.]