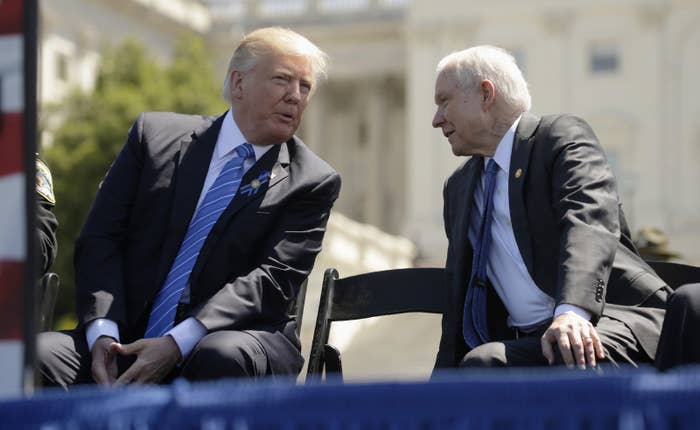 Justice Department lawyers defending one of the cases challenging President Donald Trump's travel ban asked a Michigan judge on Wednesday to put the case she is hearing on hold because the Supreme Court is likely to hear a different case challenging the ban.
And yet, the Justice Department has not even asked the Supreme Court to hear the case the lawyers mentioned — or any of the cases challenging the travel ban.
"Defendants respectfully seek a stay of the proceedings in this case pending the Supreme Court's likely consideration of the Fourth Circuit's decision in a substantially similar challenge to Executive Order No. 13780 (the 'Order')," Justice Department lawyers wrote in a Wednesday filing in Arab American Civil Rights League v. Trump, pending before Judge Victoria Roberts in Michigan.
On May 25, the US Court of Appeals for the Fourth Circuit, in a full sitting, ruled against Trump's travel ban. Although Attorney General Jeff Sessions said the department would be seeking Supreme Court review, the department has yet to file either a certiorari petition — the formal request for Supreme Court review — or a request for a stay pending the filing of the certiorari petition.
Review is optional. It would take the vote of four justices to agree to hear the case and five justices to grant a stay.
In addition to the fact that the Supreme Court doesn't have to hear the case, it also is possible that the justices would prefer to hear another case — still pending — out of the Ninth Circuit, which addresses more of the executive order than does the Fourth Circuit case (which only addresses one subsection of the order).

The move to halt the AACRL case comes as the Justice Department fights against disclosure of certain documents — including the alleged "white paper" prepared for Trump by Rudolph Giuliani and others regarding the ban — that was given to Trump in 2016 during the presidential campaign.
The government filed objections to the request of that document, and the plaintiffs followed up by filing a "motion to compel" in the case — seeking a court order that the government turn over the Giuliani memorandum.
UPDATE
Judge Victoria Roberts ordered the plaintiffs in the case to respond to the request for a stay by 5 p.m. Friday. On the motion to compel, Roberts has told the government that it can file a "short brief in opposition" by June 5. Other deadlines relating to discovery disputes are put on hold until the stay request motion is resolved.
Read the order: