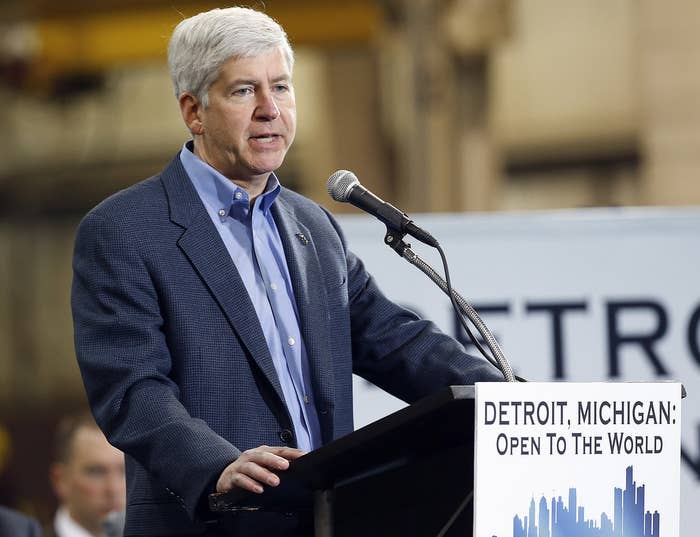 WASHINGTON — Governors don't have any real control over the federal government's decision to accept and place Syrian refugees — but they could frustrate the efforts of federal officials to do so, administration officials acknowledged on Tuesday.
Over the past 48 hours, more than half of the nation's governors have called for a halt to allowing Syrian refugees into the country for now, a response to this past weekend's terrorist attacks in Paris that left more than 120 people dead.
Those calls to halt the program have varied in key ways — some governors have tacitly or explicitly acknowledged that they lack the authority to prevent the federal government from taking action, something the federal government affirmed on Tuesday.
"This is a federal program carried out under the authority of federal law, and refugees arriving in the U.S. are protected by the Constitution and federal law," a senior administration official told reporters on a conference call.
"While state and local governments have an important consultative role to play in the resettlement of refugees, the resettlement program is, as you're hearing, administered by the federal government," the official said.
But the states could affect those plans by refusing to cooperate with the government or with the non-governmental organizations that actually administer resettlement programs; states could also possibly refuse federal funds. How much states could affect what are mostly federal decisions carried out by local communities is also unclear.
The rapid movement toward stopping the resettlement program began on Sunday when Michigan Gov. Rick Snyder first announced that he had directed that state officials "put on hold our efforts to accept new refugees" until the federal government undertook a "full review" of security clearances and procedures.
In Tuesday's call, the senior officials appeared to have no intention for any such full review, with one official noting that "refugees of all nationalities considered for admission to the United States undergo intensive security screening" and that "Syrian refugees go through additional forms of security screening." The official did acknowledge that "options for further enhancement for screening refugees" were being considered.
The move was a shift for Snyder, who established the Michigan Office for New Americans a year earlier and had been supportive of efforts to increase the number of refugees being resettled in the state before the weekend's attacks in Paris. The men behind those attacks included several French and Belgian nationals, but at least one had passed through Greece this year with a possibly fake Syrian passport, according to French authorities.
Within a day of Snyder's comments, half of all U.S. governors made similar statements — including one Democratic governor, Maggie Hassan.
The language used by the governors has varied widely, but several acknowledged in their statements that the federal control of the refugee resettlement program limits their options.
While Arizona Gov. Doug Ducey called "for an immediate halt in the placement of any new refugees in Arizona" on Monday, for example, he focused on asking the federal government to consult with the states and "take into account the concerns and recommendations of the state of Arizona" in making its decisions about refugee resettlement. Additionally, he asked for changes in the law "to provide states greater oversight and authority in the administration of the placement of refugees."
Florida Gov. Rick Scott went further, directing his statement — in the form of a letter sent on Monday — to House Speaker Paul Ryan and Senate Majority Leader Mitch McConnell. While writing that his state "will not support the requests" from organizations for state assistance with the relocation of "425 possible Syrian refugees," he also wrote that it was his "understanding that the state does not have the authority to prevent the federal government from funding the relocation of these Syrian refugees to Florida even without state support." He called on Congress "to take immediate and aggressive action" to bar federal funds from being used to do so.
While many other governors made clear that they were asking the federal government not to place refugees in their state, other governors forewent that subtlety. "As the governor of Texas," Greg Abbott wrote to President Obama on Monday, "I write to inform you that the State of Texas will not accept any refugees from Syria in the wake of the deadly terrorist attack in Paris."
In Louisiana Gov. Bobby Jindal's executive order issued Monday, he authorized everyone in the state government "to utilize all lawful means to prevent the resettlement of Syrian refugees in the State of Louisiana while this Order is in effect." Going further, Jindal also directed the Louisiana State Police to take action against Syrian refugees previously resettled in the state, authorizing the police "to utilize all lawful means to monitor and avert threats within the State of Louisiana."
While an extreme example, Jindal's order does show how the governors and their statements and policies can have an effect on the resettlement process — a point acknowledged on Tuesday by the administration.
"We don't want to send refugees anywhere where they would not be welcomed," the official said, adding, though, "we find that refugees are welcomed almost everywhere in the United States."
Even there, though, it's not exactly clear how much a governor could truly disrupt the process. The administration official detailed that much of the process — once a person has been approved for resettlement — actually is implemented by NGOs and communities.
The heads of two NGOS said on Tuesday that they still intend to place refugees in states that oppose resettlement.
"We are proceeding with our plans to resettle refugees in all of the states," said Mark Hetfield, president and CEO of HIAS. Stephan Bauman, president and CEO of World Relief, likewise said, "We don't plan to stop resettlement in the states that are in question."
Some governors, in their statements, did suggest they would attempt to get NGOs and local groups to stop supporting resettlement within their states. Nebraska Gov. Pete Ricketts, in fact, sent his statement in the form of a letter to resettlement agencies, writing, "I am requesting that your organization and all resettlement agencies in our state decline to participate in potential resettlement efforts."
Beyond the initial placement, as legal residents, refugees are free to move — although some benefits might not follow them. No governor, as of yet, has made any statement about attempting to prevent the interstate travel of Syrian refugees — a move that would appear to be clearly unconstitutional.
"This is a program that is very much dependent on the support of local communities," the official said. Once refugees are approved for resettlement in the United States, the State Department, in coordination with nine resettlement agencies, place refugees in approximately 180 communities throughout the United States. The department and agencies make placement decisions based on a variety of factors, including employment levels in individual communities and the location of any relatives a refugee might have.
Once a specific community is selected, the official continued, "a lot of people are involved through their community associations, through their churches, in providing assistance — from picking refugees up at the airport when they first arrive, taking them to their homes, finding those homes. Volunteers contribute furniture to furnish their first apartment, providing school equipment, things that kids need to start in school, and helping the able-bodied adults find a job."
One final area where governors' policies could have an effect is money. Some federal funds aimed at helping resettled refugees are doled out through the states.
Asked on Tuesday if states could frustrate resettlement efforts by refusing those funds, State Department spokesperson Mark Toner said, "We hope it never comes to that, but theoretically, they could say, 'No. We don't accept refugee resettlement funds.'"