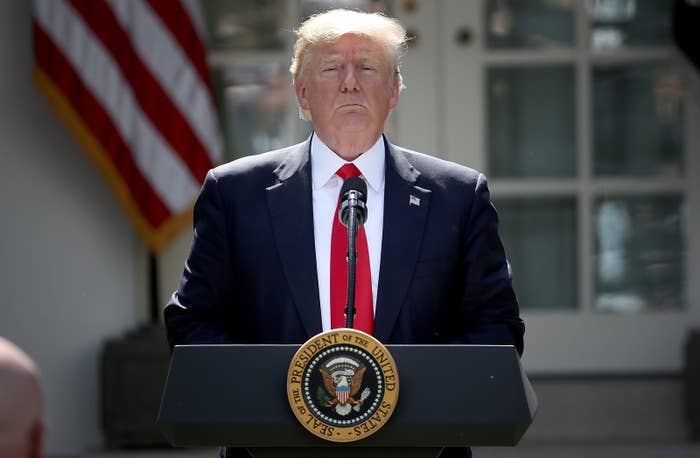 The Trump administration has turned to the Supreme Court in the ongoing legal dispute over President Trump's refugee and travel executive order.

On Thursday night, the Justice Department asked the Supreme Court to hear the government's appeal of the recent federal appellate decision to uphold a lower court's order that halted enforcement of the travel ban.
Additionally, and potentially having a more immediate effect, the department asked for the Supreme Court to allow the federal government to begin enforcing the second version of the travel and refugee executive order that Trump signed in March with two other filings to the justices.
On Friday afternoon, the Supreme Court directed parties to respond to the federal government's requests by 3 p.m. June 12 — a sign the court could be considering taking relatively quick action on at least consideration of the Trump administration's requests.
Attorney General Jeff Sessions had said the request for the justices to hear — and ultimately reverse — the decision of the US Court of Appeals for the Fourth Circuit would be forthcoming.

The Justice Department lawyers argue in the Thursday night filing, called a petition for a writ of certiorari, that the justices should hear the case — International Refugee Assistance Project (IRAP) v. Trump — because the "remarkable holding" of the Fourth Circuit "is wrong and in manifest need of this Court's review."
Additionally, the department asked the justices to issue a stay of the injunction entered in that case until the justices resolve the case. In that case, the Fourth Circuit upheld a district court injunction against the specific portion of the executive order banning travel for a limited time from six Muslim-majority countries.

The department also filed a second stay request, asking the justices to put the injunction on hold that was entered in a challenge to the executive order out of Hawaii — Hawaii v. Trump — that is now on appeal before a different appeals court, the Ninth Circuit, until that case is ultimately resolved. The injunction entered in that case is more broad, covering the entire refugee and travel ban sections of the order.
If both of those stays are granted, as requested, the Trump administration would be allowed to enforce Trump's travel and refugee executive order while the questions raised in the challenges to the executive order are being heard by the justices.
Notably, while it takes four votes to hear the appeal, it would take five votes of the nine justices (assuming all, or even eight, participate in hearing the case) to grant the stays requested.