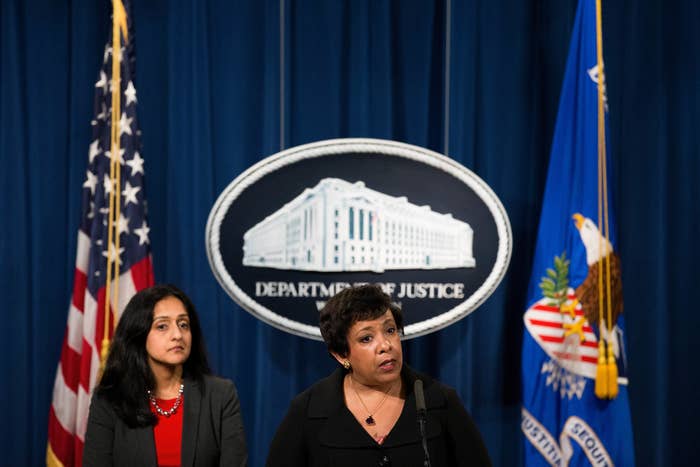 WASHINGTON — The Justice Department on Tuesday asked a federal judge to halt implementation and enforcement of the anti-transgender provision of North Carolina's HB 2 — the so-called "bathroom" provision of the bill.
"H.B. 2 is not merely a solution to a non-existent problem; it is state-sanctioned discrimination that is inflicting immediate and significant harm on transgender individuals," Justice Department lawyers wrote.
The "bathroom" portion of the law prohibits people from using public restrooms that don't correspond to their birth certificates, effectively barring many transgender people from using the restroom that corresponds with their gender identity.
The Justice Department sued the state in federal court after the passage of the law earlier this year, alleging that the provision violates federal nondiscrimination laws, including Title VII of the Civil Rights Act of 1964, Title IX of the Education Amendments of 1972, and the Violence Against Women Act. As to Title VII and Title IX, the department argues that the sex discrimination bans in those laws include a ban on anti-transgender discrimination because, they say, gender identity–based discrimination is a type of sex discrimination.
In the Tuesday motion in one of several lawsuits over HB 2, the Justice Department asked for "a preliminary injunction enjoining Defendants from complying with or implementing Section 1.3 of North Carolina Session Law 2016-3, House Bill 2."
The filing came on a day when both Hillary Clinton and Donald Trump visited the state for campaign events — Clinton at her first campaign event with President Obama.
Although neither Obama nor Clinton addressed the matter in their remarks in Charlotte, Trump gave two conflicting statements in Raleigh — telling the audience at his North Carolina rally that he would be "better for the gay community" than Clinton, but saying to reporters backstage, "I'm going with the state" on HB 2.
In the Justice Department filing, the lawyers filed a 70-page memorandum of law explaining their legal reasoning for seeking the injunction. Primarily, the lawyers note that a recent ruling from the 4th Circuit Court of Appeals — the court that hears appeals out of North Carolina — "establishes the United States' strong likelihood of success under Title IX." The lawyers went on to argue that the "controlling logic" of that case — G.G. v. Gloucester County School Board — and the "growing consensus" among other courts suggests the same should be true of the Title VII and VAWA claims. In addition, they note, VAWA explicitly covers gender identity-based discrimination.

"Excluding transgender men and women from bathroom and changing facilities consistent with their gender identity causes significant and irreparable physical, psychological, economic, social, and stigmatic harm to transgender people," Justice Department lawyers wrote in the motion.
Responses are due by July 29, according to an entry on the court's docket.