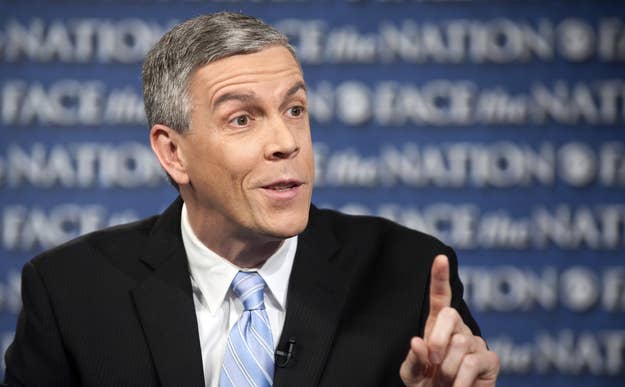 WASHINGTON — The federal government plans to start counting income from both parents in a same-sex couple when making federal student aid decisions beginning in 2014, the Department of Education announced Monday, a change that could result in students of same-sex couples receiving less federal aid.
"All students should be able to apply for federal student aid in a way that considers their unique family dynamics. These changes will allow us to calculate aid eligibility based on what a student's whole family is able to contribute and ensures our limited taxpayer resources are better targeted toward those students and families who have the most need. And, very importantly, these changes allow us to provide an inclusive form that reflects the great diversity of American families," Secretary of Education Arne Duncan said in a conference call with reporters Monday afternoon.
Duncan also noted the catch: "For the vast majority of applicants, these changes will actually have no impact. It's important to note, though, that collecting information from both parents and considering the income of the whole family also might result in less need-based federal student aid for those applicants who are affected because of the recognition of the complete financial resources of the family."
The change could mean less aid for the children of same-sex couples, as well as the children of opposite-sex couples who are not married, Duncan said.
The planned changes to the Free Application for Federal Student Aid will include adding an option to describe parents' marital status as "unmarried and both parents living together." It also will include using "terms like 'Parent 1 (father/mother/stepparent)' and 'Parent 2 (father/mother/stepparent)' instead of gender-specific terms like 'mother' and 'father.'"
The department is slated to publish the changes this week in the Federal Register for public comment.
The decision to count information from "a dependent student's legal parents regardless of the parents' marital status or gender, if those parents live together" does not conflict with the Defense of Marriage Act's prohibition on recognition of same-sex couples' marriages, the department states because the law in question, the Higher Education Act, refers to "parent," not "spouse," in the relevant portions of the law.
The planned FAFSA change comes even as benefits of federal recognition of same-sex couples' relationships in other areas of federal law remain barred by DOMA's federal definition of marriage. The constitutionality of that definition, found in Section 3 of DOMA, is pending before the Supreme Court now.
Duncan said cost-savings were not the aim of the changes, saying, "We don't know whether it will cost more or cost less. We just think it is more accurate, it is more inclusive, it is more fair."
Asked why the change was made even as same-sex couples are limited from benefits in other areas of the law by DOMA, Duncan told BuzzFeed, "We just want to have the most accurate picture possible of students' family situation and the most accurate picture possible of parents' ability to contribute to their child's education."
In a news release announcing the changes to the FAFSA, the department states:
The FAFSA has long been constructed to collect information about a student's parents only if the parents are married. As a result, the FAFSA has excluded income and other information from one of the student's legal parents (biological or adoptive) when the parents are unmarried, even if those parents are living together. Gender-specific terms also fail to capture income and other information from one parent when a student's parents are in a same-sex marriage under state law but not federally recognized under the Defense of Marriage Act.
The reason for the change, according to the department is because "[c]ollecting parental information from both of a dependent student's legal parents will result in fair treatment of all families by eliminating longstanding inequities based on parents' relationship with each other rather than on their relationship with their child."
Regarding the news, Human Rights Campaign spokesman Michael Cole-Schwartz told BuzzFeed Monday afternoon, "There is no reason to treat families headed by same-sex couples any differently than those headed by opposite sex couples and this is a positive step toward putting all families on a level playing field."
The Family Equality Council's director of public policy, Emily Hecht-McGowan, told BuzzFeed, "Federal forms that are inclusive of all families are important tools to help LGBT parents ensure their children receive the legal and financial protections they need and the opportunities in life that they deserve."
She added that the Department of Education worked with the Family Equality Council and others — including the Center for American Progress, the Consortium of Higher Education LGBT Resource Professionals and the National Center for Transgender Equality — on the planned changes.
[UPDATE: This post was updated to include comments made by Education Sec. Arne Duncan in a call with reporters. 4/29/13.]