A federal judge in Idaho has joined in the chorus of judges to find that state laws banning same-sex couples from marrying are unconstitutional.
In the Tuesday ruling, U.S. Magistrate Judge Candy Wagahoff Dale said Idaho's ban "den[ies] its gay and lesbian citizens the fundamental right to marry and relegate their families to a stigmatized, second-class status without sufficient reason for doing so. These laws do not withstand any applicable level of constitutional scrutiny."
In describing the level of scrutiny to which the Idaho law should face, Dale wrote:
With respect to Plaintiffs' due process claim, Idaho's Marriage Laws are subject to strict scrutiny because they infringe upon Plaintiffs' fundamental right to marry. Under the Equal Protection Clause, Idaho's Marriage Laws are subject to heightened scrutiny because they intentionally discriminate on the basis of sexual orientation.
The heightened scrutiny decision regarding sexual orientation discrimination is required, Dale wrote, because of a case from the court of appeals that would hear any appeal of the Idaho marriage case. That decision from earlier this year, in which the 9th Circuit held that claims of government discrimination based on sexual orientation are subject to heightened scrutiny, is "authoritative and binding upon this Court," Dale wrote.
Regardless of that, though, Dale found that — even under the lowest level of scrutiny, rational basis review — the marriage ban is unconstitutional.
The order that state officials stop enforcing the ban does not go into effect until 9 a.m. MT Friday, giving time for Gov. Butch Otter to attempt to secure a stay halting the order from going into effect.
[Update at 3 p.m. Wednesday: Following the trial court denial of the stay, the governor's office, now joined by Monte Stewart as outside counsel, filed a notice of appeal of the Tuesday decision and of the Wednesday stay denial.]
In summary, Judge Dale wrote: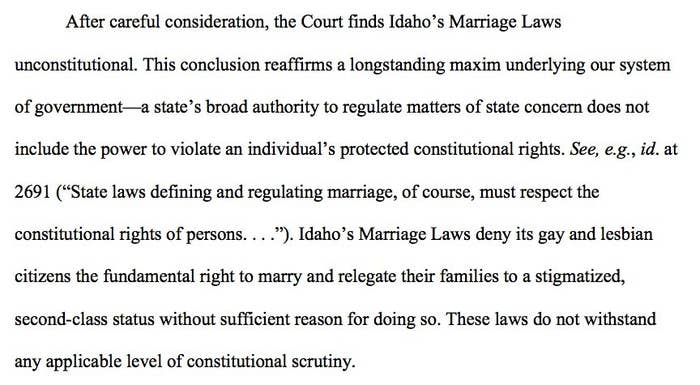 Read the court's order: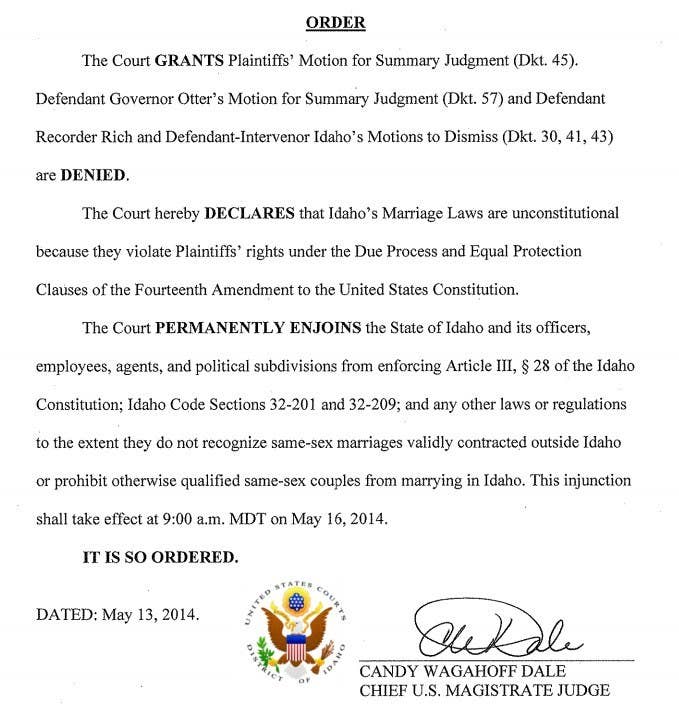 Update at 1:30 p.m. Wednesday: Judge Dale denies governor's stay request:
Update at 3 p.m. Wednesday: Governor appeals ruling and stay denial: