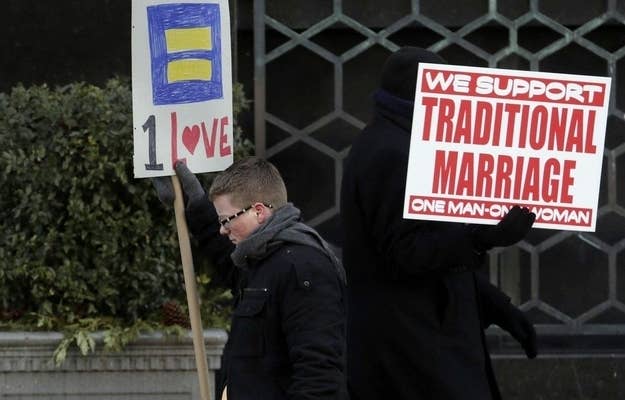 WASHINGTON — A federal judge in Texas has joined judges in Utah, Ohio, Oklahoma, Kentucky, and Virginia in ruling in recent months that bans on same-sex couples marrying or recognizing out-of-state marriages of same-sex couples are unconstitutional.
In U.S. District Court Judge Orlando Garcia's ruling Wednesday, he found:
These Texas laws deny Plaintiffs access to the institution of marriage and its numerous rights, privileges, and responsibilities for the sole reason that Plaintiffs wish to be married to a person of the same sex. The Court finds this denial violates Plaintiffs' equal protection and due process rights under the Fourteenth Amendment to the United States Constitution.
Garcia granted the same-sex couples' request for a preliminary injunction stopping the state from enforcing the ban, but he put the ruling on hold "pending the final disposition of any appeal to the Fifth Circuit Court of Appeals."
An appeal of the case by Texas officials, which is expected, would involve a fifth federal appeals court in the wave of cases challenging laws limiting same-sex couples' marriage rights since the Supreme Court ruled last June that the federal Defense of Marriage Act's ban on recognition of same-sex couples' marriages was unconstitutional.
Appeals already are pending in the 4th Circuit, from the Virginia case; the 6th Circuit, from cases in Ohio and Kentucky involving recognition of out-of-state marriages; the 9th Circuit, from the Nevada case; and the 10th Circuit, from the Utah and Oklahoma cases.
The first federal judge to rule a state marriage ban unconstitutional was U.S. District Court Judge Vaughn Walker, when he struck down California's Proposition 8 ban in 2010. No other federal judge did so, however, until the U.S. District Court Judge Tim Black did so in a case limited to death certificates and out-of-state marriage recognition after the Supreme Court's DOMA ruling in United States v. Windsor.
The key portion of the judge's ruling: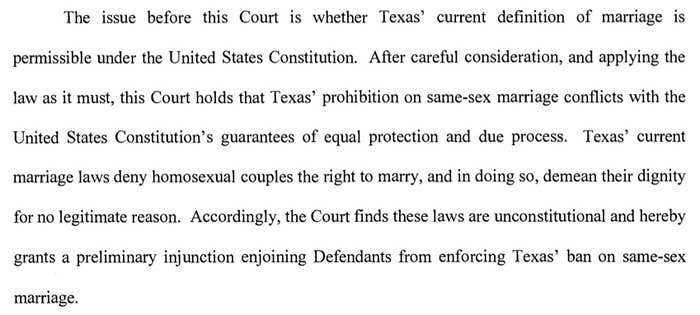 Update at 3:44 p.m.: Texas Attorney General's response to the ruling: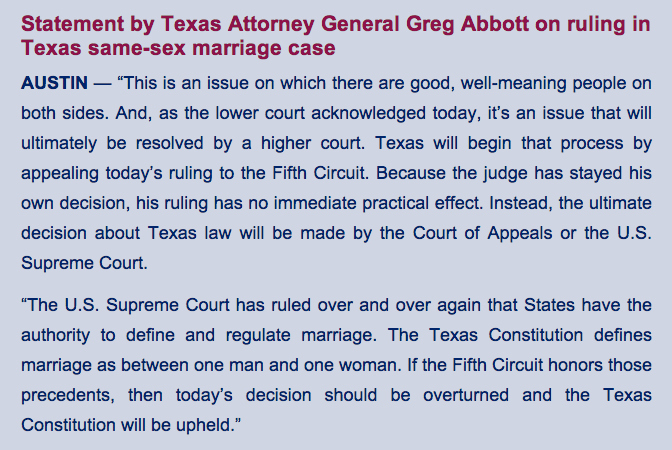 And Gov. Rick Perry responded as well: