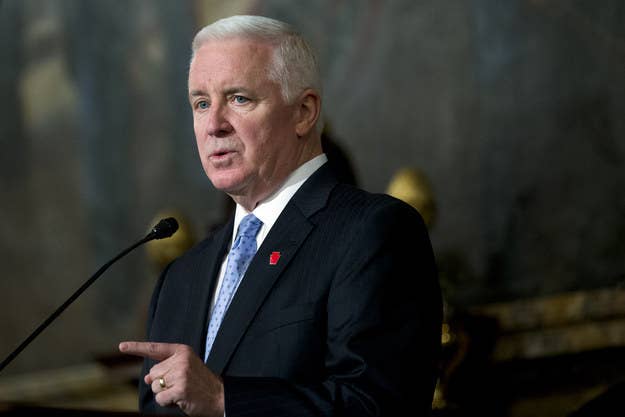 WASHINGTON — For the second day in a row, a federal judge — this time in Pennsylvania — has struck down a state ban on same-sex couples' marriages.
Less than 24 hours after U.S. District Court Michael McShane — an Obama appointee — struck down Oregon's state constitutional amendment barring same-sex couples from marrying, U.S. District Court Judge John E. Jones III — appointed to the bench by President George W. Bush in 2002 — reached the same ultimate conclusion in Pennsylvania.
"We now join the twelve federal district courts across the country which, when confronted with these inequities in their own states, have concluded that all couples deserve equal dignity in the realm of civil marriage," Jones wrote.
Like McShane in Oregon, Jones provided for no stay of his ruling, meaning it goes into effect immediately — and same-sex couples should be able to apply for marriage licenses immediately, although there is a three-day waiting period to get the license.
Although Pennsylvania has no constitutional amendment barring same-sex couples from marrying, Jones on Tuesday struck down the state's 1996 statute banning same-sex couples from marrying and barring recognition of out-of-state marriages of same-sex couples.
As to his legal conclusion, Jones wrote, "[W]e hold that Pennsylvania's Marriage Laws violate both the Due Process and Equal Protection Clauses of the Fourteenth Amendment to the United States Constitution. Because these laws are unconstitutional, we shall enter an order permanently enjoining their enforcement. By virtue of this ruling, same-sex couples who seek to marry in Pennsylvania may do so, and already married same-sex couples will be recognized as such in the Commonwealth."
In conclusion, he wrote: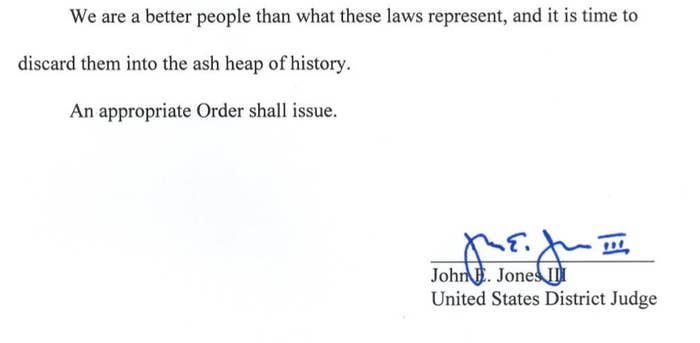 In the order, filed moments later, Jones wrote the state defendants are "permanently enjoined" from enforcing the ban. He provided for no stay of his order, meaning it is effective immediately.
Pennsylvania Gov. Tom Corbett is defending the state's ban, although Pennsylvania Attorney General Kathleen Kane is not representing Corbett in the case because she believes the ban to be unconstitutional.
In a statement, Kane said, "This is an historic day. More importantly, today brings justice to Pennsylvanians who have suffered from unequal protection under the law because of their sexual orientation. When state-sponsored inequality exists, citizens are deprived of the full protections that the Constitution guarantees. Our Commonwealth progressed today and so have the hopes and dreams of many who suffer from inequality. Today, in Pennsylvania, the Constitution prevailed."
It was not immediately clear whether Corbett would appeal the ruling and, if so, seek a stay of the ruling during the appeal.
Prior to Tuesday's decision, Jones had previously attracted attention for his 2005 decision striking down a school district's requirement that intelligent design be taught.
In a 2008 speech in accepting the American Humanist Association's Humanist Religious Liberty Award, Jones spoke of the lessons he learned from the experience of hearing and deciding that case.
"The judicial branch protects against the tyranny of the majority. We are a bulwark against public opinion. And that was very much done with a purpose, and I think that it really has withstood the test of time," he said. "The judiciary is a check against the unconstitutional abuse and extension of power by the other branches of government."