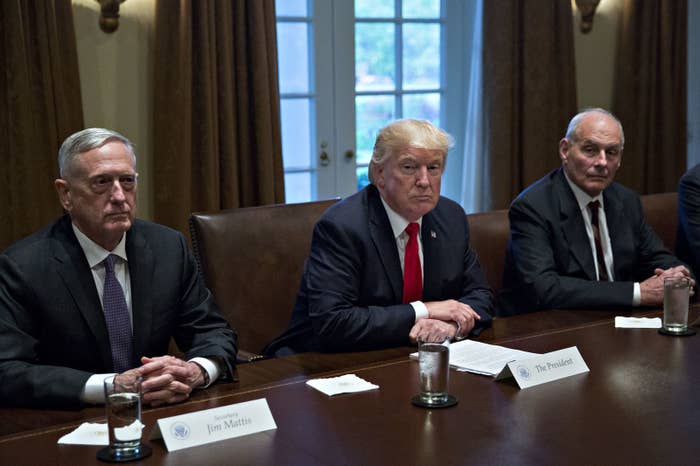 A federal judge ruled on Monday that the military must move forward with plans for allowing transgender recruits starting on Jan. 1, 2018.
The ruling clarifies an earlier injunction against President Trump's memorandum halting Obama-era policies that allowed for out transgender service. There are two federal court injunctions against Trump's order — one in DC and the other in Maryland.
The Justice Department already has filed notice that it is appealing the DC-based injunction, which was issued in October by US District Judge Colleen Kollar-Kotelly.
Before it did so, however, the Justice Department asked Kollar-Kotelly to clarify that her court's injunction did not prevent Defense Secretary James Mattis from "exercising his discretion to defer the January 1, 2018 effective date for the accession" portion — as in, recruitment policies — of the Obama-era order allowing for transgender military service.
Under the order initially issued by Defense Secretary Ashton Carter in 2016, the military was to begin new accession policies that allowed transgender people to join the military by July 1, 2017, if they met the Defense Department's requirements. On June 30, however, Mattis pushed that date back to Jan. 1, 2018.
Rather than clarifying as the Justice Department wanted — issuing a ruling that Mattis could keep delaying the date — Kollar-Kotelly did the opposite, clarifying that the court's injunction meant the Jan. 1, 2018, date has to stay.
"The Court explained that the effect of its Order was to revert to the status quo with regard to accession and retention that existed before the issuance of the [Trump] Presidential Memorandum," she wrote. "Those policies allowed for the accession of transgender individuals into the military beginning on January 1, 2018. Any action by any of the Defendants that changes this status quo is preliminarily enjoined."