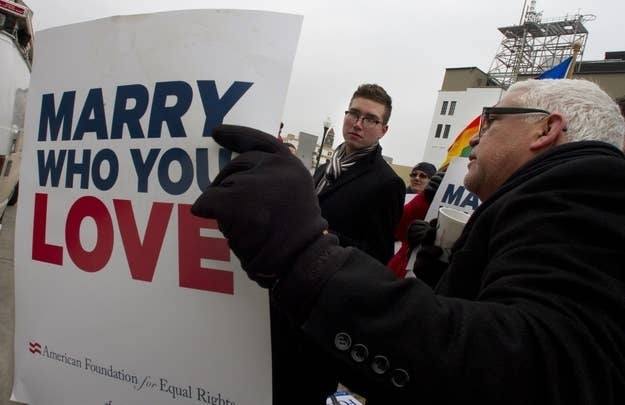 WASHINGTON — Same-sex couples are able to marry in Cook County, Illinois, under a ruling from U.S. District Sharon Johnson Coleman issued Friday.
"There is no dispute here that the ban on same-sex marriage violates the Equal Protection Clause of the Fourteenth Amendment of the United States Constitution and infringes on the plaintiffs' fundamental right to marry," the judge wrote in her opinion. "There is no reason to delay further when no opposition has been presented to this Court and committed gay and lesbian couples have already suffered from the denial of their fundamental right to marry."
The move comes months before the Illinois marriage equality law is due to go into effect.
Johnson Coleman found that because the lawsuit was filed only against the clerk of Cook County, David Orr, that means the decision applies only to Cook County — the state's largest county, which includes Chicago.
Neither Orr nor state officials oppose the move, so it is unlikely the decision can be appealed.
"We are thrilled that the court recognized the unfairness of forcing same-sex couples to wait for months to marry," said Christopher Clark, a lawyer on the case for Lambda Legal, which brought the lawsuit along with the ACLU.
John Knight, the LGBT and AIDS Project director for the ACLU of Illinois, said in a statement, "The U.S. Constitution guarantees these families the personal and emotional benefits as well as the critical legal protections of marriage now, and we are thankful that the court extended this dignity to couples immediately."
Update at 2:45 p.m.: The advocacy groups who brought the suit in Cook County are pressing other clerks across the state to adhere to the judge's ruling.
"We believe that other counties should abide by the ruling. The ruling holds that the current marriage law is unconstitutional," ACLU of Illinois communications and public policy director Edwin C. Yohnka told BuzzFeed.
Asked to specify what the ACLU of Illinois is asking other clerks to do, Yohnka replied, "We are urging other clerks to abide by the ruling."
Lambda Legal's Erik Roldan was not as direct, but echoed Yohnka, telling BuzzFeed, "The ruling declares the marriage ban unconstitutional, and all Illinois county clerks have taken an oath to uphold the Illinois constitution."
Lambda Legal Marriage Project National Director Camilla Taylor told BuzzFeed that the fact that the Illinois ruling Friday was a facial ruling — meaning the judge determined the law was unconstitutional in all circumstances — means that it is applicable statewide.