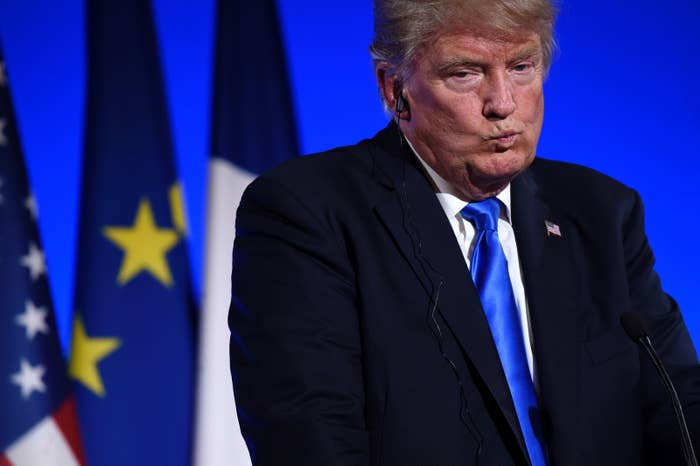 The federal judge in Hawaii who initially put President Trump's revised travel and refugee ban on hold on Thursday placed limits on the administration's recent rules enforcing a limited version of that ban.
Significantly, US District Judge Derrick Watson ruled that one of the enforcement rules that drew most protest — that grandparents did not constitute "close family" for purposes of being exempted from the order — is invalid.
Watson modified his injunction in the case to address what family members are sufficient to exempt a person from the executive order, as well as some refugee-specific issues.
The US Supreme Court allowed a portion of Trump's March 6 executive order to go into effect in a June 26 ruling. The Supreme Court ruled that the executive order could not be enforced against those with a "bona fide relationship" with people or entities in the US, but it allowed the 90-day travel ban from six Muslim-majority countries and the 120-day refugee ban to go into effect against those without such connections.
After the Trump administration announced its standards for enforcing the ban under the Supreme Court's ruling on June 29, Hawaii went back to court, arguing that the federal government's interpretation of "bona fide relationship" was too narrow.
Initially, those with a "close familial relationship" — what counted as an exempted "bona fide relationship" with a person — included only "a parent (including parent-in-law), spouse, child, adult son or daughter, son-in-law, daughter-in-law, sibling, whether whole or half."
During the evening of June 29, the government shifted to include fiancés as well, but it maintained that "grandparents, grandchildren, aunts, uncles, nieces, nephews, cousins, brothers-laws and sisters-in-law, and any other 'extended' family members" in the US did not count.
Although Hawaii was initially rebuffed by the district court and the US Court of Appeals for the 9th Circuit on procedural grounds, Watson, for the most part, sided with Hawaii on Thursday.
Watson disagreed with the Trump administration's interpretation of the Supreme Court's order, writing that the administration's definition of close family was "unduly restrictive" and "the antithesis of common sense."
The federal government cannot use the executive order to "exclude grandparents, grandchildren, brothers-in-law, sisters-in-law, aunts, uncles, nieces, nephews, and cousins of persons in the United States," Watson ruled, siding with Hawaii.
Watson also placed additional restrictions on which potential refugees can be excluded under the order.
Specifically, Watson ruled that a potential refugee's "assurance from a United States refugee resettlement agency" constitutes the sort of "bona fide relationship" that bars enforcement of the executive order against that would-be refugee.
Watson did rule that "a bona fide client relationship with a United States legal services organization" was not clearly exempted under the Supreme Court's order, so he denied Hawaii's request to issue a "categorical exemption" to those would-be refugees who only can show that connection.
Spokespeople from the departments of Justice, State, and Homeland Security did not immediately return requests for comment after the ruling, which came after 11 p.m. Thursday in Washington, DC.
In a prior filing in the case, Justice Department lawyers had asked Watson to put any relief he granted to Hawaii on hold — issuing a stay of the order — until the department either asked the Supreme Court to review the issue (or, if the Supreme Court declined to do so, appealed to the US Court of Appeals for the 9th Circuit) or informed Watson's court that it will not be seeking further review of the issue.
Watson did not put his order on hold, denying the request for a stay — and meaning the new injunction goes into effect immediately.
On Friday, Attorney General Jeff Sessions announced the department would be going to the Supreme Court to overturn the district court decision: