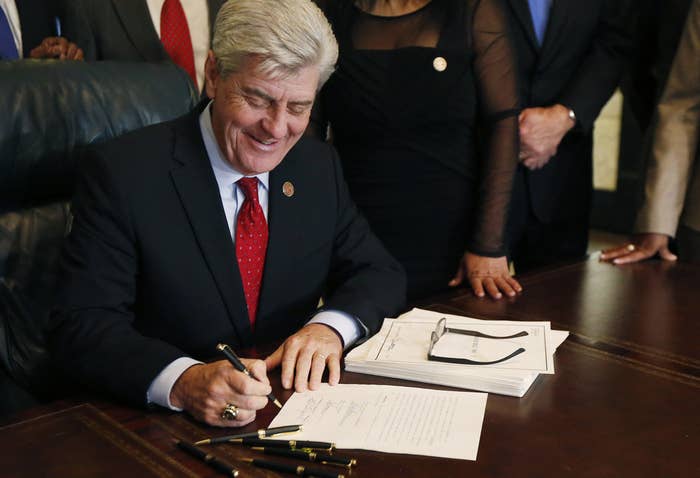 WASHINGTON — A federal judge in Mississippi on Thursday afternoon halted enforcement of the state's ban on same-sex couples adopting children.
Citing the U.S. Supreme Court's 2015 decision ending bans on same-sex couples' marriages, U.S. District Court Judge Daniel P. Jordan III granted a preliminary injunction against the state's Department of Human Services in a case filed this past August.
Of the Supreme Court's decision, Jordan wrote, "[T]he majority opinion foreclosed litigation over laws interfering with the right to marry and 'rights and responsibilities intertwined with marriage.'"
Jordan concluded on Thursday: "The majority of the United States Supreme Court dictates the law of the land, and lower courts are bound to follow it. In this case, that means that [the adoption ban] violates the Equal Protection Clause of the United States Constitution."

The case was brought by same-sex couples seeking to adopt through the foster care system or private adoptions, as well as by the Campaign for Southern Equality and the Family Equality Council. They snagged Roberta Kaplan as their lead attorney in the challenge — the lawyer who represented Edie Windsor in her successful challenge to the Defense of Marriage Act and then Mississippi same-sex couples who successfully challenged the state's same-sex marriage ban.
While Jordan did grant their requested preliminary injunction, he also granted the requests made by many of the defendants to be removed from the lawsuit. Jordan granted requests to dismiss the complaint against Mississippi Gov. Phil Bryant, Attorney General Jim Hood, and several judges — finding that they were not the appropriate parties to be sued by the couples and groups.
The court found, however, that the lawsuit was properly brought against the head of the state's Department of Human Services, both as to those seeking adoptions through the foster care process and those seeking private adoptions.
The ruling comes less than 24 hours after the state's Senate passed a far-reaching religious freedom bill that critics call one of the worst such bills in the country for LGBT people.