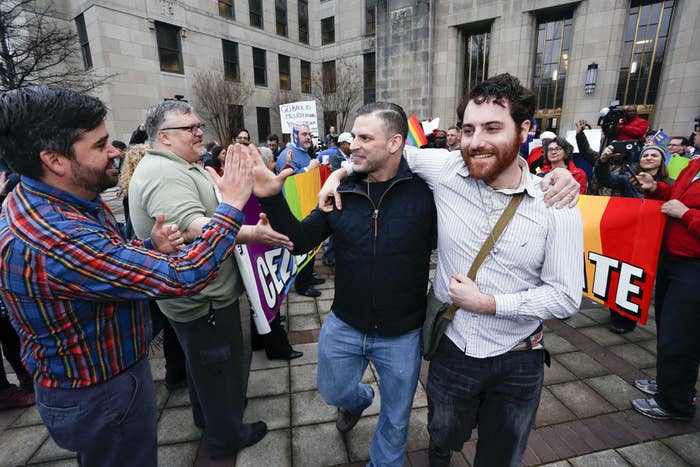 WASHINGTON — U.S. District Court Judge Callie Granade applied her marriage equality ruling statewide on Thursday, but she put the ruling on hold until the Supreme Court issues a decision in the marriage cases pending at the high court.
In a series of orders, Granade first granted a request to expand a marriage case that had covered one county statewide to all probate judges, who are responsible for the issuance of marriage licenses in the state.
She then went on to declare the marriage ban unconstitutional, yet again and issue an injunction stopping state officials from "enforcing the Alabama laws which prohibit or fail to recognize same-sex marriage."
Finally, however, Granade put the injunction on hold "until the Supreme Court issues its ruling" in the marriage cases, led by Obergefell v. Hodges, which she noted "are subject to an imminent decision."
David Dinielli, the deputy legal director at the Southern Poverty Law Center and one of the lawyers for the plaintiffs in the lawsuit, told BuzzFeed News, "Judge Granade's ruling is decisive and definitive. It ends the chaos and confusion that Attorney General Strange and Chief Justice Moore have intentionally caused through their reckless rejection of federal constitutional principles."
Dinielli added that he expects Thursday's ruling will make the process more smooth should the Supreme Court next month rule that bans like Alabama's one are unconstitutional.
"As soon as the United States Supreme Court issues its ruling in June, Judge Granade's decision will go into effect, and probate judges in every county of Alabama will be bound by a federal court order to comply with constitutional principles of fairness and equality," he said. "This is a good day for all Alabamians who believe in the rule of law."
From Judge Granade's ruling: