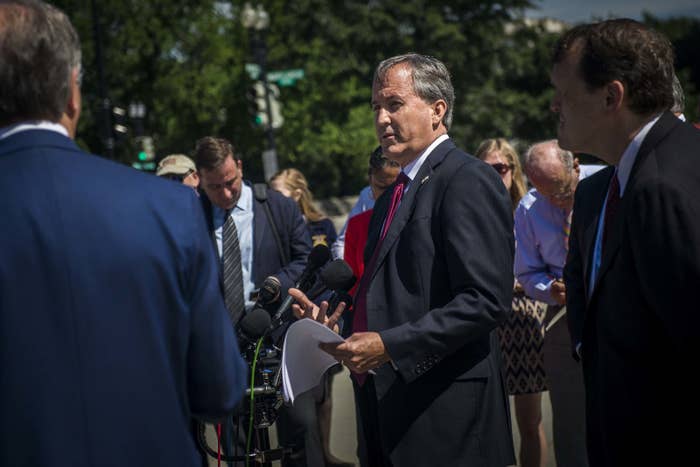 WASHINGTON — A federal judge on Wednesday tossed out the Texas lawsuit challenging the Obama administration's plans to resettle Syrian refugees in the state.
Texas Attorney General Ken Paxton filed the lawsuit in December on behalf of the Texas Health and Human Services Commission. It had met with an icy reception from U.S. District Court Judge David Godbey, who previously had denied Texas' request for an immediate halt to the refugee resettlement plans and its later request for a preliminary injunction stopping resettlement.

The move comes as presidential candidate Donald Trump, in the wake of the Orlando shooting rampage committed by a man born in New York, again raised his pledge to stop Muslim immigration.
"We have to stop the tremendous flow of Syrian refugees into the United States — we don't know who they are, they have no documentation, and we don't know what they're planning," Trump said.
On Wednesday, in a filing added to the court's docket on Thursday, Godbey dismissed the case against the Obama administration and a nonprofit organization that works on resettling refugees. Godbey was nominated to the bench by President George W. Bush.
The lawsuit had been filed on Dec. 2, 2015, in the aftermath of the November terror attacks in Paris, when many state officials, primarily Republicans, announced opposition to the resettlement of additional Syrian refugees in their respective states. The lawsuit was filed on the same day as the San Bernardino shooting.
The nonprofit group, International Rescue Committee (IRC), and Obama administration had asked the judge to dismiss the case in January and March, respectively.

Godbey ruled that the commission lacked a cause of action to enforce the Refugee Act's "advance consultation" requirement and failed to state any plausible claim for breach of contract against the IRC.
Paxton, in response to the ruling said in a statement that the state is "considering our options moving forward to guarantee the safety of Texans from domestic and foreign threats."
The ACLU — which represents IRC in the case — praised the ruling.
"This ruling is a strong rebuke of efforts to block refugee resettlement," Cecillia Wang, director of the ACLU's Immigrants' Rights Project, said in a statement. "It sends the clear message to other states that such attempts are not only un-American, they are contrary to the law and will fail in court."