Federal Judge Applies DOMA Ruling To Halt Michigan Ban On Partner Benefits
"[T]he Court takes guidance from the Supreme Court's decision invalidating DOMA," U.S. District Court Judge David M. Lawson wrote. The move puts a temporary halt on Michigan's ban on partner benefits for public employees.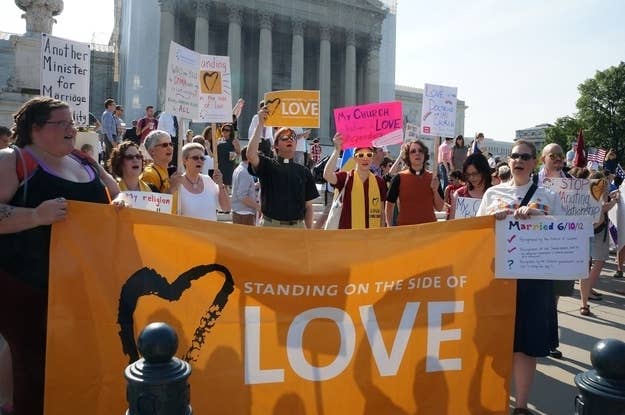 Two days after the Supreme Court struck down the Defense of Marriage Act's federal ban on recognizing same-sex couples' marriages, a federal judge in Michigan used the high court's reasoning to put a state law on hold that bans public employers from giving fringe benefits to cohabitating, unmarried partners of public employees.
The broad ruling is a sign of the potential impact of Justice Anthony Kennedy's opinion in the Supreme Court's ruling in United States v. Windsor — and is the way marriage equality advocates hope the ruling will change the national legal landscape for same-sex couples.
U.S. District Court Judge David M. Lawson, nominated to the court by President Bill Clinton in 1999, is hearing a case challenging the constitutionality of Michigan Public Act 297, which "prohibits public employers from providing medical and other fringe benefits to any person cohabitating with a public employee unless that person is legally married to the employee, or is a legal dependent, or eligible to inherit under the State's intestacy laws."
In issuing the preliminary injunction, which is intended to put the law on hold until a final decision can be reached in the case, Lawson concluded that the plaintiffs challenging the law "are likely to succeed" in their claim that the law violates constitutional guarantees of equal protection of the law.
Specifically, Lawson wrote that "the Court takes guidance from the Supreme Court's decision invalidating DOMA, which determined legislative purpose by looking to the 'history of . . . enactment' and the statute's 'own text.'"
Lawson noted that, regarding DOMA, Justice Anthony Kennedy wrote for the Supreme Court, "The history of DOMA's enactment and its own text demonstrate that interference with the equal dignity of same-sex marriages, a dignity conferred by the States in the exercise of their sovereign power, was more than an incidental effect of the federal statute. It was its essence."
Applying that to the Michigan challenge, Lawson wrote, "Looking to the history and text of Public Act 297, it is hard to argue with a straight face that the primary purpose — indeed, perhaps the sole purpose — of the statute is other than to deny health benefits to the same-sex partners of public employees. But that 'can never be a legitimate governmental purpose.'"
Lawson then concluded, "The plaintiffs have stated a viable and likely successful equal protection claim. They have provided strong evidence that the discriminatory classification established by Public Act 297 is not rationally related to a legitimate governmental purpose."
The case was brought by the American Civil Liberties Union and the ACLU of Michigan.