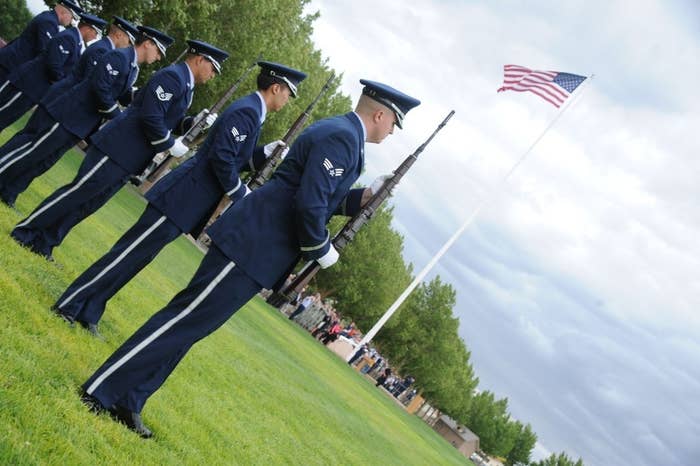 WASHINGTON — Although a Pentagon official wouldn't confirm any change in policy, at least one Air Force base has begun recognizing the marriages of same-sex couples married in New Mexico — even before the state's supreme court reaches a final decision on the matter.
BuzzFeed spoke with the same-sex spouse of a service member stationed at Kirtland Air Force Base in Albuquerque, New Mexico, who said the couple married in New Mexico and that she obtained a spousal ID card at the base on Tuesday.
Asked for confirmation of the change in policy, Pentagon spokesman Nathan Christensen responded, "The department will make the same benefits available to all military spouses, regardless of sexual orientation, as long as service member-sponsors provide a valid marriage certificate from a jurisdiction that recognizes same-sex marriage. I would refer you to the state of New Mexico who can discuss the specifics of their state law."
When a more specific answer was sought — as the state itself has no statewide resolution of the issue at this time because New Mexico law neither bans nor explicitly permits same-sex couples to marry — Christensen gave no further comment.
The head of the American Military Partner Association questioned the Pentagon's unwillingness to explain the policy.
"We can't have one base recognizing them and the rest of the [Department of Defense] not doing so. So it's very strange the DoD won't confirm," AMPA president Stephen Peters told BuzzFeed Tuesday night.
Because of the state of matrimonial limbo in New Mexico, officials in several counties in the state have decided, either on their own or by court order, to allow same-sex couples to marry and the state's attorney general has not stood in the way of the decision, agreeing that not allowing same-sex couples to marry would be unconstitutional. At the same time, the state's supreme court announced it will hear a case on Oct. 23 that is intended to resolve the question statewide.
Before the court could resolve the issue, however, at least one couple who married in New Mexico sought recognition of their marriage under the Pentagon's policy, which began Sept. 3, of recognizing same-sex married couples. The recognition allows the married same-sex partners of service members to receive spousal military ID cards, which enables the spouse to receive access to a variety of military-provided benefits.
Initially, Courtney Schmeling told BuzzFeed, officials at Kirtland Air Force Base said they could not recognize the Aug. 28 marriage between her and her wife, Senior Airman Natalie Throckmorton, because it was granted in New Mexico and not one of the states that have statewide legislative or judicial decisions allowing for same-sex couples to marry.
"They said that we would have to get a marriage license from another state," Schmeling said.
Last week, however, Schmeling said officials at the base told them the policy had changed and that their marriage would be recognized. On Tuesday, Schmeling said she went on base and picked up her spousal ID card with no delay or other problems.
The American Military Partner Association, of which Schmeling and Throckmorton are members, announced the policy change Tuesday afternoon, with AMPA president Peters saying in a statement, "The 377th Air Base Wing and installation commander at Kirtland Air Force Base, Colonel Tom Miller, did an outstanding job of quickly correcting the situation when same-gender military spouses were turned away from enrollment for military benefits because they had a marriage license from the state of New Mexico."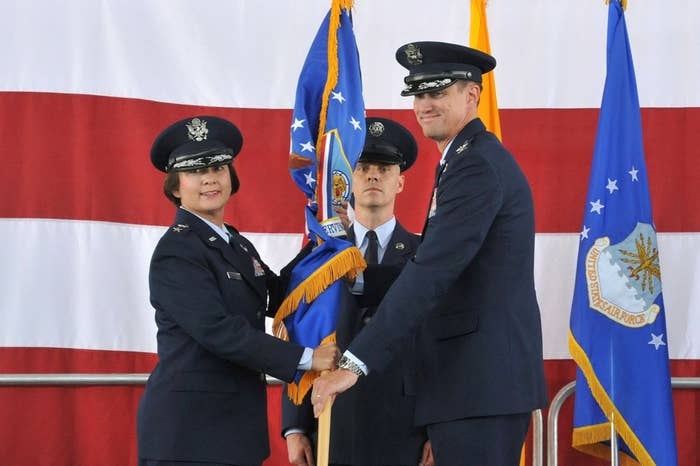 Although the Pentagon wouldn't confirm the change, an email from a base spokeswoman states that the decision came from outside the base.
An email from a Kirtland Air Force Base spokeswoman provided to BuzzFeed by the AMPA states that the initial policy after Sept. 3 did lead to a "delay" on approval of New Mexico-based same-sex couples' marriages, but that additional guidance on Sept. 6 from outside the base — from the headquarters of the Air Force Personnel Center — led to the recognition of the New Mexico marriages.
"Effective Sept. 3, the Secretary of Defense announced that all military departments will extend benefits to same-sex spouses of military members and retirees. On Sept. 5, military members and their same-sex spouses came into the 377th Force Support Squadron at Kirtland Air Force Base with marriage certificates issued in New Mexico. Because civil authorities in New Mexico have only recently begun to issue marriage licenses to same-sex couples, the guidance in hand for Department of Defense identification cards didn't address jurisdictions in New Mexico. The issue of those ID cards was delayed while Air Force officials sought clarification," spokeswoman Meredith Mingledorff wrote.
"Based on information received Sept. 6 from Headquarters Air Force Personnel Center on jurisdictions not covered in previous guidance, officials at Kirtland are issuing dependent ID cards to same-sex spouses of military members and retirees with valid marriage certificates from jurisdictions within New Mexico," she continued.
A message left with Mingledorff seeking additional comment was not immediately returned.