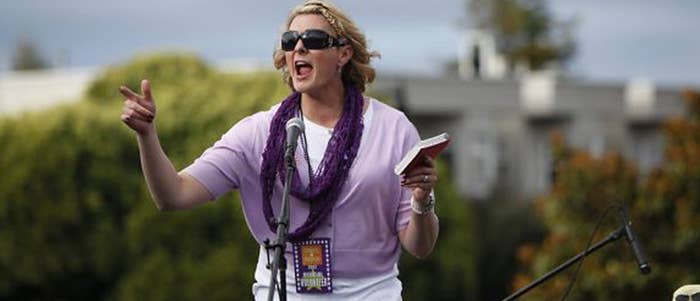 WASHINGTON —Transgender workers, backed by the federal government for the first time, are successfully using civil rights laws to challenge government and private employers accused of anti-transgender discrimination, BuzzFeed has learned.
The Department of Justice decided earlier this month in favor of a transgender woman, Mia Macy, who had been refused work at a laboratory of the Bureau of Alcohol, Tobacco, Firearms and Explosives (ATF). After an investigation into her claims, the Justice Department informed Macy July 8 that the bureau "discriminated against [her] based on her transgender status."
Macy celebrated the decision as "validation."
"I never thought in my life that it would be over, but to have it not only be over but to have them say, 'Yes, unfortunately, your civil rights were violated. They did do this.' To have that vindication, it's surreal," Macy said.
The changes coming about now are the result of a crucial legal decision made by the Equal Employment Opportunity Commission in Macy's case back in 2012. The commission then ruled that anti-transgender discrimination is covered under the ban on sex discrimination found in Title VII of the Civil Rights Act of 1964. That April 2012 decision in Macy's case sent her complaint back to the Justice Department, which is charged with investigating discrimination complaints brought against agencies under its control such as ATF.
Macy isn't alone. BuzzFeed has learned that the EEOC also acted on at least one similar complaint later in 2012, a claim brought against a private employer.
The EEOC itself conducted an investigation into the actions of a private company in Maryland, concluding in September 2012 by finding that "reasonable cause" existed to believe the company had discriminated against a transgender woman employed by the company, which is a federal contractor. Although such findings often remain unpublicized, Freedom to Work and Lambda Legal, which represent the woman, presented the information about the case to BuzzFeed at this time because they have now reached a settlement with the company on behalf of the woman.
The value of the EEOC's Title VII interpretation has been downplayed by some LGBT advocates over the past year because the Supreme Court, which is the only body that could definitively rule on the issue, has not considered a case to address it. Other advocates, though, have countered that this interpretation is growing in acceptance in the courts, which generally defer to the EEOC's rulings on civil rights laws.
The outcome of these two cases show that, regardless of that debate, the interpretation in Macy's case is being applied by the federal government and by EEOC offices taking complaints of private employment discrimination—providing substantially more protection to transgender workers than most people realize exists.
The path toward these new protections for transgender workers began when Macy, then working as a detective for the Phoenix Police Department, had expressed interest in moving to California in late 2010. Macy's supervisor at the time recommended the military veteran for an ATF job at the Walnut Creek Laboratory, a position that Macy said the section chief there told her "was [hers], pending the outcome of [her] background check."
At the time, however, Macy identified as a man, and began the background check process using that name. Her background check proceeded until late March or early April 2011, when she informed the company handling the process that she would be reporting to work as a woman. Within hours of receiving documentation of Macy's new name on April 6, 2011, a supervisor at the ATF laboratory where Macy was expecting to work stopped a routine background investigation and canceled her hire.
When Macy filed a discrimination complaint with the ATF's equal employment opportunity office, the office initially rejected her claim that anti-transgender discrimination was covered under Title VII. She appealed that decision, which sent the case to the EEOC, where the five commissioners ruled without dissent in April 2012 that discrimination claims based on transgender status are covered under the law's prohibition of sex discrimination. The decision meant that a full investigation into Macy's claims would proceed within the Justice Department.
After a lengthy investigation, the Justice Department's Complaint Adjudication Office issued a final decision in Macy's case on July 8, affirming that Macy had been discriminated against: "The record established that the ATF intended and began taking steps to hire complainant for the position—until she disclosed that she was transitioning from a man to a woman. The ATF stopped complainant's hiring process when it learned that complainant … would become Mia Macy. In light of the EEOC's decision in this case to hold that actions based on transgender status are actions based on sex and therefore covered by Title VII, the ATF's actions were discrimination based on sex and therefore prohibited by Title VII."
Macy told BuzzFeed she sees the decision as groundbreaking.
"What was so strange about this case is that most people file a claim, it gets investigated, it either happened or it didn't, and then there's some resolution," she said. "The difference with my case is the findings are … based off of a decision that I had to create. There was not a system in place that protected us, so I had to first go get the protections for us and then come back and hold them to that standard."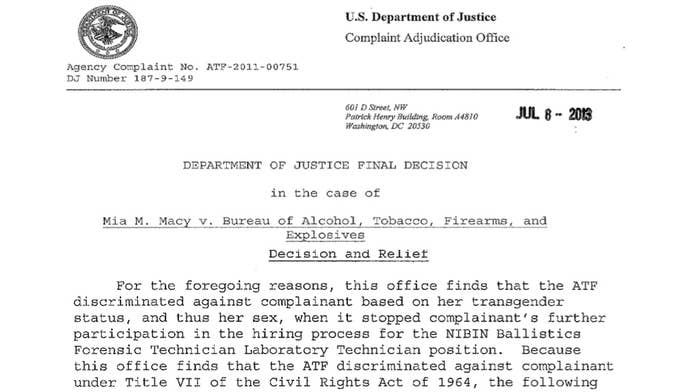 Macy praised the Justice Department investigation into her claims, saying that they "did such a thorough job." Looking at the outcome—which includes being offered her position, back pay, corrective action to prevent any future discrimination at the ATF laboratory, damages and attorney's fees—she was elated.
"To … get the rules changed so they do apply to us and then go back and say, 'The rules apply to us, they always should have applied to us. Now we're taking you on; we want it right,'" she said. "It's really nice to sit back and say, 'It's not only just a win, but we changed the system on them, too.' I love that. It's like a victory on a victory. It's like winning the Super Bowl, and then someone telling you you've won the World Series."
She noted, however, that the resolution doesn't end things for her.
"It's bittersweet. Everyone thinks it's over, but, for me, I don't know if it will ever be over," Macy said. "It would be difficult to work for the people I just defeated. It's not completely out of the realm, but we just don't see how, logistically, it would even work. The job, I always would love to have, [but] I don't know how it would actually be in that building. I don't know how those people would take me, and the reality is I don't know how long I would last. It would have to be another location, it would have to be another group."
Macy, meanwhile, has been applying for work without success, telling BuzzFeed, "It's been very difficult to get hired. It's been 26 months … the last 14 months have been even more difficult. Hopefully I can get back into law enforcement. I did write a book … so I'm hoping the book comes out and everyone can enjoy that."
Less is known about the private-sector case, in which the names of the parties are being withheld, but Tico Almeida of Freedom to Work praised the EEOC for its work.
"Coming just a few months after the EEOC issued its historic decision that transgender people are protected by Title VII of the Civil Rights Act, the EEOC's reasonable cause determination in this case is, to our knowledge, the first time in history that the EEOC has investigated allegations of anti-transgender harassment and ruled for the transgender employee. This case shows that the EEOC takes very seriously its role in protecting LGBT Americans' freedom to work," he said in a statement provided to BuzzFeed that is being released with the approval of both the plaintiff and defendant in the case.
The transgender woman they represent alleged in her complaint, according to the statement, that she was subjected to physical and verbal harassment on the job, with co-workers allegedly making comments that included "tranny," "drag queen," and "faggot."
In the EEOC's September 2012 letter finding reasonable cause to believe that the company violated Title VII, it noted, "The investigation revealed that Charging Party was subjected to derogatory gender-based comments that were frequently made by both co-workers and supervisors. Both Charging Party and witness interviews revealed that Respondent's management failed to take corrective action despite being fully aware of the harassment Charging Party was being subjected to. This lack of corrective action enabled the harassment and offensive atmosphere to continue."
The terms of the settlement are not being made public, and the company has denied any admission of wrongdoing, according to the statement provided to BuzzFeed. The company has, however, agreed to re-publicize its non-discrimination policies and conduct anti-discrimination and anti-harassment training at its facility, including a focus on transgender and other LGBT issues.
The news of the settlement in the private-sector case and the Justice Department's decision in Macy's case comes even as a Senate committee took action for the first time in more than a decade on the Employment Non-Discrimination Act, a bill that would provide explicit protections against sexual orientation and gender identity discrimination by most employers.
"It's so important that the word gets out that … while we're waiting for ENDA, while we're waiting for Congress to get off their laurels and do the right thing, we do have a current protection that can assist you. The EEOC [office]s are versed in Macy v. Holder, and if they're not, you can make them educated, it's on their website. Get out there and be proactive in the idea that you do have a voice."
Greg Nevins, Lambda Legal's supervising staff attorney working on the private-sector case, pushed for the passage of ENDA—and for action from President Obama—to make such protections against LGBT discrimination explicit.
"Slowly but surely, we are gaining recognition of the rights of LGBT employees, but this case shows that employers and employees need laws that spell out gender identity and sexual orientation protections specifically, to help prevent discrimination in the first place. We need action by the 113th Congress to pass the Employment Nondiscrimination Act (ENDA), and even more immediately, President Obama should sign the executive order banning LGBT discrimination by companies that profit from federal contracts," he said in a statement.
Macy, for her part, called workplace protections one part of advancing transgender rights more broadly.
"I think in the workplace, if employers have to step up and they're the ones to tell people, 'It's OK, these people are allowed to work with us. They're just like you and me. They're fine,' and the employers start accepting that, I think the people take that with them home," she said. "It's a piece of the puzzle. I am happy that I got to be a part of taking down a wall — one more wall."
To the extent that she has been able to use her case—and, hopefully, will be able now to use this decision—to address anti-transgender discrimination publicly, she said that her background is ideal for helping move that conversation.
"At the end of the day, really, if you look at the surface of it, I'm kind of like a Republican wet dream: married 21 years to the same person; impeccable military records, both of us; impeccable police records; we do everything — but there's this one little caveat. There's this one little thing that's a little different," Macy said, concluding that her background makes it "easier to help them swallow the pill of getting normalcy for us."