Same-Sex Domestic Partners Win Order On Federal Spousal Benefits Claim
Three federal judges — including 9th Circuit Chief Judge Alex Kozinski — say it is discrimination for the federal government not to treat domestic partners like spouses, at least in states where they cannot marry, for purposes of receiving federal benefits.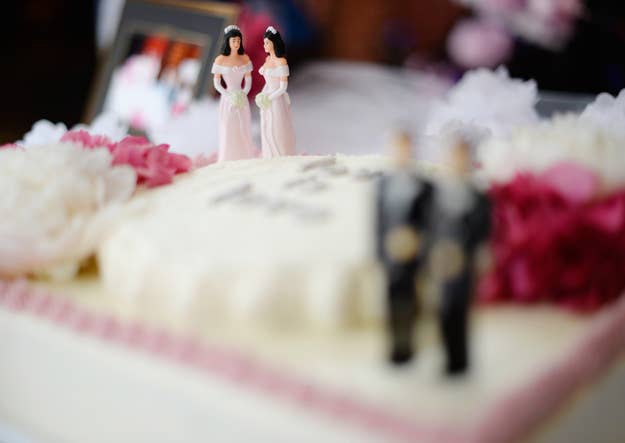 WASHINGTON — An administrative panel of three federal judges ordered Monday that Margaret Fonberg be given back pay to offset discrimination she faced when her domestic partner was denied federal health insurance.
The order of the administrative panel of the9h Circuit is not a court ruling directly applicable to other cases. It is notable, however, for the federal judges' conclusion that treating same-sex couples in a domestic partnership in a state where they cannot marry differently than married same-sex couples is unconstitutional.
"To quote Joe Biden 'This is a big fucking deal!'" Fonberg wrote to BuzzFeed late Monday. "I'm ... beyond thrilled with the decision."
The reasoning is a sharp contrast from the Justice Department and other federal executive agencies in the wake of the June ruling of the Supreme Court in United States v. Windsor that the federal ban on recognizing same-sex couples' marriages in the Defense of Marriage Act was unconstitutional. It also runs counter to the reasoning of the LGBT advocates in New Jersey, who argued successfully that marriage itself was required for same-sex couples to be treated equally there because the federal government does not treat civil unions as equal to marriages.
Fonberg, a former clerk in the federal courts in Oregon, had a registered domestic partnership under Oregon law with her same-sex partner, and she sought to enroll her partner in the federal health insurance program in 2009 but was denied. At that time, DOMA prevented the federal government from recognizing same-sex couples' marriages — although administrative decisions at the time from judges within the 9th Circuit questioned that proposition, a decision later echoed by the Supreme Court.
Since the Supreme Court decision striking down DOMA's ban on recognizing same-sex couples' marriages, however, the Office of Personnel Management — with which the 9th Circuit judges had clashed on the earlier decisions — "has taken the position that employees in same-sex relationships such as 'a civil union or other forms of domestic partnership other than marriage' are not entitled to federal health insurance benefits for their partners," as noted in the panel's decision.
On Monday, though, the executive committee of the Judicial Council of the 9th Circuit — a three-judge panel including the 9th Circuit's chief judge, Alex Kozinski — ruled on Fonberg's request, a part of the administrative process that federal court employees within the 9th Circuit use to challenge employment or benefits decisions (referred to as the Employee Dispute Resolution Plan [EDR Plan]).
The judges took a different position than OPM, which resolves similar employment issues with other federal employees. The judges found the treatment of Fonberg and her domestic partner to be impermissible on two grounds:
First, they are treated differently from opposite-sex partners who are allowed to marry and thereby gain spousal benefits under federal law. This is plainly discrimination based on sexual orientation, which the District of Oregon's EDR Plan prohibits. They are also treated unequally vis-à-vis same-sex couples in other states in the circuit, who may marry and thus gain benefits under Windsor. This violates the principle that federal employees must not be treated unequally in the entitlements and benefits of federal employment based on the vagaries of state law. Here, Oregon law suffers from precisely the same deficiency that the Supreme Court identified in Windsor with respect to the Defense of Marriage Act. Both these forms of discrimination are prohibited under the Oregon EDR Plan.
As such, the judges put back in place an earlier ruling that would allow Fonberg to receive back pay to offset the lost benefits that she experienced.
Back before the Supreme Court struck down DOMA, Kozinski, in another administrative decision, faced off against OPM — which held at the time that DOMA prevented it from providing health insurance benefits to same-sex spouses of federal employees — in a challenge brought by another federal court employee, Karen Golinski. When OPM refused to give Golisnki's wife health insurance, the Judicial Council of the 9th Circuit authorized Golinski to file a lawsuit to receive the benefits from OPM.
Because Monday's order simply provides Fonberg with back pay to offset the lost benefits — something the judiciary can implement without support from OPM — the decision in Fonberg's challenge is not likely to immediately present any ongoing litigation.
It does, however, provide Kozinski's weighty voice to buttress arguments that will be made in court cases seeking equal treatment for domestic partnerships or civil unions, particularly where marriage equality is not an option.
Read the administrative order:
Download PDF