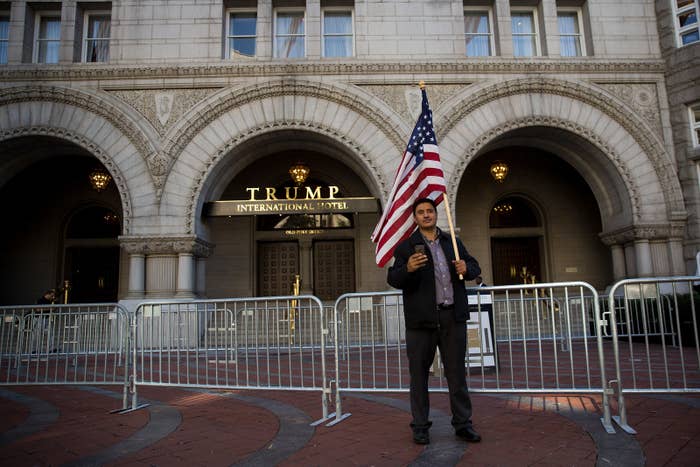 A federal judge on Thursday dismissed a lawsuit brought by one of the organizations claiming that President Trump's continued ownership of his businesses create conflicts of interest that violate the Constitution.
The judge, US District Judge George B. Daniels, also ruled that it is up to Congress to decide whether there are any valid concerns raised by foreign governments doing business with Trump's businesses and, if so, what to do about those concerns.
The lawsuit was brought in New York by Citizens for Responsibility and Ethics in Washington in the first weekend of the Trump administration, alleging that Trump's continued interests in his businesses are leading to violations of the domestic and foreign emoluments clauses. Since then, a restaurant employees association and other hospitality industry–related individuals joined the lawsuit. (In addition, multiple other "emoluments" lawsuits have since been filed — including one by Democratic members of Congress and another by Maryland and Washington, DC.)
In the 29-page decision on Thursday, however, Daniels dismissed the CREW case — ruling that the plaintiffs all lack standing to bring the lawsuit.

Daniels ruled that CREW lacked standing because it could not point to an injury it suffered due to the alleged constitutional violation and that the hospitality industry–related plaintiffs could not show that their claim of "competitor standing" could be redressed by the court — or even that the emoluments clauses were intended to protect competitors.
"CREW's entire reason for being is to investigate and combat corruption and reduce the influence of money in politics through, among other things, education, advocacy, and litigation," Daniels wrote. "CREW is thus not wasting resources by educating the public and issuing statements concerning the effects of Defendant's alleged constitutional violations or even by filing suit; this is exactly how an organization like CREW spends its resources in the ordinary course."
Discussing the the hospitality industry plaintiffs, he wrote, "Nothing in the text or the history of the Emoluments Clauses suggests that the Framers intended these provisions to protect anyone from competition."
As to the foreign emoluments claim specifically, Daniels wrote that it "is an issue committed exclusively to Congress." To that end, he continued, "If Congress determines that an infringement has occurred, it is up to Congress to decide whether to challenge or acquiesce to Defendant's conduct."
A Justice Department spokesperson said the department "appreciates" the dismissal.
"The Department of Justice appreciates the Court's ruling and its conclusion that Plaintiffs lack standing to pursue these claims in federal court, that Plaintiffs' claims do not fall within the zone of interests of the Emoluments Clauses, and that Plaintiffs' claims involve political questions that cannot be resolved in federal court," Justice Department spokesperson Lauren Ehrsam told BuzzFeed News in a statement.
A lawyer for the plaintiffs said there will be an appeal, and CREW's spokesperson said the group will continue its efforts.
"We respectfully disagree with the district court's decision," Deepak Gupta, one of the plaintiffs' lawyers, said in a statement. "There is no question that there will be an appeal, and our legal team is in the process of exploring our next steps."
CREW Executive Director Noah Bookbinder said in a statement, "While today's ruling is a setback, we will not walk away from this serious and ongoing constitutional violation. The Constitution is explicit on these issues, and the president is clearly in violation. Our legal team is weighing its options and will soon lay out our decisions on how to proceed."