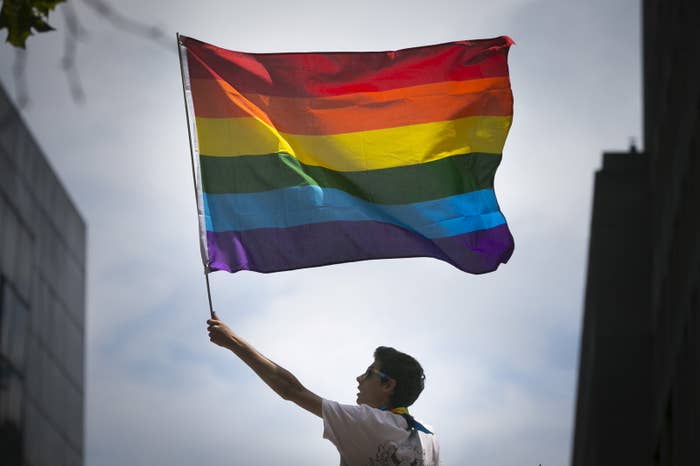 WASHINGTON — A federal judge in Pittsburgh ruled on Friday that existing civil rights laws banning sex discrimination also protect against discrimination for lesbian, gay, and bisexual people.
The ruling is a victory for the Equal Employment Opportunity Commission, which brought the case against Scott Medical Health Center. The agency has been fighting for the past several years to expand LGBT workers' protections under federal law.

The EEOC decided in 2015 that Title VII of the Civil Rights Act of 1964 protects LGBT people. It earlier had decided that the law protects transgender people from discrimination as well.
In March, the agency brought its first two cases advancing the sexual orientation-coverage theory in federal court — one of which was the Scott Medical case.
The company had asked US District Court Judge Cathy Bissoon to dismiss the case, in part, because sexual orientation discrimination, the company argued, isn't barred by the sex discrimination prohibition.
Bissoon disagreed, writing, "There is no more obvious form of sex stereotyping than making a determination that a person should conform to heterosexuality."
Explaining further, she cited to an earlier US Supreme Court case, Price Waterhouse v. Hopkins, which held that sex stereotyping is a type of banned sex discrimination under Title VII.
"Forcing an employee to fit into a gendered expectation — whether that expectation involves physical traits, clothing, mannerisms or sexual attraction — constitutes sex stereotyping and, under Price Waterhouse, violates Title VII," she wrote.
The ruling allows the EEOC to proceed in its case against the company.
While Bissoon is not the first judge to reach the conclusion she did on Friday, the decision is significant for a few reasons. The opinion itself — as direct and forceful as it is — is important, because it can be cited to in lawyers' briefs and in other judges' decisions. More importantly, however, is the fact that it comes in a case brought by the EEOC itself — the agency in the federal government responsible for interpreting Title VII.

Finally, it is notable that the ruling comes a few weeks before the full federal appeals court in Chicago is due to reconsider a decision of a three-judge panel from the court rejecting the argument that sexual orientation claims are currently covered under Title VII. The three-judge panel of the 7th Circuit Court of Appeals held that only the US Supreme Court or a change in law could provide those legal protections. The full court — with the urging of the EEOC and others — agreed to reconsider that decision, which it will do on Nov. 30.